Climate change and
polar regions
The Earth's north and south extremities are crucial for regulating our planet's climate – and are particularly vulnerable to the impacts of global warming.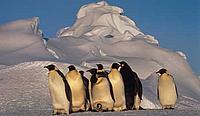 The effects of climate change are already being felt by local wildlife and habitats in polar regions.

For example, polar bears and Emperor penguins, at the north and south pole respectively, are already declining in number as sea ice retreats for many months of the year.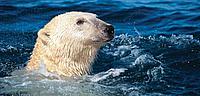 They effectively have less space to share, and less food to go around, which affects breeding patterns and numbers.

And this decline will continue the more global temperatures rise.

But the effect of climate change on the poles also has very serious consequences for people and wildlife all across the world.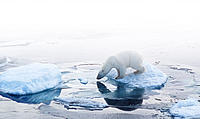 Climate change in the Arctic
Climate change is having a greater and faster impact on the Arctic than previously anticipated. Air temperatures in the region have on average increased by about 5°C over the last 100 years.

Recent data supports the view helpd by many polar scientists that there will be almost no summer sea ice cover left in the Arctic in the next few decades.

This has severe implications – not just loss of polar bear and seal habitat, and knock-on effects on local people, but dramatic changes to the entire northern hemisphere.

An open, ice-free Arctic Ocean will attract more shipping, commercial exploitation and pollution. The Arctic holds the world's largest remaining untapped gas reserves and some of its largest undeveloped oil reserves.

The lack of a reflective ice shield will also result in even faster warming (and acidification) of the seas, and acceleration of global climate change.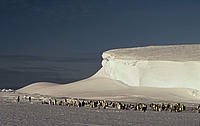 Climate change in the Antarctic
The Antarctic ice sheet is the largest single mass of ice on Earth. It covers an area almost 14 million km2 and contains 30 million km3 of ice – accounting for around 90% of all fresh water on the Earth's surface.

This ice plays a vitally important role in influencing the world's climate, reflecting back the sun's energy and helping regulate global temperatures.

Parts of the West Antarctic Peninsula are among the fastest warming places on Earth. Although the Antarctic ice sheets are unlikely to melt entirely, even small-scale melting is likely to have significant effects on global sea level rise.

Warming seas are also bad news for sealife, including tiny krill – which in turn will have a drastic impact on their predators, like penguins and whales.

What we're doing...
WWF is assessing vulnerability to climate change and monitoring impacts in the Arctic, the North Atlantic, the Barents Sea, the Bering Sea and the Southern Ocean around Antarctica.

We're working with national governments and local communities to promote networks of ecologically-based Marine Protected Areas, to help improve resilience to the impacts of climate change.

Find out more about our work in the Arctic
Find out more about our work in the Antarctic