Cameroon increases elephant protection after mass slaughter
10 August 2012
Earlier this year heavily-armed poachers invaded Bouba N'Djida National Park in Cameroon and massacred over 300 elephants.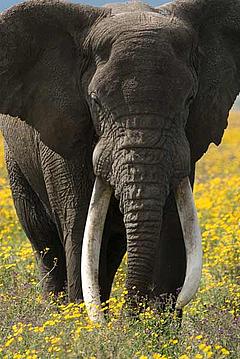 We're pleased to hear that Cameroon's government has now upped security to help stop an atrocity like this happening again – and we want other countries to do the same. We're launching a global campaign to stop the illegal trade in ivory, rhino horn and tiger parts.


Thousands more rangers
Cameroon's government has promised to recruit 2,500 extra game rangers over the next five years to ward off poachers. It will also set up a new national park authority to protect wildlife.
"Today's poaching gangs are sophisticated, global and vicious," said Basile Yapo, WWF-Cameroon country director. "Cameroon has done the right thing by allocating additional resources to this serious national security issue. Other Central Africa countries should follow Cameroon's lead and act now to stop criminal gangs before they strike."
Record poaching levels
Elephant poaching in Africa reached record levels last year, and Central Africa's unique forest elephants have been the hardest hit. Tens of thousands of elephants are killed each year for their ivory tusks, which mostly end up being sold in Asia.
It's World Elephant Day this coming Sunday. And we're fearful that, in future years, this event will commemorate an extinct species unless governments do more to end ivory poaching and illegal wildlife trade.
Time to act
"Large-scale elephant killings like the one witnessed in Bouba N'Djida can happen almost anywhere in the region. In fact, we have heard recent reports of 30 elephants being massacred in one night in Chad," said Stefanie Conrad, our regional representative in Central Africa.
"People's lives and jobs are at risk because of it. Each time an elephant is killed a country is losing economic value. We are calling on Central African governments to put an end to ivory poaching and wildlife crime. The time to act is now."
Global campaign
We're launching a global campaign against illegal wildlife trade with TRAFFIC, the wildlife trade monitoring network that's a joint conservation programme of WWF and the International Union for Conservation of Nature. 
Please support our work against illegal wildlife trade
.
blog comments powered by

Disqus