Eisteddfod survey reveals support for upgrading Welsh homes
16 August 2012
A straw poll by WWF Cymru of visitors to the National Eisteddfod in the Vale of Glamorgan revealed support for the idea that Welsh Government should do more to tackle energy efficiency in Welsh homes.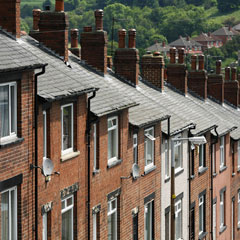 93% of those who answered our survey agreed that the Welsh Government should do more to improve Welsh homes to tackle climate change.

We also asked people on the Maes about what they have done in their own homes. Only around a quarter (27%) of people knew their home's energy efficiency rating.

However many people had taken measures to improve their house in the past 3 years, with the most common actions being low energy lighting (84%), loft insulation (54%) and double glazing (48%).

Almost three quarters (71%) of those asked said they'd be interested in making their home more energy efficient if they could do this without making up front payments, paying back the cost through their energy bills instead. This option will become available through the UK Government's Green Deal later this year.

WWF Cymru is proposing that Government takes a twin-track approach to upgrade Welsh homes, to tackle climate change, as well as address fuel poverty and create jobs. This would require the Welsh Government to provide support to the poorest homes and to work with the UK Government and Local Authorities to encourage better-off households to take advantage of the Green Deal finance scheme.

blog comments powered by

Disqus