International work on climate change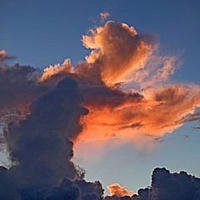 Climate change is a global problem. If we're to fix it, we need a global solution - and we need it soon.
To avoid dangerous climate change, global greenhouse gas emissions should peak no later than 2015 and then rapidly decline.

We're working internationally to influence governments to reduce greenhouse gas emissions, conserve vital forests and help developing countries cope with and adapt to our changing climate.
Securing a global climate deal
The international community urgently needs to agree a way forward to tackle climate change. So we were disappointed that most recent UN Climate Conference, in Doha, Qatar in late 2012, ended with a shamefully weak deal which looks set to put us on the path to disastrous levels of global warming of 3-4 degrees or more.

One of the few positives to come out of the Doha conference is that it paved the way to agree a more comprehensive legal framework by 2015, which will include actions taken by developing countries - many of which are already doing a lot to reduce emissions, but which haven't so far been reflected in the plans.

Doha also launched the second phase of the Kyoto Protocol - the legal framework that holds countries to account over reducing their emissions.

There's obviously much more work to be done here. The world's governments and businesses need to show leadership and speed up emissions cuts by increasing energy efficiency, switching to clean, renewable energy and reducing deforestation.

The good news is, we already know it can be done.
How our climate work in Europe has wider impacts
The UK's Climate Change Act, while not perfect, is a good model for the transition to a sustainable, zero-carbon economy.

The EU has a target of 20% cuts by 2020 - but we're urging much more. If the EU doubled its ambition it will encourage the development of new, clean industries and jobs in Europe, with social and economic benefits as well as environmental ones.

Developed countries like those in the EU should be showing that we're doing our fair share in the global effort to tackle climate change.

If you follow our news stories, tweets and blogs, we'll keep you up to date with any significant developments in the ongoing and complex series of global climate negotiations. And we'll be making sure our voices are heard by the world's key decision makers along the way.