WWF's Earth Hour – how the UK joined the huge world switch-off
1 April 2012
Hundreds of millions of people across the world - in a record 150 countries and territories - switched off their lights on Saturday night for WWF's Earth Hour, the world's biggest call-to-action for the protection of the planet. Thank-you to everyone who took part.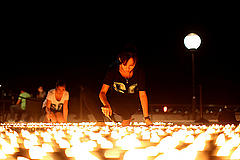 An astonishing new record of 150 countries and 6,434 towns and cities across the world took part this year. Libya, Algeria, Bhutan and French Guinea were among the countries participating for the first time, playing their part in a wave of global Earth Hour switch-offs from east to west.

People, businesses, and organisations across the UK have been doing spectacular things - check out our map to see what's been happening near you.

Watch this short film to see some highlights from our London flagship Earth Hour celebrations...



And have a look at some of this year's Earth Hour UK photos from flickr...


In the UK, St Paul's Cathedral, Tower Bridge, Big Ben, Wembley Stadium, Clifton Suspension Bridge, Edinburgh Castle, the Senedd assembly building in Wales and HMS Victory in Portsmouth were just a few of the landmarks that took part.

A primary school in Pontypridd in Wales led the UK switch-off as winners of our Community Challenge competition (sponsored by MORE TH>N) - Ysgol Evan James school then led a candlelit walk during Earth Hour.
 In London, a human-powered dancefloor lit up the UK's flagship Earth Hour event at Somerset House.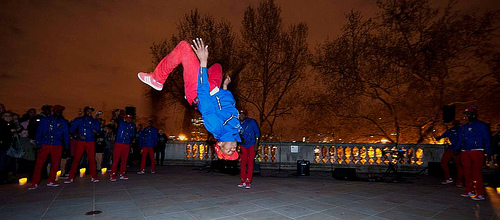 Street dance troupe Flawless, stars of
Britain's Got Talent
and new film
StreetDance 2
, counted down to the switch-off and performed a twilight routine.
As local landmarks including the National Theatre, South Bank Centre and Waterloo Bridge went dark, street band the Luminites performed to Earth Hour supporters while chef (and WWF ambassador) Tom Aikens and his staff served sustainable canapés.
Iconic landmarks switched off across the UK including: Big Ben and the Houses of Parliament, Buckingham Palace, National Theatre, EDF Energy London Eye (dimmed only), Wembley, Royal Albert Hall, Somerset House, National Gallery, Old Trafford, Clifton Suspension Bridge, Edinburgh Castle, Millennium Centre and the Piccadilly Circus lights.
Here's a fantastic snippet of film showing the Houses of Parliament and Big Ben switching off for WWF's Earth Hour on Saturday night...
In
Scotland
, schoolchildren and supporters laid out candles spelling 'Climate Action Now!' in massive letters on Edinburgh Castle esplanade just before the big switch-off of the castle itself.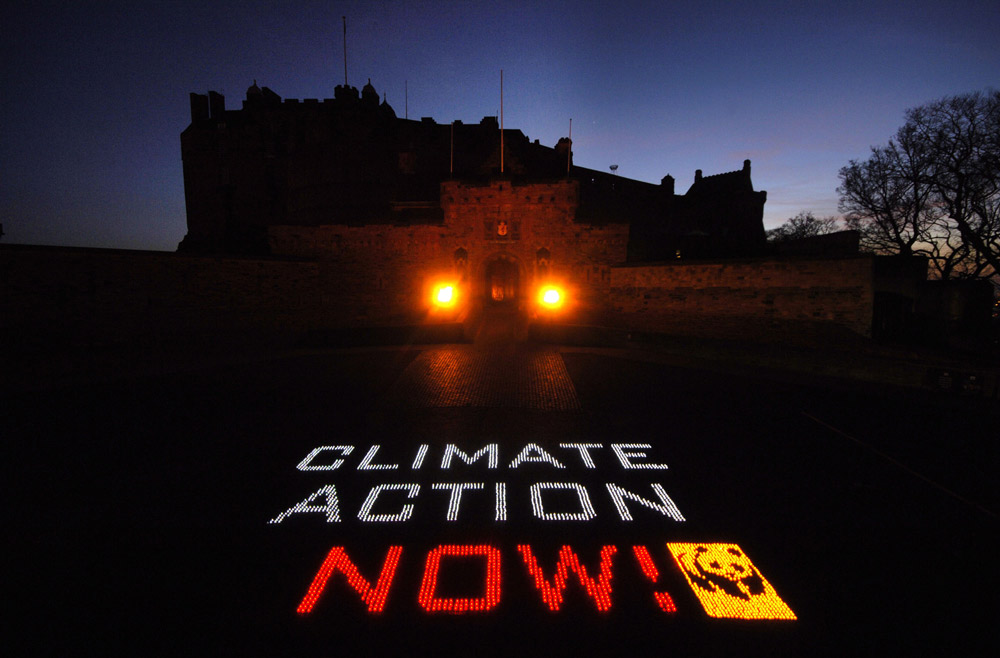 Almost 100 other Scottish landmarks and structures went dark for the hour, and local community events included stargazing in Biggar, outdoor theatre in Falkirk, a human-powered cinema in Kirkcaldy and a nocuturnal wildlife walk on Skye.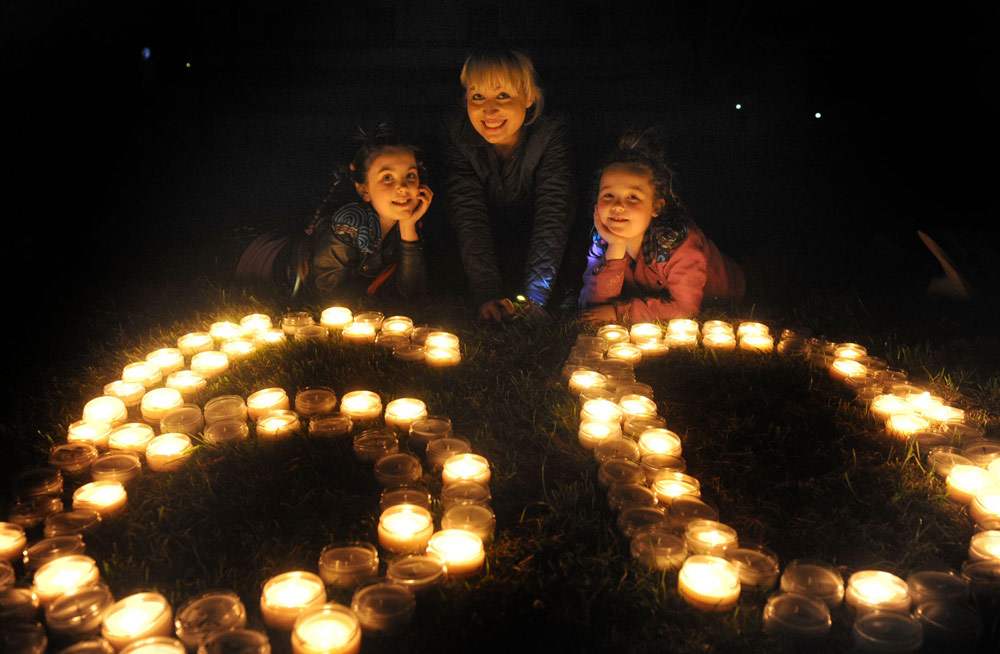 WWF Northern Ireland
led
an Earth Hour spectacle for 200 guests in the Great Hall of Parliament Buildings. The event included fun and games from Cool FM, introduction from Anna Lo MLA, chair of the environment committee, a magical Earth Hour show from Cahoots NI theatre company, followed by a performance from Sky 1's 'Got To Dance' finalists, Razzle Dazzle as they hit the switch and left the crowds in darkness. Then, when the lights went out, the guests were taken on a WWF panda torch-lit tour from the senate and chamber to the library and community room.

Earth Hour 2012 worldwide, as it happened…
Across the world, iconic landmarks switching off include the Sydney Opera House, Sydney Harbour Bridge, Tokyo Tower, Taipei 101, Great Wall Of China, Beijing National Stadium (Bird's Nest), Orchard Road Singapore, Lumbini Sacred Garden, Gateway of India, The BurjKhalifa, the Libyan Museum, Table Mountain, National Library of Belarus, Dubrovnik city walls, Athens Acropolis, Eiffel Tower, the Louvre, Brandenburg Gate, Allianz Arena, Tower of Pisa, Cupola of St Peter's Basilica in the Vatican, Buckingham Palace, Tower Bridge, Houses of Parliament, Big Ben, Christ the Redeemer Statue in Rio, CN Tower, Las Vegas Strip, Times Square, Empire State Building, UN Headquarters and more.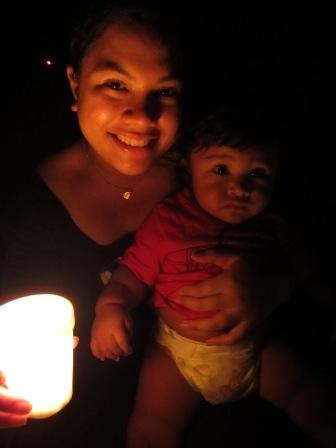 Samoa:
the small island nation of Samoa were first to go dark for Earth Hour 2012, at 7.30am UK time Saturday - having previously been the country to switch off last, prior to its move across the International Date Line earlier this year.
Faleolo International Airport went dark as the community came together to launch a number of local green activities for the year ahead, illustrating their commitment towards a cleaner and safer future.
(The Cook Islands
bring Earth Hour 2012 to a close, turning their lights back on at 7.30am Sunday, UK time.)
As the lights went off across south-east Asia, record participation in one of the campaign's major growth regions has ignited more passion for the movement.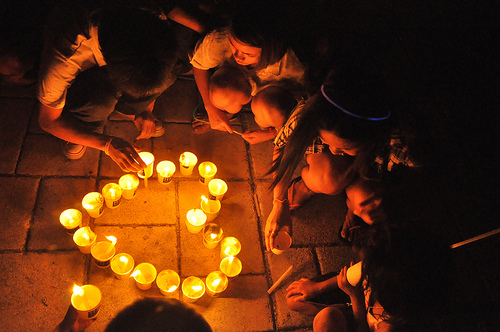 Philippines:
We don't have exact figures yet, but it's hoped the Philippines' participation will have topped last year's estimated figure of 18 million - cementing it as one of the top participating countries in the largest voluntary action for the environment.
China:
the main Earth Hour event at the Great Wall of China saw hundreds of university students and International Earth Hour ambassador Li Bing Bing visually pledge their ongoing commitment for the environment in 2012.
The China World Trade Center and the Olympic Park's Bird's Nest Stadium and Water Cube also turned their lights off to mark Earth Hour.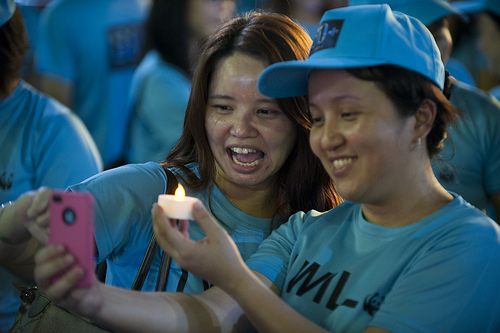 Singapore:
Nearly 1,500 Singaporeans stood shoulder-to-shoulder to create a massive '60+Singapore' human formation along Orchard Road, one of the nation's most glamorous shopping and entertainment neighbourhoods. Over 370 major businesses across the city state made commitments in support of Earth Hour, ranging from a simple flick of the switch to broader environmental pledges.
Korea:
an astounding 74,502 buildings in Korea switched off their lights tonight, to the Twitter account of the US Embassy in Seoul.
By the time the lights-off event had reached south-east Asia, 'Happy Earth Hour' became the #1 worldwide trend on Twitter.
Indonesia:
social media has helped drive the localised version of the 'I Will If You Will' campaign, with participants using digital media to organise grassroots action from across the archipelago. Celebrities Titi Dwijayanti (Titi DJ) and Jessica Iskandar pledged their commitments via YouTube.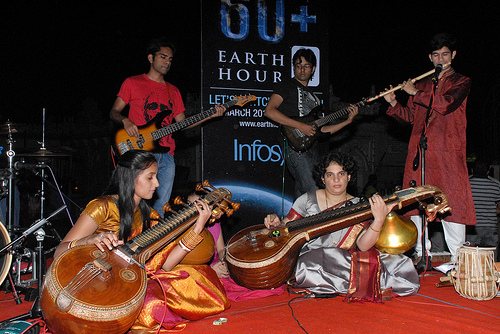 India:
Social media is again responsible for the massive turn-out in India, which culminated in an alternative power-sourced MTV Unplugged concert in New Delhi. A similar concert and lights-off event has been held at the Mysore Palace, India's most popular tourist attraction. Megacities competed right across India for the title of Earth Hour Champion.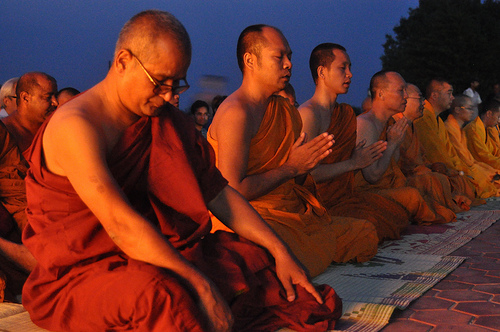 Nepal
also celebrated its largest ever Earth Hour with dual events in capital Kathmandu and Lumbini, birthplace of Lord Buddha - with Earth Hour supported by six monasteries, seven musicians and nearly 10,000 youth contributing to an ambitious plan to plant 1 million trees by 2020.
"Through Earth Hour, we want to promote the message of conservation - starting with Lumbini and travelling beyond its borders - as the way of life for human beings not just in Nepal but across the world," said the Venerable Maitri Mahastavir, Spiritual Advisor of the Lumbini Development Trust.
Facebook was used to coordinate Earth Hour in Kurdistan, Northern Iraq as well as in Libya's capital Tripoli, where it was organised by nineteen-year-old Mohammad Nattah and Muhammad Bugashata.  
Libya:
Earth Hour celebrations were held at the Red Saraya Museum and Martyrs' Square - the site where thousands of men, women, and children celebrated the end of the Qaddafi regime. With the help of the local scout team, Libya's second biggest city Benghazi also took part with lights turning off at Al Daawa al-Islamiyah Trade building, Tebisty Hotel and Keash Square.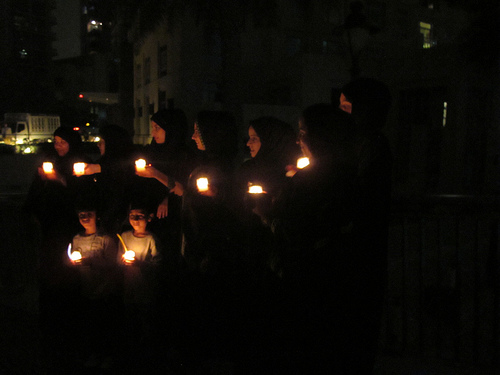 United Arab Emirates:
the world's tallest skyscraper - Dubai's Burj Kalifa - plunged into darkness as Dubai Municipality, the Burj Al Arab, Etisalat, and the Clock Tower also switched off their lights.
Russia:
organisers estimated that some 15 million people observed Earth Hour - a massive 40% more than last time. The country, stretching across nine time zones, records the longest participation of any country in Earth Hour.
Major celebrations were held at Vorobyovy Goary (Sparrow Hills) in Moscow which, thanks to its elevation, enjoyed spectacular views of 75 famous structures including the Luzhniki stadium just across the Moscow River, and Moscow City Hall, going dark across the skyline.  
Greece
used Facebook to spread the message that conservation is not a luxury, it's a necessity with its Earth Hour celebrations - warning that assaults on the environment in the name of overcoming its economic crisis were misguided. With the slogan "We Can Save", WWF-Greece asked Earth Hour participants to upload and share a message of what they think can be saved in an effort to protect the environment.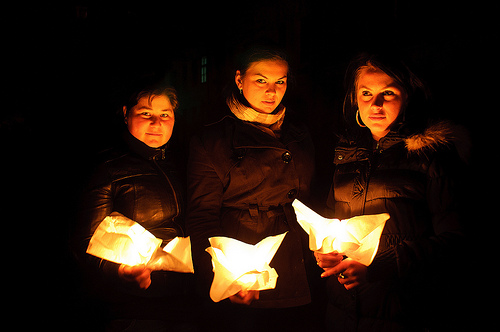 Central Europe:
close to 300 cities and towns across Austria, Hungary, Romania, Bulgaria, Serbia, Croatia and Ukraine observed Earth Hour. In
Austria
Earth Hour gained the support of both President Heinz Fischer and Chancellor Werner Faymann, who switched off the lights of Vienna's Imperial Castle, the President's residence, and the Chancellery buildings. In
Croatia
, a much older centre of power - Roman Emperor Diocletian's palace in the historic city of Split - joined sites in capital Zagreb in switching off.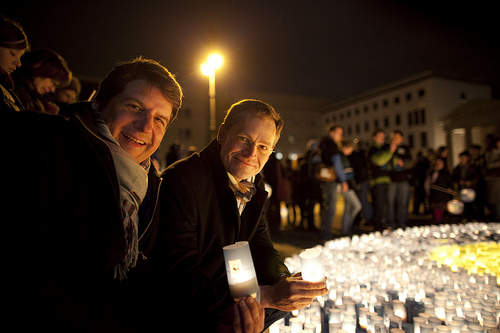 Germany:
official celebrations centred around Berlin's famous Brandenburg Gate.
France:
In Paris, more than 230 monuments and major gathering points dimmed the lights for an hour, including the Eiffel Tower, Notre Dame Cathedral, the Arc de Triumph, as well as fountains and bridges over the Seine.
As Earth Hour made its way across the Atlantic, from Canada to Chile, the excitement behind the movement began to build in the Americas. The social media shout-outs for the event continued, with the likes of Yoko Ono, Gisele Bundchen and Gael Garcia Bernal tweeting their participation.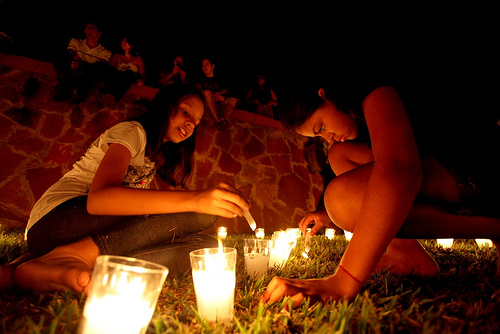 Brazil:
Altogether, 451 monuments across 125 Brazilian cities, including the famous Christ the Redeemer statue, switched off as Earth Hour took on special meaning in areas closest to some of the key environmental icons of Brazil.
Argentina:
30 cities and towns joined the initiative and there was a 5,000-strong turn out to the Buenos Aires recycling event launched by mayor Mauricio Macri.
Mexico:
celebrations in Mexico took place around Revolution Monument, while Peru's World Heritage town of Machu Picchu, home of one of the new Seven World Wonders, also turned off its lights.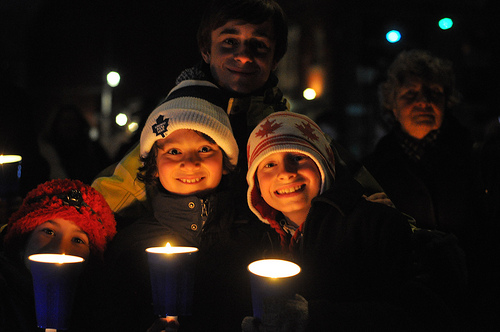 Canada:
saw 441 cities take part in Earth Hour this year with a highlight being the switching off of lights on Niagara Falls. Lights were also dimmed at the CN Tower, a signature of the Toronto skyline and the tallest free-standing structure in the Western Hemisphere.
Toronto hosted a concert where singer/songwriter Andrew Huang performed an Earth Hour anthem, with lyrics written by crowd-sourced Facebook submissions.

Here's that crowd-sourced Earth Hour song in full…
United States:
dozens of landmarks and iconic buildings went dark across the US, including the typically brightly lit Las Vegas strip and the famous Welcome sign. In New York, the United Nations headquarters looked spectacular as it joined the Empire State Building and the Brooklyn Bridge, as well the American Eagle Building and the NASDAQ Building in Times Square for an hour of darkness.

Earth Hour 2012 ended this year in the tiny Pacific nation of the Cook Islands, on the beautiful atoll of Aitutaki. It was a fitting place for the celebrations to finish in a country that is under dire threat from global warming and rising sea-levels.
Earth Hour was also even extended into space for the first time this year, with astronaut and WWF ambassador
André Kuipers
blogging, tweeting and posting flickr images live from the International Space Station before, during and after Earth Hour.
Find out more about André's involvement from the European Space Agency website
.
More about WWF's Earth Hour
WWF's Earth Hour is only five years old, but we're thrilled that it's already become such an important and unmissable annual fixture for so many people.
Earth Hour began in 2007 as a one-city initiative in Sydney, Australia and has since grown to be the world's largest voluntary action for the environment: from melting sea ice in the Arctic to a looming deforestation disaster in the Amazon, coral bleaching in the Great Barrier Reef to a drought-induced famine in the Horn of Africa, people across the globe have joined up to send a united message: it's time to take action for the planet.
As Earth Hour co-founder Andy Ridley put it this year: "For the first time in history we have the power to connect behind a common purpose and the ability to create a network without national borders, based on the most influential voices and the smallest voices. The growth in social media, the world's news media outlets and the digital revolution has allowed that to happen.

"If we can do this for Earth Hour, imagine what can be achieved for the planet beyond this hour."
David Nussbaum
, CEO of WWF-UK, said "WWF's Earth Hour is always such a positive and inspiring event, with so many millions of people taking part around the world. But the mass switch-off is only part of the story, as Earth Hour's supporters go beyond the hour and make real commitments that will help protect our natural world when the lights go back on. I'd like to thank everyone for making this our best Earth Hour yet."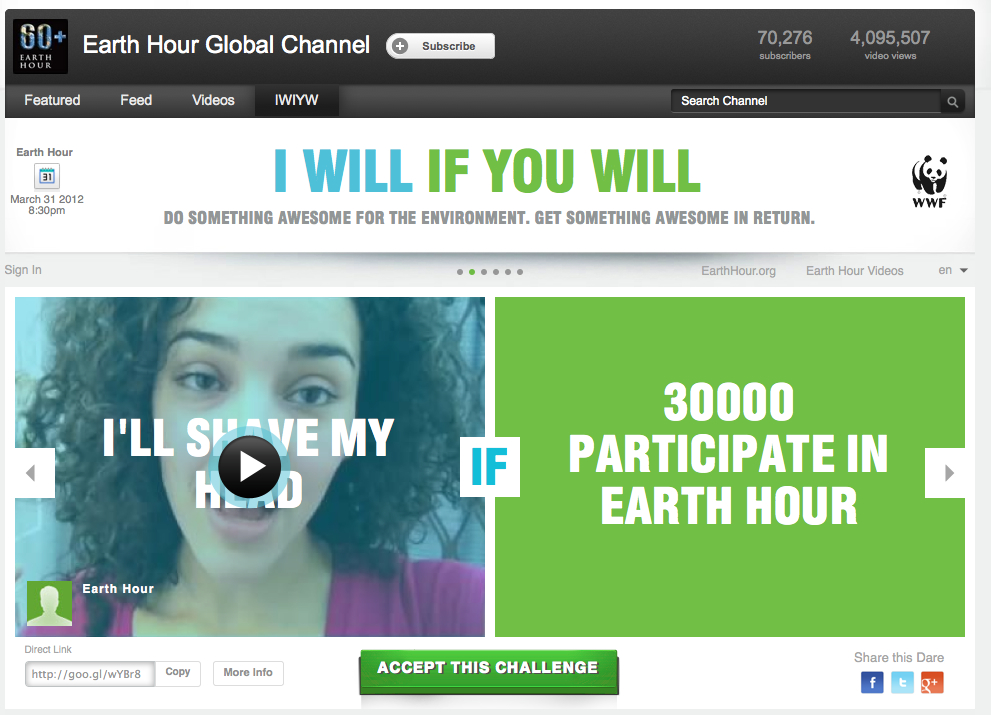 Earth Hour's
'I Will If You Will' campaign
went viral during the event, engaging tens of thousands of people to Dare the World to Save the Planet. The challenge platform hosted at
www.youtube.com/earthhour
was receiving an estimated 20,000 visits per minute from people all over the world and reached 2 million views in 14 hours.
The total over the weekend was around 4 million hits.
More than 150,000 visitors have now accepted the challenges from celebrities, governments, organisations and individuals - including global ambassador Miranda Kerr, Kumi Naidoo from Greenpeace International, Dr. Seuss' The Lorax, Latin American ambassador Claudia Bahamón, TV stars Giuliana and Bill Rancic, actress Isabel Lucas and local WWF ambassadors Nadya Hutagalung and Marc Nelson. Latin American Ambassador, Colombian model and TV presenter Claudia Bahamon will live without electricity for one week after 500 people accepted her IWIYW challenge.
Other
well-known names
supporting Earth Hour 2012 include global ambassador Miranda Kerr, cricket legend Sachin Tendulkar, former US Vice President Al Gore, Hilton Hotels. In the UK supporters include ambassador KT Tunstall, and some of the UK's top chefs such as Valentine Warner, Rick Stein and Niall McKenna, plus Manchester United and global group Westfield.
Former South African president and anti-apartheid hero
Nelson Mandela
tweeted his support for Earth Hour as it swept across Asia and approached Africa, saying: "Let us stand together to make of our world a sustainable source for our future as humanity on this planet #NelsonMandela #EarthHour".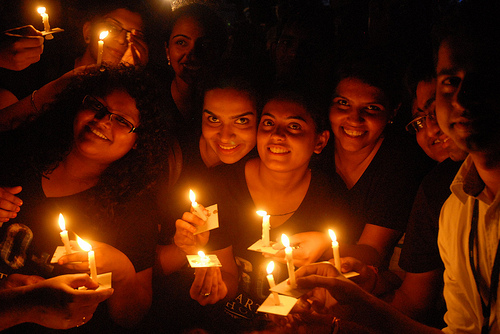 You can…
Have a look at the images on the global Earth Hour flickr page

See how the BBC covered the event online with 'before and after' shots during Earth Hour
Check out our Earth Hour Facebook page
Catch up with some of the slightly overwhelming number of comments on Twitter
- and
follow #EarthHour
Remember, it's not too late to sign up to confirm your support for Earth Hour
Our sincere thanks again to everyone everywhere who's taken part in WWF's Earth Hour 2012!
---
blog comments powered by

Disqus