The London Ice Bear
Did you see our fantastic life-size Ice Bear in London's Trafalgar Square? Unfortunately it's gone now, but you can find out what all the fuss was about here...
Carved by Mark Coreth and his team on 11 December, the polar bear ice sculpture gradually melted to reveal a dramatic bronze skeleton – attracting a lot of attention as it did so –  as a symbol of climate change threat and the plight of the Arctic in particular.
Here are some photos of the Ice Bear during its 11 days in Trafalgar Square – feel free to upload your own photos of the Ice Bear to our flickr group!


Watch this short video featuring sculptor Mark Coreth and some reactions to the Ice Bear from the public in Trafalgar Square.




The public was invited to touch the ice sculpture as it stood in Trafalgar Square. Artist Mark Coreth's idea was that by touching the ice everyone became sculptors in their own way, and could make a direct connection with the bear and its icy Arctic kingdom, now under threat from man-made climate change.

It also, of course, had an impact on the way and the speed at which the Ice Bear melted – just as we can all have an influence on the rate of global warming. 

Here's how the Ice Bear was made:

an initial skeleton of wire and plaster was cast in bronze, then immersed in a tank of water and frozen at -25°C
the resulting nine-tonne block of ice was then transported to Trafalgar Square where sculptor Mark Coreth and his team, joined by polar explorer Pen Hadow, fashioned it into the London Ice Bear
Watch this video to see bronze sculptor Mark Coreth and ice sculptor Duncan Hamilton discuss plans, techniques and ideas behind the making of the London Ice Bear.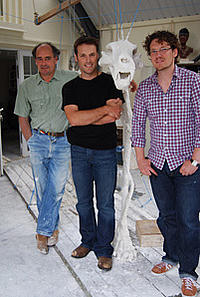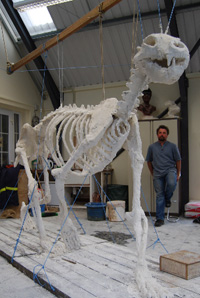 The sculpting team – including Duncan Hamilton, Mark Coreth and Jamie Hamilton (seen here with TV naturalist and Ice Bear supporter Nick Baker) – with the life-size plaster polar bear skeleton, before it was cast in bronze.
 
 
Real polar bears under threat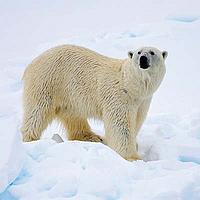 At 1.8 metres high, the Ice Bear was exactly the same height as the average thickness of the floating sea ice in the Arctic Ocean, as measured during the WWF-backed Catlin Arctic Survey earlier in 2009.

Scientists have observed that ice less than 2 metres thick is too thin to survive the summer melting season, leading to a further shrinking of the remaining sea ice.

Latest findings confirm that the Arctic could be completely ice-free in summer by 2030.

Polar bears live around the Arctic and need sea ice as a hunting platform and for breeding, rest, and travel. If there's no sea ice for a large part of the year, the animals will lose their habitats – as will their favourite prey, seals – and numbers will crash.

The vast Arctic ice cap is a protective white lid on top of our world. Like a giant mirror, it reflects much of the sun's radiation back into space.

It helps the Earth's climate stay on an even keel, and our weather patterns predictable.

The Arctic is the northern hemisphere's cooling system, and what happens there has a big impact on the wider world – including the UK.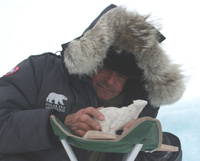 The Ice Bear project was conceived to inspire everyone to make positive decisions and take urgent action on climate change – to ensure a sustainable future for our planet and its most vulnerable wildlife and people.

December's meeting of world leaders in Copenhagen may not have had the decisive outcome we needed to tackle global warming, but we still need your help to urge Gordon Brown and others to push for a strong agreement that prevents catastrophic climate change.

Listen to more of our exclusive interview with sculptors Mark Coreth and Duncan Hamilton, recorded before the event, as they reveal their passion for the Ice Bear project – and the realities of sculpting an ice bear in Trafalgar Square...