WWF and DFID – natural partners
Protecting the natural world can only be successful in the long-term if we also address the poverty that exists in many of the places where the richest biodiversity is found.
We have an ethical responsibility, as well as a practical need, to address poverty through our work. Why? Because we believe that sustainably managing natural resources is essential in the fight against poverty.

All of us depend on natural resources and biodiversity for our everyday needs and survival, but while the rich can access what they need in a variety of ways, the poor rely on their local surroundings for their survival. It's estimated that 70% of the world's poor depend directly on biodiversity for their survival, so a healthy, functioning natural environment is fundamental to people's well-being.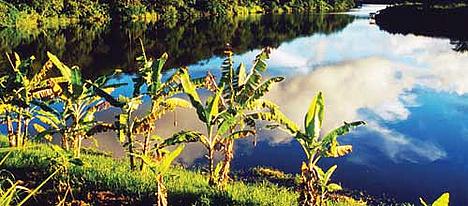 Working in partnership
Both WWF and the UK government's Department for International Development (DFID) recognise that it's generally poorer people that suffer disproportionately when natural resources such as forests and water are degraded or destroyed.
Making sure these groups of people are not only considered, but also consulted and included in conservation initiatives, plays a crucial role in ensuring that natural resources are managed more sustainably and to the mutual benefit of both people and the environment.
We have worked together since 1986 to:
Address the environmental concerns that matter to the poor
Ensure poverty is reduced sustainably
Achieve the Millennium Development Goals (MDGs), particularly MDG 7 which aims to ensure environmental sustainability
Our current and fourth consecutive partnership with DFID started in April 2011 and will run for three years. Under the agreement, DFID is contributing £3.09m per year to help us lead and support work in eight programmes spread across Africa, Asia and Latin America.
In particular, we support the following policy priorities:
Water security;
Forest and marine governance;
Climate change adaptation;
Driving urgent action on climate change in emerging economies; and
Enabling environmentally sustainable economic growth for Africa.
Two examples of how we are working with DFID
Managing water in Tanzania
The Great Ruaha River Catchment (GRRC) covers an area of 84,000 square kilometres of Tanzania. It's a sight of great biodiversity and also supports many human activities from agriculture and fishing to providing electricity, via hydropower, to the country's capital Dar es Salam several hundred miles away to the East.
The Ruaha river used to flow year round, but since the 1990s it now dries out during parts of the year, with substantial repercussions on people's livelihoods, wildlife, and the ecosystem.
The reasons for this dramatic change are thought to be heavily linked to poor water management but also climate change.
In sub-catchments of the Great Ruaha river, we're working collaboratively with stakeholders to support an integrated water resource management plan that improves and offers equitable access to water. Better water management is also crucial in maintaining and restoring ecosystem functions.
We also engage and support local stakeholders to protect water sources, plant trees along riverbanks to restore degraded riparian areas, and work alongside water intensive farming to reduce water use and decrease herbicide pollution.
These activities all contribute to improving river flows and improve access by people and nature to water of better quality and quantity. Vitally, this also contributes to each community gaining a bigger voice in water-related decision-making.
Improving soil and water quality in Colombia
The Sibundoy landscape in Colombia lies within the extremely biodiversity-rich Amazon Piedmont and is a mixture of pasture lands and remnants of Andean forest ecosystems.
By working alongside farmers keen to reduce their impact on soil and water quality, WWF and Corpoamazonia are supporting and providing environmental, social, and economical assistance for the transition from cattle-ranching activities to silvi-pastoral systems (ISPS).
In essence, this requires combining the grazing of cattle with forestry. In practice the ISPS intends to increase vegetation coverage in pasture lands and allow for the isolation and protection of rivers from agricultural pollution, all while increasing productive capacity.
The ISPS provides a 'menu' of alternative approaches to each farm owner - such as increasing vegetation coverage by planting trees or plants that can be used as feed or establishing 'living fences' that provide wood and fruits as well as isolate river corridors, protect water courses and delimit pasture lands.
Self-assessment reports
We'll be posting our progress on the Programme Partnership Arrangement (PPA) here.