Namibia
Background
Namibia, in south-west Africa, is over three times the size of the UK, yet has a population 30 times smaller than ours – just two million. It has an unusual mix of deserts, arid coasts, woodland and vast grasslands, and is home to many large mammals including the a large proportion of the world's cheetah population and several endangered species such as elephants and rhinos.

Mining is the major economic activity, but over half the population still relies on livestock and limited forms of agriculture for survival. Many rural people depend on natural resources to supplement agriculture, especially when there is a drought.

Like many countries in the region, Namibia has embraced the concept of communities taking substantial responsibility for managing their local natural resources – an approach often referred to as Community Based Natural Resource Management (CBNRM). WWF-UK works in Namibia through a local NGO called Integrated Rural Development and Nature Conservation (IRDNC). IRDNC is a major stakeholder and the leading rural facilitator of CBNRM in Namibia.

The efforts of IRDNC, WWF-UK and others, including Namibia's government, have led to great success in conservation and development through which the grave threats to Namibia's wildlife seen in the 1980s have given way to new partnerships that are benefiting people and nature. Elephants, black rhinos and lions have all increased their range, while in some areas wildlife sightings have increased by 47% since 2004.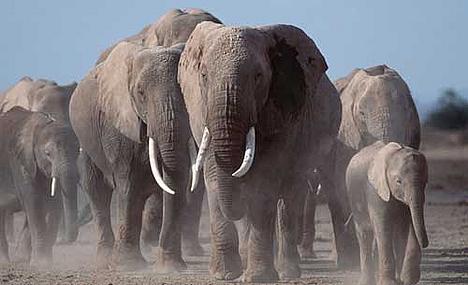 Challenges and threats
Namibia's rich and diverse wildlife heritage, which extends beyond the country's protected areas, was severely jeopardised in the early 1980s due to unrestricted commercial poaching and illegal subsistence hunting, which critically impacted key species such as the desert elephant.

To address the problem, initiatives were started in the early 1980s, working with communities to find ways to protect wildlife resources over which they had legitimate but unrecognised rights. The initiatives continued to develop, and were given substantial support from international organisations such as WWF when Namibia gained independence in 1990.

But it wasn't until legislative changes in 1996 that communities were formally allowed to define and register 'community conservancies' for the purpose of managing wildlife resources, and benefiting from them. Community conservancies are managed areas defined by residents and zoned by them for different uses, such as core wildlife and tourism, or mixed wildlife and farming.

Despite the significant progress that has been made in Namibia, there are still challenges to be addressed. Poor communication between government departments sometimes means that planning issues are not adequately addressed. In some areas, the growth in wildlife populations has been so marked that conflicts between people and wildlife are emerging as a real and contentious issue. For many conservancies in west Namibia, the ongoing threat of severe droughts remains a huge challenge both to people's welfare and the wildlife. Predictions are that climate change may cause droughts to become more severe and more frequent.
WWF in action
In partnership with IRDNC, WWF supports the continued development of conservancies in Caprivi, the north-east region of Namibia, and in Kunene, in the north-west.

We work closely with communities to manage their natural resources such that wildlife numbers have recovered to their 1970s levels. Elephant and rhino populations have tripled, and other species such as springbok have increased tenfold. A community-based natural resource management programme that started in one or two sites is now a major government programme, involving one in five rural Namibians. This approach to management is now entrenched in the country's national development plans and is seen as a mechanism to reduce poverty and enrich the quality of people's lives.

More than 120,000 sq km, or nearly 15% of Namibia, is now managed as community conservancies. Some 52 conservancies are registered and over 30 more are emerging. WWF's work has supported the formation and management of more than half of them.

Income to conservancies was approximately £2.5 million in 2007, having risen from just £38,000 in 1998 when the first four conservancies were registered.
Kunene Conservancy Safaris

As the conservancies have grown, five of the most northern and remotest, covering more than 13,500km2 of desert wilderness, have joined together to form their own eco-tourism company called Kunene Conservancy Safaris (KCS).

KCS builds on Namibia's community-based natural resource management successes, linking conservation to economic and social development. For wildlife and the environment to be protected, meaningful benefits have to be generated for the local people who live with them. This is another step towards creating a sustainable future for wildlife and people.

All profits from the safari business go to the 3150 members of these conservancies, so this is a good example of how your travel can make a real difference.

Find out more about Kunene Conservancy Safaris