Borneo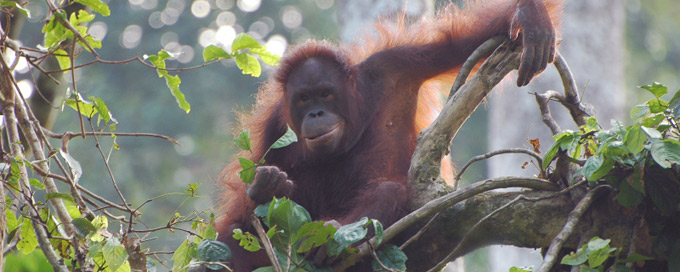 Location:
South-east Asian island, between the Indian and Pacific oceans
Size:
Nearly 750,000 sq km (more than twice the size of Germany)
Environment:
Tropical rainforests, mountain forests, mangroves, fresh water
Iconic species:
Famed for its orang-utans, but also rhinos, elephants and thousands of other animal and plant species
People:
18.5 million (and 200 different languages)
About Borneo
Borneo is the world's third-largest island. It straddles the equator in the tropical seas between Sumatra and New Guinea. It's divided among three countries – Malaysia, Brunei and Indonesia – the largest part being the Indonesian state of Kalimantan. The Malaysian areas are Sarawak and Sabah, in the north-east of Borneo.
Nearly half of Sabah is forest reserves. But Borneo as a whole has lost half its forests over the last few decades – including a lot of very important lowland forest.
Why Borneo matters
Borneo's huge tropical forests are vital for people and wildlife. The highland forests are the source of the island's main rivers, bringing clean water to millions of people and industries in coastal towns.
Losing Borneo's forests is bad for the world at large too, as deforestation makes a serious contribution to global warming.
Borneo's forests are also home to endangered Bornean orang-utans (the only other place were orang-utans are found in the wild is on neighbouring Sumatra). As well as their importance as Asia's only great apes, orang-utans play a vital ecological role, spreading undigested plant seeds around Borneo's forests.
The Sabah area of Borneo is home to several rare animals – including elephants, rhinos, orang-utans and clouded leopards. This is an area that we're focussing on.
Wildlife in Borneo
Sun Bear

Orang-utan

Bornean clouded leopard

Mulu flying frog

Proboscis monkey

Bornean Pygmy elephant

Wreathed hornbill

Long-tailed 'ninja' slug (Ibycus rachelae)
Environmental threats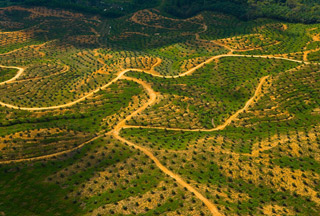 Oil palm plantations
In recent decades huge areas of Borneo, particularly lowland and peat swamp forests where lots of orang-utans live, have been lost to agricultural conversion – mainly to produce the palm oil that ends up in our processed food and household products.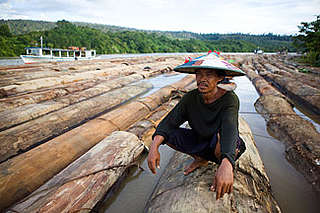 Unsustainable logging
Vast areas of Borneo's lowland forest have been cleared for timber and paper production, both legally and illegally. As well as the impact on local people and wildlife, large-scale deforestation is a major contributor to climate change.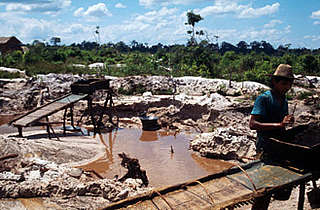 Mining and other industries
Borneo is very rich in mineral deposits, and coal and gold-mining in particular have grown rapidly in recent times. The infrastructure, road-building and pollution caused by these and other industrial developments have added to environmental damage.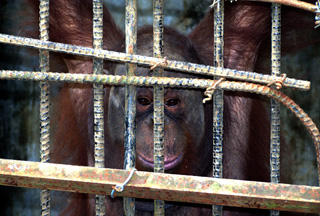 Illegal wildlife trade
As in many places, rhinos have been poached almost to extinction for their horns. Orang-utans, especially young ones, are targeted for the illegal pet trade.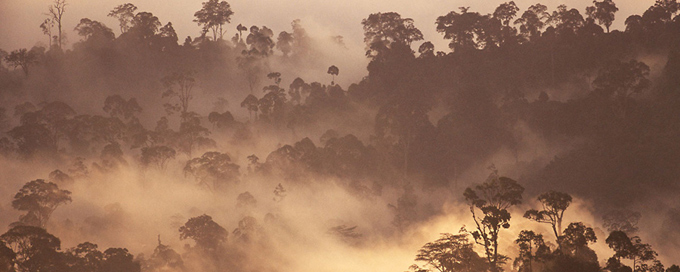 What we're doing to help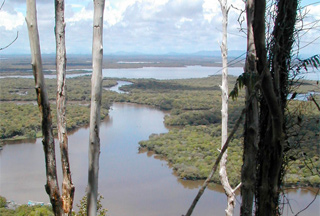 Protecting the 'Heart of Borneo'
This is the main part of the island where the forests are still intact. We're working with the three governments of Borneo to set up a network of protected areas and sustainably managed forest.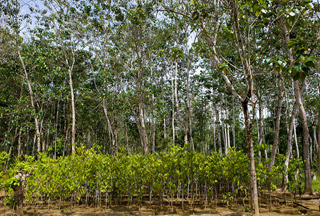 Reforestation and restoring habitats
We're identifying and reconnecting fragmented areas of forest, creating 'wildlife corridors' so animals can move and live more safely.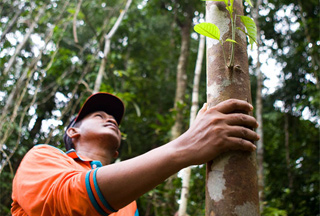 Encouraging responsible forestry and agriculture.
We supported the Sabah state government's new Forest Management Plan in 2008, to help minimise irresponsible logging and promote sustainable forest management and farming practices.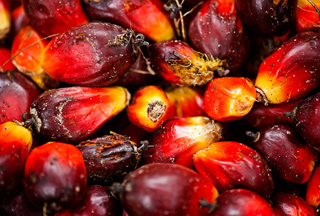 Promoting sustainable palm oil
In 2004 we helped set up the Roundtable on Sustainable Palm Oil (RSPO), with the aim of preventing important 'high conservation value' forests from being replaced with oil palm plantations, and to make sure income from palm oil reaches local people.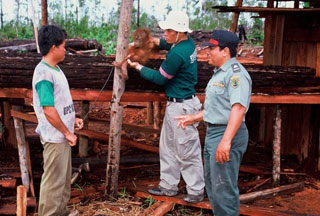 Tackling wildlife crime
We're working with TRAFFIC (the wildlife trade monitoring network) to improve enforcement of wildlife protection laws, and reduce demand for illegal pets and wildlife products. We're involved in anti-poaching patrols in Sabah, with the police and government, and we help with monitoring work and installing camera traps.
Success Story: Forest restoration
Working with the Sabah Forestry Department and others we've helped to restore and reforest over 2,000 hectares of degraded forests in North Ulu Segama, planting a number of trees and plants such as dipterocarps – a favoured food of orang-utans. We also helped to create rope bridges across the River Segama to connect fragmented orang-utan habitat. Helicopter surveys have since revealed an increased number of orang-utan nests in this restored area – which suggests the efforts of WWF and others have been working. The forest department has now upgraded the protection of this area, banning any land conversion or timber exploitation.
How you can help protect Borneo