The Godavari river - India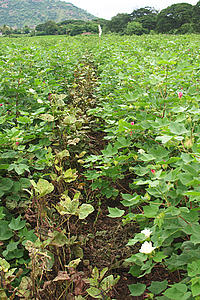 The Godavari river is the second-largest river in India. It flows 1,465 kilometres from west to east across the country, and its basin extends over some 312,812 square kilometres.
The Godavari is sacred to Hindus and has been a place of pilgrimage for thousands of years. The river and its tributaries are also home to endemic fish and wetland birds, and support a number of important grassland, wetland and forest habitats.

It provides substantial water resources for agriculture too - in fact irrigation for agriculture accounts for over 90% of the water taken from the Godavari.
Why we're involved
The main crops grown in this region are sugar, cotton and rice, and they tend to use significant volumes of water, which contributes to the problem of water stress.

The Warangal district in Andhra Pradesh is known for intensive cotton cultivation and high pesticide use. Cotton is cultivated under rainfed, as well as irrigated, conditions in the project area.

The major irrigation sources in the area are open and tube wells. Groundwater extraction has been increasing, and the quality of ground and surface waters has been deteriorating due to the use of chemicals in cotton cultivation. Residues of chemicals such as dichlorodiphenyltrichloroethane (DDT) and endosulfan are detected in the drinking water as well as surface water.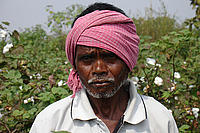 Agriculture provides a livelihood for between 60-70% of the population of India and makes up a quarter of the country's GDP.

Aside from the impacts of drought and population overload, water scarcity in India is partly due to inefficient agricultural systems. Agriculture is also a major polluter of water courses due to the excessive use of pesticides and chemical fertilisers.

Cotton cultivation accounts for 50% of all pesticides imported to India and andmany families involved in cotton production in the country report pesticide-related sickness and disease
How we're helping
This project is implemented in the Warangal and Karimanagar districts of Andhra Pradesh, which are part of the Godavari River Basin, with support since 2009 from Marks and Spencer (M&S). WWF India has been working in Warangal with cotton farmers since around 2006, previously with support from IKEA and the European Union.

The cotton farmers here are small and marginal farmers, who have less than 1.5 hectares of land and are completely dependent upon cotton cultivation for their livelihood.

Now the project will enable at least 20,000 farmers to produce Better Cotton; assess water related risks and develop a plan to reduce these risks in the project area, and identify a monitoring system which can assess changes in hydrology alongside changes in water use at farm level in the project area. The project ends in June 2015.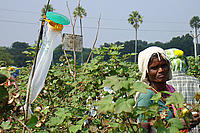 The project is working with farmers (around 12,000 farmers during 2012) to provide training and support for the production of Better Cotton, which is cotton that meets the principles and criteria of the Better Cotton Initiative (BCI). WWF India is working closely with BCI and local partners to achieve this.

Using Better Management Practices (BMPs), which WWF India and partners have developed, tested and promoted over the years, can help farmers to meet some of these criteria. BCI is a membership organisation, with well-known retailers and brands supporting these initiatives, which have a crucial role to play in creating a demand for a change in the market towards more sustainable cotton.

The BCI exists to make global cotton production better for the people who produce it, better for the environment it grows in and better for the sector's future. Retailers such as M&S, IKEA, H&M and Levis are members of the BCI, aiming to increase their sourcing of Better Cotton, and supporting projects such as this.

Membership of the BCI can be found here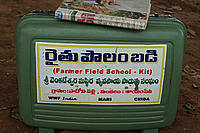 WWF India's work on cotton is also supported by IKEA, which funds a BCI project in the state of Maharashtra; and by the Better Cotton Fast Track Programme, which funds a project in the state of Punjab in India.

Recent achievements from the project in Andhra Pradesh include:
In 2012, the project is working in 131 villages, with over 12,000 farmers, over an area of 17,250 hectares (up from 6,200 in the 2011 season).
Women farmers have formed themselves into 5 women farmer groups in the new project villages.
The total number of farmer groups has increased to 351 in 2012, up from 135 in 2011. They are formed into four producer units (PUs), which are the units used for the BCI licencing system.
In 2011, when compared with a sample of conventional cotton farmers, the farmers using BMPs reduced their irrigated water use by 15%, their chemical fertiliser use by 25% and their pesticide use (active ingredient) by 37%, on average. The gross margins of the BMP farmers were 34% higher than the sample of conventional farmers, on average.
Success stories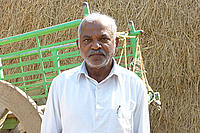 Suram Narsimha Reddy
Farmer in Koppula village, Warangal district
In his two acres plot, Suram has been growing cotton for the past 20 years, using techniques that he inherited from his ancestors, also cotton farmers.
It was only during one of the trainings organized by WWF-India's implementing partner in the village that he was first introduced to the new technology and methods to improve his yield without increasing his investments.

"Deep summer ploughing, tank silt application, farmyard manure application etc. are just a few of the many beneficial techniques introduced to us during the training."

To abandon the age old practices that were followed for generations was not easy for Suram and this explains why he became a regular at the training sessions and closely observed the positive results of the recommended practices.

"Our investments have drastically come down, for an acre of land where the expense would earlier be around Rs 5,000-Rs 6,000 is now down to Rs 1,000-Rs 1,200," explains the farmer, who has been able to make savings by applying BMPs in his field.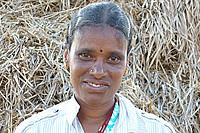 Lalitha
Farmer in Pragathi Singaram village, Warangal district
38-year old Lalitha is actively preparing vermicompost, amritajalum and vitex extraction for her cotton field.

"We have been taught to minimize the use of chemical fertilizers and instead use these options which are more cost effective and also environment friendly." Lalitha has completely switched over to drip irrigation since the introduction of drip irrigation in the region by the trainer.

Alternate furrow irrigation is being adopted over the traditional methods by the farmers, thus reducing the time of watering and also the water requirement. This has helped the farmers increase their water use efficiency.

"Earlier, it would take me days to water my fields but with this technology I am able to completely irrigate my field in a couple of hours, thus saving my resources- time and water both," explains the beaming farmer.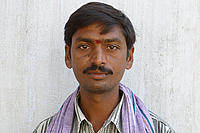 Adidela Shrinivas Reddy
Farmer facilitator in Koppula village, Warangal district
He was chosen as farmer facilitator considering his enthusiasm and belief in the Better Management practices. Adidela not just attended the trainings regularly but also shared his knowledge with fellow farmers and told them about the advantages of using these methods.

"First I learnt about everything and then tried to make others in my village understand the same, and now when I see a change in the practices employed by the farmers I feel overwhelmed and content."

Adidela has ensured that no pregnant women and children are allowed on the farms, ensuring their health and safety. Under decent work practices, farmers were informed about the adverse impact of pesticides on humans and since then no children can be seen in the cotton fields in the region where there is WWF-India's project presence. "As a safety measure, the farmers now wear face masks and gloves during spraying and picking respectively."

"The farmers are also trying to ensure that they produce better quality cotton and thus from sowing till picking all activities are conducted as per BCI norms. As a result, the crop fetches better market price," says a proud farmer who is witnessing a positive change.