Hear from BWPA 2011 winner Richard Shucksmith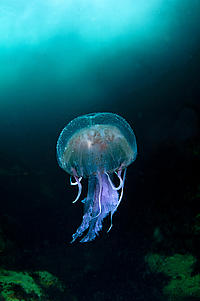 Some inspirational words of wisdom from last year's overall BWPA winning photographer, Richard Shucksmith…
At the 2011 British Wildlife Photography Awards, Richard Shucksmith's amazing underwater photo of a jellyfish in the sea off the Hebrides won not only the WWF-sponsored 'Coast & Marine' category, but the overall top prize too. We asked Richard to tell us more about how he captured this stunning undersea image - and why wildlife photography means so much to him.

"Taking images underwater is all about your mental approach. I've done thousands of dives so I never actually think about the process of diving - it's a bit like riding a bike. You do need to have honed your skills, and excellent buoyancy control is crucial to taking great underwater images. But once the diving technique is perfected then your mind goes into looking for weird and wonderful marine creatures and artistically composing pictures of this beautiful, yet often over looked environment.

"Sula Sgeir, a small island in the Outer Hebrides, is quite a challenging place to dive, with a lot of swell and a long way from help if anything goes wrong. The swell makes the boat roll and pitch and you have to try and time your jump with the waves.

"As you enter the sea, water rushes round you and there are a few seconds of confusion before you pop back up thanks to all the air in your drysuit. Checking your camera gear for the final time is essential after the jump, and then by letting the air out of your drysuit you slowly disappear beneath the waves.

"My dive buddy, who I've been diving with for years, signalled OK and we headed towards the entrance to a cave we'd seen from the surface. We spent some time exploring inside - the cave roof has collapsed completely, allowing daylight to stream through - before heading back out.

"As we came out I caught sight of the jellyfish and slowly moved towards it, taking my time and watching the way it moved. I marvelled at how it seemed able to stay in the same spot, despite the heavy swell. I felt very relaxed and allowed the swell to move me with the jellyfish.

"The movement of waves at the surface made the whole scene look beautiful, so I slowly composed and took a couple of images. I previewed them on the back of the camera and thought they looked very nice, so decided to move closer and take several more over the next five minutes - while being very careful not to disturb the jellyfish or get stung.

"I was using the Tokina 10-17mm fisheye lens. It's brilliant underwater - it allows very close focusing on the subject while letting the habitat around the animal to be in the image, giving you a sense of place."

How did you first get involved in underwater wildlife photography?
"When I was a kid I used to go fishing all the time and loved being out by water. Any fish I caught I used to take pictures of, so I learnt much of the basics of taking photographs then.

"I always carried a camera with me wherever I went, but it was while studying marine biology and ecology that I started taking images more seriously. Since then it's just grown and grown.

"I love the challenge of making images and trying to produce something different. Most people talk about photographers that have inspired them, and I do admire other people's images, but that's not what inspires me to take pictures. It's the different environments, wild places, coastal areas, underwater and the animal and plants that live there - that's what really gets me going.

"I can't explain in words how much I enjoy it. I am fascinated by the natural world that surrounds us and that we're part of. I'm inquisitive by nature and I love being outside following, watching and observing animal behaviour.

"Early morning is one of my favourite times, when most people are asleep. Outside of the warm cosy house a whole world is waking up. It's a quiet time: less manmade noise, with the sounds of the natural world dominating the soundscape.

"Beautiful light falls across the land and the sense of wilderness and isolation is excitingly overpowering. It feels, smells and looks magical, and it's what I enjoy most about my photography - being out in these beautiful wild places watching nature.

"Putting my head underwater was just a natural progression. I just wanted to get in and see the underwater world for myself, and bring back pictures to show others the most amazing and beautiful creatures that live in our seas."

What advice would you give on getting started in marine wildlife photography?
"Get yourself down to the coast and start by exploring rock-pools. There's a huge amount of marine life in rock-pools that's photographable. Take a net and a jam jar, or even a small plastic aquarium - you can collect creatures and put them in the aquarium to take pictures. Or if you have a waterproof camera, get into the rock-pool yourself.

"One thing you should always do when rock-pooling is put the animal back where you got it from, and don't keep it out of the water for very long.

"There are loads of good books out there on photography, and excellent workshops run by some very talented photographers, which will help you both technically and artistically to improve your photography.

"Most of all you need motivation and perseverance. Keep working at it. Don't be afraid to try different things. With digital cameras it doesn't matter how many pictures you take, and it doesn't matter if none of them are any good. But by experimenting with different settings, angles, composition you will learn what works and you'll get some great pictures.

"I taught myself to take pictures and took thousands of bad ones - still do - and occasionally I get a good one. Every now and then I get a picture I even like. To be honest I have yet to capture that perfect shot. As the biggest critic of my own work, I don't think I ever will. But it keeps me striving.

"Most of all, taking pictures is a lot of fun."

You can…
Enter the British Wildlife Photography Awards