Alverton Primary School, Penzance
The infants at Alverton are planning an Alverton Earth Day event (on Tuesday 28th March) to promote awareness of the issues around climate change and habitat loss and to raise funds for the WWF! We will invite the school, local press and wider community to a fair type event with tea, cake stalls, jumble sale, raffles, face painting and other activities.
The children have designed their own endangered animal postcards, made clay animal models and Alverton Earth day logos that we hope to make into badges to sell as well.
Really looking forward to it!
Beddington Infants School, Wallington
The children have made posters to promote the Earth Hour on Saturday. These will be emailed to parents to make them aware and encourage families to take part. As a school we are doing our own Earth Hour on Friday from 11- 12 the whole school will switch off all electrical devices and talk about global warming and why it is important to save energy. There will be a whole school assembly to promote this on Thursday. We are using the WWF school resources to explain to children the different issues.
Belmont Academy, Ayr
Our Eco-Schools Committee (led by the Senior Wider Achievement group) have devised a number of ways for us to mark this event as a whole school community:
They have created a short mini-lesson to inform all pupils about Earth Hour. This will be used by PSE teachers next week in the run up to Earth Hour - this was thought to be better than an assembly as pupils could ask questions and really go into detail about this issue and how to go beyond the 60 minutes.
They have created a sign for the electronic atrium screens to highlight the event – avoiding photocopying posters.
They have highlighted Earth Hour on the school website and school twitter page.
They are sending out text messages and emails to parents this week to ensure the message gets to as many people as possible.
They have also sent an email to staff encouraging them to take part in the Earth Hour campaign as an ordinary citizen as well as challenging them to try and teach at least one lesson next week with the minimum use of electricity and/or resources. They even provided suggestions on how to achieve this:

Go 'dark' – turn off classroom lights during lessons if possible
Go 'old skool' – don't use your projector, use the whiteboard instead
Go 'incommunicado' – turn off computers/laptops whilst teaching.
Talk about Earth Hour to your classes The pupils understand that this may not be possible with the vast majority of lessons but appreciate any support given to raise the profile of this event.
In addition if a teacher does meet this challenge the Eco-Committee will put a sticker on their classroom door to reward this effort.
Boston West Academy, Boston, Lincolnshire
Our 6 Carbon Ambassadors organise our Earth Hour in school. They design posters to make everyone in school aware that Earth Hour is taking place. This year ours will happen between 10.15-11.15 am on Friday 24th March when we shall be asking everyone to switch off all electrical appliances - the Carbon Ambassadors will be patrolling around to school to ensure that everyone has remembered. At Boston West Academy we believe in as much outdoor learning activities as possible and this will be unaffected by Earth Hour.
Coldfall Primary, London
We held an interactive whole school assembly to explain what Earth Hour is and look at ways we can help to tackle climate change. A text message was sent to all parents reminding them about Earth Hour. As Earth Hour occurs on a weekend, we are also having a whole school Earth Hour on Friday 31st March where electricity will be banned in class for at least an hour and pupils will be doing fun activities to help them learn about how they can help to prevent climate change.
Greenhills Primary School, East Kilbride
The whole school will be involved in switching off all electronic appliances, lights etc for 1 hour on Wednesday 23rd March. Teachers will be provided with information to share with their class and possible activities to do within the hour. Each class will be asked to fill out a globe of what they have done in Earth Hour to share with the whole school in the form of a display. The ECO committee have designed flyers about Earth Hour on Saturday 25th March that will go home with every child in the school after our school earth hour on Wednesday 23rd to encourage families to take part on the Saturday.
Hill Croft Special School, Co. Antrim
Each class are dedicating an hour of their day to Earth hour! Each class have been producing some lovely art illustrating how to look after the Earth, some have been on forest walks in the local area and others have been learning about global warming. We also made a paper house for the children to send home with the date and time of Earth Hour and suggested activities to do at home as a family.
New Haw Community School, New Haw
On Thursday 23rd March we held an assembly where we showed the whole school a video about climate change. Our Eco- Warriors told the school about Earth Hour 2017 and explained how we are taking part in the global campaign to encourage people to help protect our planet.
On Friday we will be holding our own Earth Hour where all lights, white boards and computer monitors will be turned off in school. We have tasked the whole school with making sure that their teachers do this and our Eco-Warriors have made some mini movies explaining what it's all about.
Our Twitter page @NewHawSch is helping to spread the word and during our 'Hour' at school we will be discussing with the children how they can help protect our planet. Each child has taken home one of your Earth Hour postcards so that parents are aware of the campaign and hopefully this will encourage our wider community to take part on Saturday evening.
Already the school is buzzing with questions and ideas and we are looking forward to inspiring a new generation of Eco-Warriors!
Oakleigh House School, Swansea
The children in Year 4G, Oakleigh House School in Swansea have made promises to 'Help the Planet.' They created 'Wishes for the World' on globes and we are all taking part in 'Earth Hour.'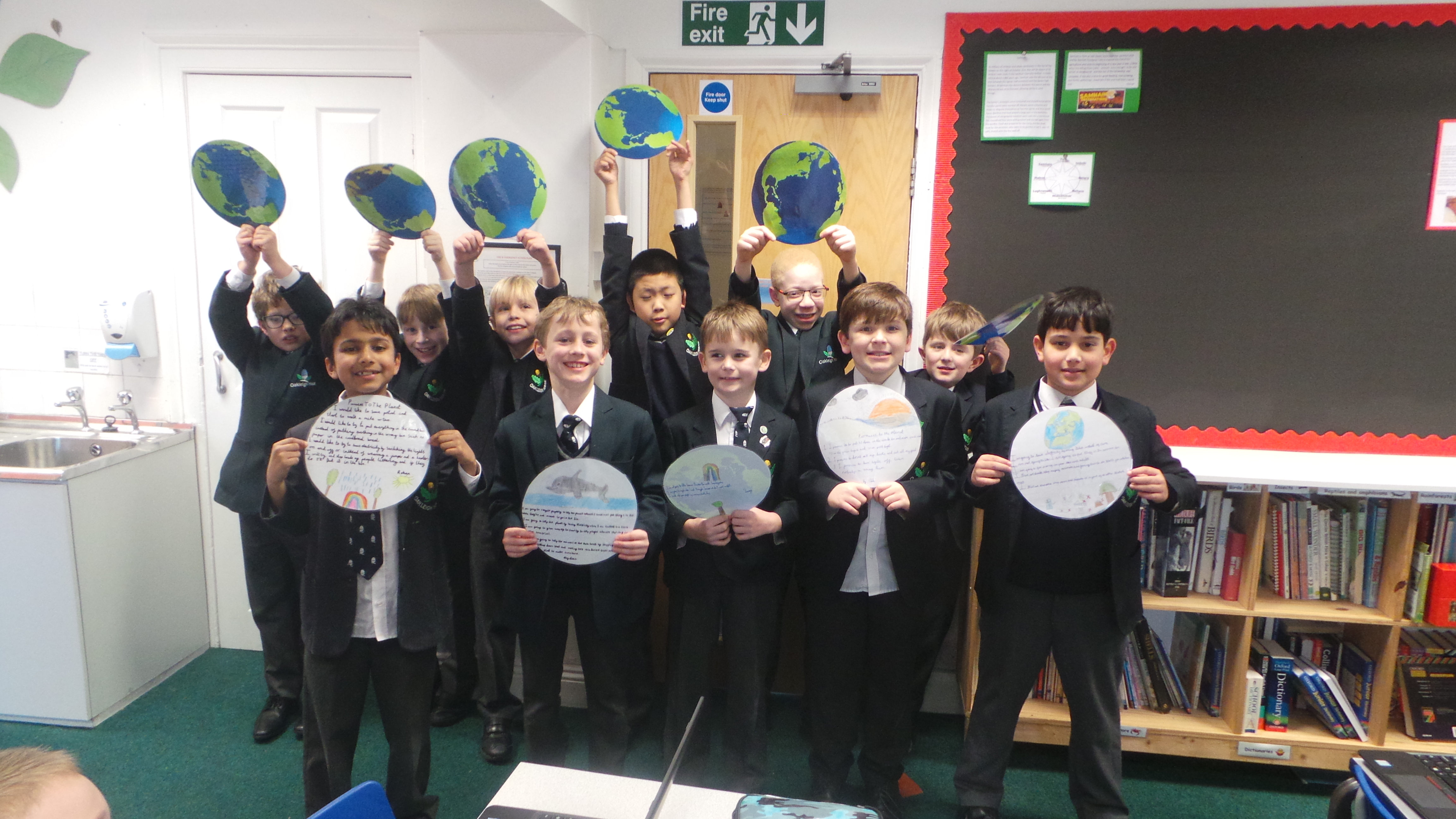 Oakleigh House School making Earth Hour matter
Our Lady's RC Primary, West Lothian
We will celebrate Earth Hour on Thursday 23rd March with a silly outfit day. Costumes are to be as silly as possible and made from old clothes/recycled rubbish.  We will also run a competition to design the best recycled school bag.
Petersburn Primary School, Airdrie
Each class will produce a poster of ways to save energy. We will be having a mini-earth hour in school on Friday 24th by turning our lights off from 2pm - 3pm.
River School, Worcester
We are a small independent school with 9 acres of grounds. We are planning to have a campfire, tell stories and have fun with torches around the grounds. We have made humane moth trap so that we can identify the different moth species around the school and then catalogue them. We have already built 3 owl boxes and we will be spotting owls too - or at least listening out for them. We shall be listening out for foxes too - we have lots in the grounds. We will then have hotdogs and hot chocolate and will sit as a school family celebrating our wonderful planet together. We also plan to stargaze. Just being outside in the dark will be fun.
Rydal Penrhos Preparatory School, Clwyd
The children have been celebrating Earth Hour this week in various ways, with each class choosing different activities from the suggestions in the pack. Our Prep department used the Climate Change quiz, made a song and created postcards to take home to spread the message. Our Pre-Prep department made animal masks and animal mobiles of endangered or vulnerable animals; the animal mobiles were made by recycling left over card and wool attached to sticks from our Forest School area. On Friday, the whole school was given the challenge of having a whole lesson or one hour without the lights or whiteboard on.
St Christopher's C E High School, Accrington
You'll be pleased to hear that the girls have motivated their entire year group to do an animal inspired own clothes fund raiser for WWF on our School Earth Hour day. We've done our own school Earth our for the last eight years, this being our ninth year, where every classroom (over 50) has no lights and computers for one hour.  The children will pay £1 for the privilege of coming in their own clothes and will take part in a mile fun run around our community to highlight the fact it's Earth Hour, the next day.  They will get a fairtrade biscuit on return.
St. Colm's High School, County Londonderry
We are ready indeed at St. Colm's- sign-up sheets away to form classes, pupils told to wear bright clothes on Friday and Year 8 pupils making elephant lanterns!! This is our 8th year taking part- we love the day!! We have developed an acre site biodiversity trail and planted a forest, hedges etc. to reduce our carbon footprint and the local community planted 215 trees in memory of loved ones- the signs in the trail tell them what they are doing to combat the effects of climate change.
St Mary's Primary School, Hamilton
As eco coordinator, I launched Earth Hour 2017 at a whole school assembly on Monday. I have sent home letters to all families in the school and publicised the event on our twitter feed. I have invited parents to notify me if they intend to celebrate the event at home and describe how they will do this. They have been invited to email photos to me, after the event.
All staff have been issued with a variety of lessons to carry out in class throughout this week leading up to earth hour. (Paper lanterns, polar bear lanterns, elephant lanterns, earth hour surveys on how they would like to spend earth hour and our senior classes have been given an earth hour quiz to participate in.
I hope that this is enough information. It has been great for me as the eco coordinator to see activities going on in classes as the week progresses. We are definitely embracing Earth Hour in Saint Mary's Hamilton.
The Kingsley School, Leamington Spa
We have held a "Greenventions" competition in our primary school. The aim was to invent something to help protect/clean up the planet, or an endangered animal. We have had lots of lovely entries, including a hedgehog tunnel, a pollen maker, a plastic bottle eater, a hunter catcher, smog sucker and many more interesting ideas. On Monday I am leading an assembly on Earth Hour and to announce our competition winners. On Monday we are also having our own Earth Hour lunch, providing lunch using locally-sourced ingredients as far as possible and switching off our lights across all schools for 1 hour (last year we continued it all afternoon). In Senior School, the Year 11s are doing an assembly on Earth Hour as well.  I have forwarded an Earth Hour video from WWF to help them.
 
I have to say that the "Greenventions" competition has really encouraged girls from the age of 3 to 11 to put down their own ideas. It is evident that they have done it themselves, which is not always the case. Every entry is going to get an Earth Hour sticker and there will be other small prizes. All pupils paid £1 to enter, so we are going to be sending off this money to WWF, hopefully to renew our sponsorships of our endangered animals for another year.  
 
My Pass The Panda, Tracey is still travelling the world and has her own Instagram account. I am taking her to the Dujiangyan Panda Sanctuary near Chengdu in May, when I am going to be working at the sanctuary for a couple of days. I am looking forward to seeing what they are doing to rehabilitate and release pandas back into the wild and to share what I have learned with the children back at school.
 
Our school is quite small, but I have been so delighted with the interest the girls have shown in this.
 
Hope that your Earth Hour is fun and successful.
The Oaktree School, Woking
We helped to spread the word about Earth Hour by including this advert below in our newsletter under the Eco news section.
We're holding our own Earth Hour on Friday 24th March where we'll turn out all the school lights for an hour. But you can help world leaders to see the light by taking part in the main event on Saturday 25th March at 8.30pm.  Show your support by signing up at wwf.org.uk/earthhour - and join WWF for the world's largest display of hope for a bright future.
The Voyager Academy, Peterborough
Students will be completing an overnight camp, with outdoor cooking, a night hike/nature spotting and star gazing.
Wicor Primary School, Fareham
We thought you may like to know the focus of our activities for the week of Earth Hour. We will keep you up to date on any progress we make, our main activity is our local big beach clean.
A Plastic Ocean: our response to Earth Hour March 25th 2017.  Our aim is to focus on the issues of plastic and plastic pollution over the course of one week, beginning March 20th.  The idea is to start the week with an awareness-raising assembly and end with a 'review' on Friday 24th.  In between times we hope each class or year group will do something to do with the theme, which they can present to the school at the review assembly, for example,  a poem, song, fact file, piece of artwork, letter to MP etc.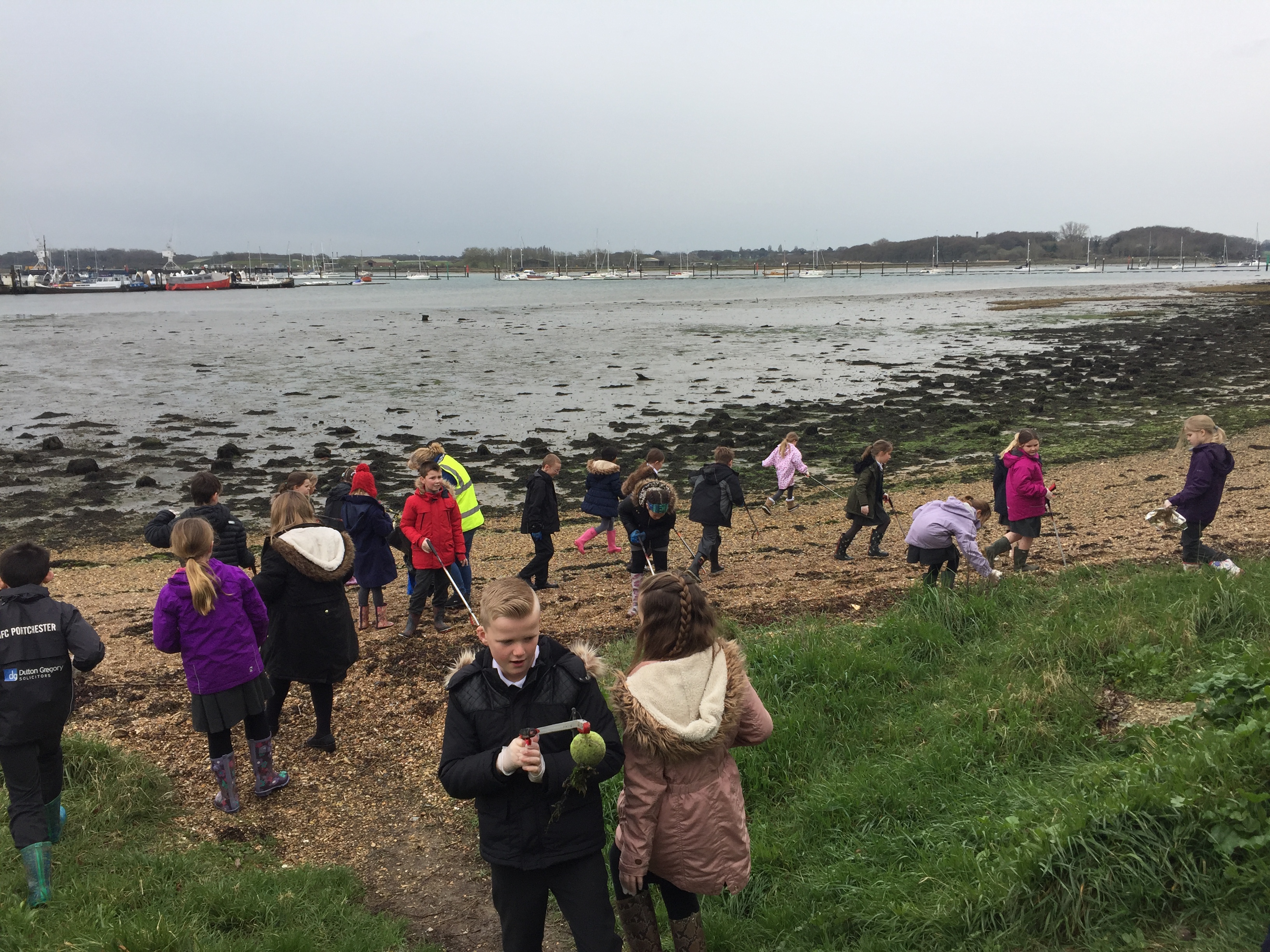 Wicor Beach clean for Earth Hour