Sally, 18, from Worcestershire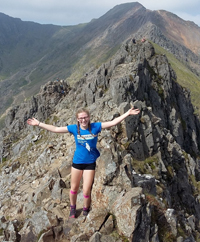 When I think of our beautiful planet, in my head I know that it faces so many threats and dangers caused by our human influence, however in my heart I always know that together we can do something incredible to protect it. That's why I am involved with the WWF - as I know that they can make a difference.
My passion of our changing environments grows every single day and spreads throughout all aspects of our thriving ecosystems. From the depths of the rainforests to the vast open grasslands, I would love to protect all of them, however my true love of our oceans and marine life tops everything, with one crash of a wave. From delighting in swimming off the coast in many wild locations, my passion of these habitats has continued to increase wildly and I hope to learn more throughout the years to make sure spectacular ecosystems thrive in the unpredictable future.
From the huge cities to my small village in Worcestershire, plastics are everywhere, we can't get away from it. However recently I have campaigned to reduce single use plastic in my school, which along with the co-operation of my headteacher, it has been recognised and changes have been put in place. I look forward to make even more changes until my school's core goal is to protect the environment. As well as this, I truly believe that inspiring younger generations is the way forward, so I have delivered my first of many assemblies to primary schools on tackling global problems and steps they can take to influence this at school and at home. This communication is super important therefore a friend and I will be completing the Welsh 3000's walking challenge in summer2020, aiming to spread awareness of the climate crisis as well as raising funds for the work of the WWF. I'm super excited for the next year and completing even more beach cleans, conservation work and branching out my love for nature.
Having adopting animals, being a member and completing "Earth hour" yearly (even doing it twice one year due to getting dates wrong). I have always been inspired by the WWF's work, so becoming a youth ambassador is an amazing opportunity and to represent my generation is essential for youth engagement, so we have a voice in the diverse world. I can't wait to further support the Organisations work, as well as working with the youth team to influence change – which is definitely overdue.