Hattie, 16, from Essex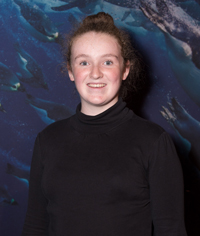 From a really young age I have always loved going outdoors and spending time in nature. I was part of a brilliant Scout group and we had amazing adventures and always been camping with my parents who spent their time telling me the names of things when we are in the countryside walking the dog. The more I learnt about nature the more I realised how important it is, and it's our job to look after it. I feel passionate that young people have a voice on all environmental matters and that they have the confidence and feel empowered to communicate their concerns. It is such a massive subject the more people that we can get involved the better and by bringing people together and talking about how amazing our planet is, we can then encourage action. 
Last year I set up The Little Earth Library due a news report stating that a lot of people do not know the names of common birds and trees. We don't need to name them to know that we like them but it seemed a shame that so many books were sitting on shelves and not being used. I collect all kinds of nature books and give them away from a basket at the front of my house when the weather is good. Over winter a zero waste shop in my local High Street is hosting the Library.
I have attended lots of public meetings and was invited to speak at a Climate Change public meeting where I was introduced to Gareth Redmond King from WWF who was also speaking.
To be a youth ambassador makes me feels like I'm part of such a strong movement and bringing likeminded people together. This has certainly made a difference when I am speaking to people or emailing, they seem to take me more seriously now.  It's a small thing but it does make a difference.