A primary school in Abererch, Pwllheli has won a national conservation prize, clinching victory in WWF's Green Ambassador Awards for protecting the planet.
Ysgol Gynradd Abererch faced stiff competition from schools across Wales in the nationwide search to find primary schools encouraging and empowering the next generation of sustainability champions.
The annual awards are part of WWF's flagship Green Ambassadors scheme, supported by players of People's Postcode Lottery. The awards showcase the very best examples of schools putting environment and sustainability at the heart of what they do. As well as celebrating their achievements, their story will now help inspire schools across the country to embark on their own green initiatives.
Head Teacher Annwen Hughes said: "We're really proud to have been chosen as the top school for the Green Ambassador Award. It's recognition of how we as a school community have embedded the principles of a green way of living into our daily routines and work. We take pride in being a caring school – we care about each other and the environment.
"Our pupils are the adults of the future. They must play an active role in protecting and improving the environment. The skills and attitudes we give them in their early school years will hopefully have positive impact on their lifestyle, and make them aware of their responsibilities as citizens. We believe it's our duty as a school to promote a caring attitude towards the environment."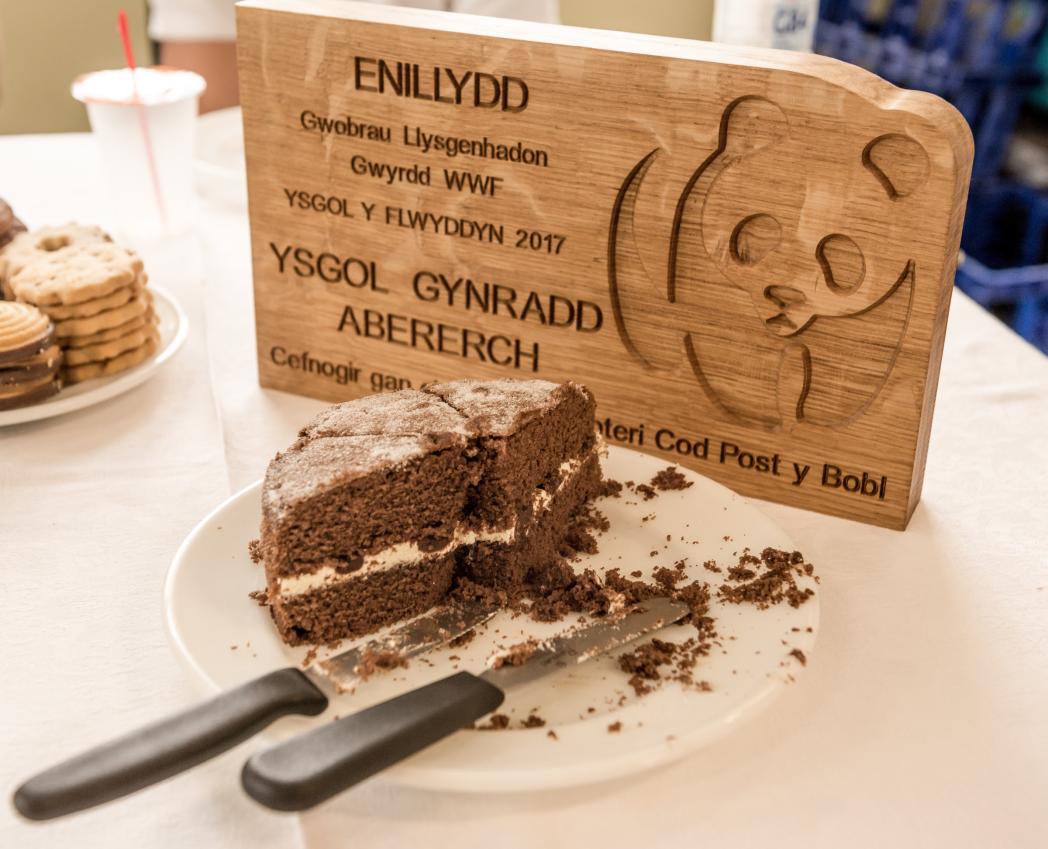 Richard Stonehouse /Stonehouse Photographic / WWF
Cherry Duggan, Head of Schools & Youth at WWF said: "Abererch School's long term focus on sustainability is having a genuine impact. Alongside their vegetable patches and 'bug hotels', we were impressed by the range of projects they're involved in – such as a SMART group in school encouraging pupils to rethink how they use energy. The School also has a real commitment to reducing transport congestion because of an increase in enrolment, so they hold events and training workshops on alternatives like cycling. It's inspirational to see so many young people coming together to protect our planet."
WWF Ambassador and presenter Ben Fogle launched the Green Ambassador Awards in March 2017. As well as sending a personal video message to the school, he said: "We've been searching Wales to find the primary schools that are making a real difference for our planet, so I want to congratulate all of the teachers and pupils at Ysgol Gynradd Abererch for winning this award. We can't wait to hear what exciting plans they have next for our environment."
The School will receive a special award plaque as well as a £1,000 prize thanks to the support of players of People's Postcode Lottery to help further their green work. Ysgol Gynradd Abererch plans to use the money to build cycle and scooter racks with a shelter.
- Ends -
Editor's notes
For additional imagery please visit:
NOTES TO EDITORS
About People's Postcode Lottery
People's Postcode Lottery is a charity lottery. Players play with their postcodes to win cash prizes, while raising money for charities and good causes across Great Britain and globally

A minimum of 30% goes directly to charities and players have raised £197.5 Million for good causes across the country

£10 for 10 draws paid monthly in advance with prizes every day. For further prize information visit: www.postcodelottery.co.uk/prizes

Maximum amount a single ticket can win is 10% of the draw revenue to a maximum of £400,000

Players can sign up by Direct Debit, credit card or PayPal online at www.postcodelottery.co.uk, or by calling 0808 10-9-8-7-6-5

Postcode Lottery Limited is regulated by the Gambling Commission under licences Number: 000-000829-N-102511-013 and Number: 000-000829-R-102513-012. Registered office: Titchfield House, 69/85 Tabernacle Street, London, EC2A 4RR

People's Postcode Lottery manages multiple society lotteries promoted by different charities. For details on which society lottery is running each week, visit www.postcodelottery.co.uk/society
About WWF
WWF is one of the world's largest independent conservation organisations, with more than five million supporters and a global network active in more than one hundred countries. Through our engagement with the public, businesses and government, we focus on safeguarding the natural world, creating solutions to the most serious environmental issues facing our planet, so that people and nature thrive. Find out more about our work, past and present at wwf.org.uk.
About Green Ambassadors
WWF's flagship Green Ambassadors scheme, supported by players of People's Postcode Lottery, aims to inspire and empower green teams to take action for our beautiful planet, championing environmental issues with their peers, delivering green projects at their schools, reaching out to the wider community, and developing lifelong skills along the way. Since September 2011 over 6,300 primary schools across the UK have signed up to Green Ambassadors with a pupil reach of over 2.2 million.
The Green Ambassador Awards 2017 included three categories:
The

Schools award

which recognises primary schools that have championed environmental issues across their school - from bringing green issues into lessons alongside the curriculum, to innovative and creative green projects on school grounds, or involving the local community to be more sustainable.
The

Teacher award

which recognises the dedication of individuals within primary schools who have a passion for environment and are supporting young people to be custodians of our planet.
The

Green Team

awards which celebrate the commitment, creativity and achievement of primary pupils working together on green projects at school.
For further information, please contact:
Liz Rossall, Schools and Youth Officer, WWF-UK
Email: ERossall@wwf.org.uk
Tel: 01483 412494
Heini Evans, Campaigns and Media Officer, WWF Cymru
Tel: +44 (0) 29 20538505,
Email: HEvans@wwf.org.uk
YSGOL ABERERCH YN ENNILL GWOBR LLYSGENHADON GWYRDD WWF AR GYFER PROSIECT CYNALADWYEDD
Mae Ysgol Abererch, ger Pwllheli, wedi ennill gwobr cadwraeth genedlaethol, yn cipio buddugoliaeth yng Ngwobrau Llysgenhadon Gwyrdd WWF ar gyfer amddiffyn y blaned.
Bu'r ysgol wynebu cystadleuaeth gref gan ysgolion Cymru wrth chwilio ledled y wlad i ddod o hyd i ysgolion cynradd sy'n annog a grymuso'r genhedlaeth nesaf o hyrwyddwyr cynaliadwyedd.
Mae'r gwobrau blynyddol yn rhan o gynllun Llysgenhadon Gwyrdd blaenllaw WWF, a gefnogir gan Loteri Cod Post y Bobl. Mae'r gwobrau yn arddangos yr enghreifftiau gorau oll o ysgolion sy'n rhoi'r amgylchedd a chynaliadwyedd yng ngwraidd yr hyn a wnânt. Yn ogystal â dathlu eu cyflawniadau, bydd eu stori yn helpu i ysbrydoli ysgolion ar draws y wlad i gychwyn ar eu mentrau gwyrdd eu hunain.
Dywedodd Pennaeth Annwen Hughes: "Rydym yn falch iawn o fod wedi cael eu dewis fel yr ysgol top ar gyfer y Wobr Llysgennad Gwerdd. Mae'n gydnabyddiaeth o sut yr ydym fel cymuned ysgol wedi ymgorffori egwyddorion ffordd werdd o fyw fel rhan o'n harferion dyddiol a gwaith. Rydym yn ymfalchïo mewn bod yn ysgol ofalgar - yr ydym yn gofalu am ein gilydd a'r amgylchedd.
"Mae ein disgyblion yn oedolion y dyfodol. Rhaid iddynt chwarae rhan weithredol wrth ddiogelu a gwella'r amgylchedd. Gobeithir y bydd y sgiliau a'r agweddau yr ydym yn eu rhoi yn eu blynyddoedd cynnar yn yr ysgol yn cael effaith gadarnhaol ar eu ffordd o fyw, a'u gwneud yn ymwybodol o'u cyfrifoldebau fel dinasyddion. Rydym yn credu ei bod yn ddyletswydd arnom fel ysgol i hyrwyddo agwedd ofalgar tuag at yr amgylchedd. "
Dywedodd Anne Meikle, Cyfarwyddwr WWF Cymru: "Mae ffocws hir dymor Ysgol Abererch ar gynaliadwyedd yn cael effaith go iawn. Ochr yn ochr â'u gerddi llysiau a 'gwestai chwilod', cawsom ein plesio gan yr amrywiaeth o brosiectau y maent yn ymwneud â - megis grŵp SMART yn yr ysgol sy'n annog disgyblion i ailfeddwl sut maent yn defnyddio ynni. Mae gan yr Ysgol ymrwymiad gwirioneddol i leihau tagfeydd trafnidiaeth o ganlyniad i gynnydd mewn niferoedd o ddisgyblion, felly maent yn cynnal digwyddiadau a gweithdai hyfforddi ar ddewisiadau eraill fel beicio. Mae'n ysbrydoledig gweld cynifer o bobl ifanc yn dod at ei gilydd i ddiogelu ein planed. "
Lansiwyd Ben Fogle, cyflwynydd a Llysgennad WWF, y Gwobrau Llysgennad Gwyrdd ym mis Mawrth 2017. Yn ogystal ag anfon neges fideo bersonol i'r ysgol, dywedodd: "Rydyn ni wedi bod yn chwilio Cymru i ddod o hyd i'r ysgolion cynradd sy'n gwneud gwahaniaeth go iawn ar gyfer ein planed, felly yr wyf am longyfarch pob un o'r athrawon a'r disgyblion yn Ysgol Gynradd Abererch am ennill y wobr hon. Ni allwn aros i glywed pa gynlluniau cyffrous sydd ganddynt nesaf ar gyfer ein hamgylchedd."
Bydd yr Ysgol yn derbyn plac gwobr arbennig yn ogystal â £ 1,000 wobr diolch i gefnogaeth o Loteri'r Cod Post er mwyn helpu i hybu eu gwaith gwyrdd. Mae Ysgol Gynradd Abererch yn bwriadu defnyddio'r arian i adeiladu rheseli beiciau a sgwteri â lloches.