New land management policy needs to keep people on the land as well as delivering against a range of public priorities, like clean water, carbon mitigation and biodiversity.
Welsh farmers, environmental charities and CLA Cymru have come together to showcase some of Wales's most innovative farm businesses that deliver a range of public goods and benefits – leading the way for the future of our land. Our Land Our Future, addressed by the Welsh Government Cabinet Secretary, heard that farming must meet more of society's wider needs to be resilient and to be supported by taxpayer's money.
Speaking at the Our Land Our Future event, hosted by CLA Cymru, National Trust, RSPB Cymru, Woodland Trust Wales, Wildlife Trusts Wales and WWF Cymru at the Royal Welsh Agricultural Show today, CEO of Wildlife Trusts Wales Rachel Sharp said, "The recently launched Brexit and Our Land consultation gives us an exciting opportunity to create a sustainable land management policy that supports rural wales and protects the environment."
"We want to work together with farmers and land managers to get the best results for everyone. And we share the same priorities – keeping people on the land so rural communities and nature can thrive together."
Farming is a part of our cultural identity in Wales, but our needs as a nation are changing. As well as food, we need our land to provide us with ways of storing water, ways of tacking climate change, ways of reducing flooding in communities, and more.
Wales needs a policy which is realistic about our future needs and will improve our social, economic, environmental and cultural wellbeing: a policy which drives investment in managing natural resources such as water, wildlife and sustainable food.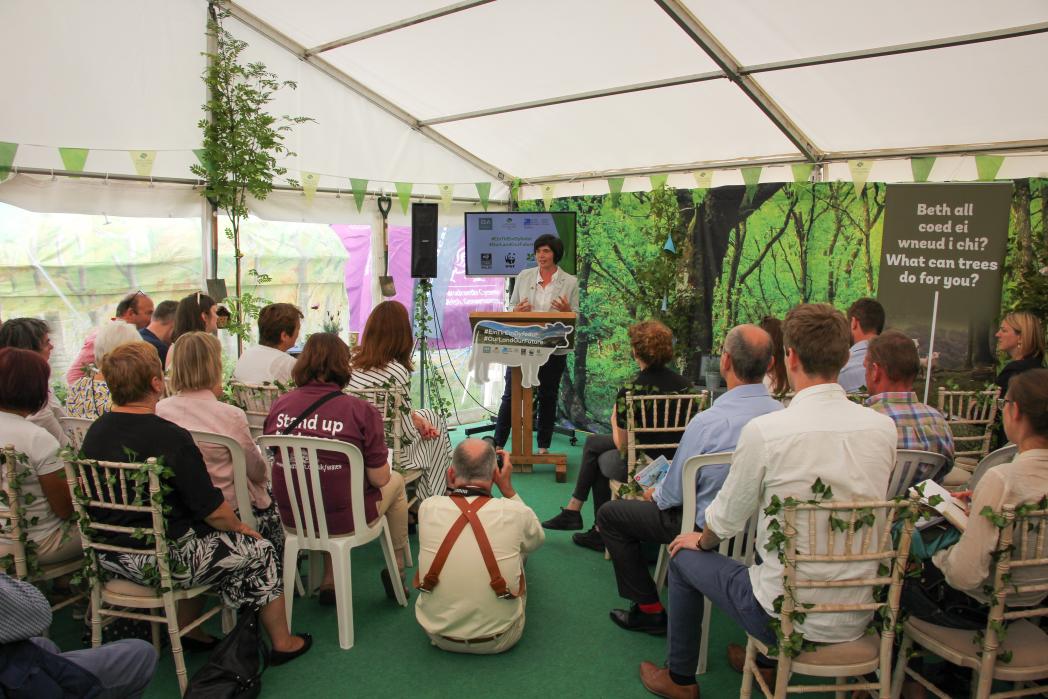 Caitlin Nelson / WWF Cymru
The Welsh Government Consultation "Brexit and Our Land" reflects the challenge and proposes a future support-structure that balances support needed for production and economic resilience, with the longer-term measures to deliver for a wider range of public benefits.
The event heard from three Welsh farmers who described how they manage prosperous businesses and deliver public benefits. Rachel Sharp added, "Their experience indicates not only that this is achievable, but points towards how we should roll-out land management policy in the future."
Rebecca Williams, Director CLA Cymru said, "The consultation launched last week offers a bold vision for the future, but the farmers we have seen here today show how productive land management can work together with meeting other priorities. Time and support are essential to ensure that farmers can adapt, but the consultation is a leap-forward in ensuring land managers are appropriately remunerated for their good work - and what they do is rightly valued by the wider community."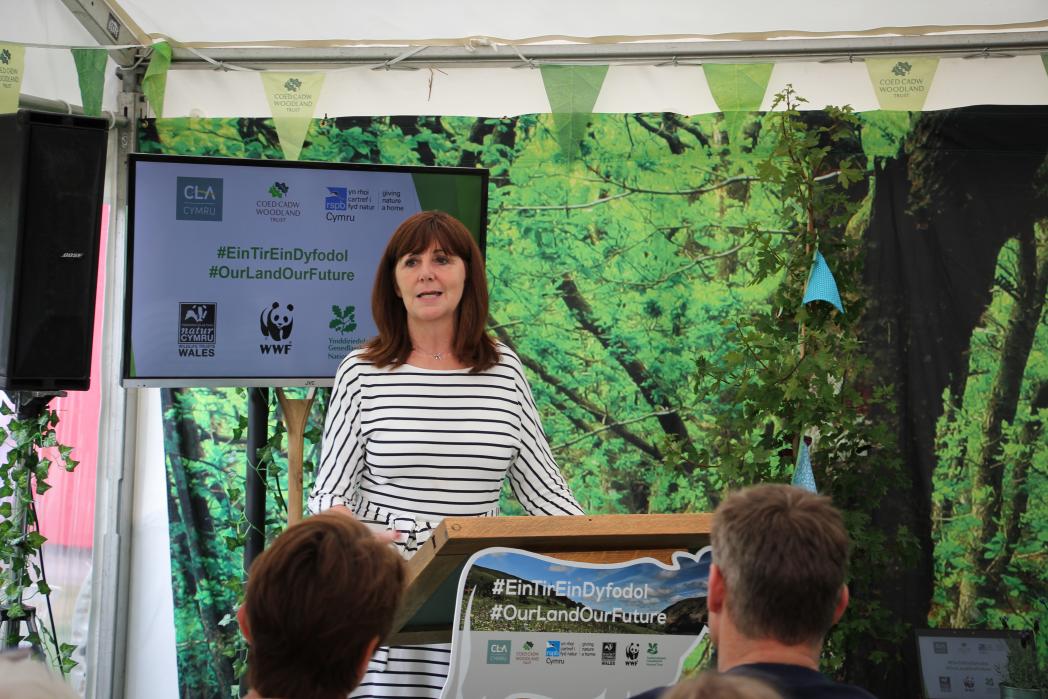 Caitlin Nelson / WWF Cymru
Speaking ahead of the event, the Cabinet Secretary for Energy, Planning and Rural Affairs, Lesley Griffiths, said "How land is managed matters to us all. Our proposals for a new land management programme, currently out for consultation, recognises the potential our land managers have to produce outcomes of huge importance to Wales.
"Our proposals are based on the five core principles I set out earlier this year. We want to make our critical farming sector - and the rural communities that depend on it - more resilient, more prosperous and able to thrive in a post-Brexit world, as well as meeting our objectives for the environment and future generations. I urge everyone with an interest in how we manage our land to get involved in our consultation and have their say."
Three Farmers shared their experience and vision for the future of farming and delivery of public goods:-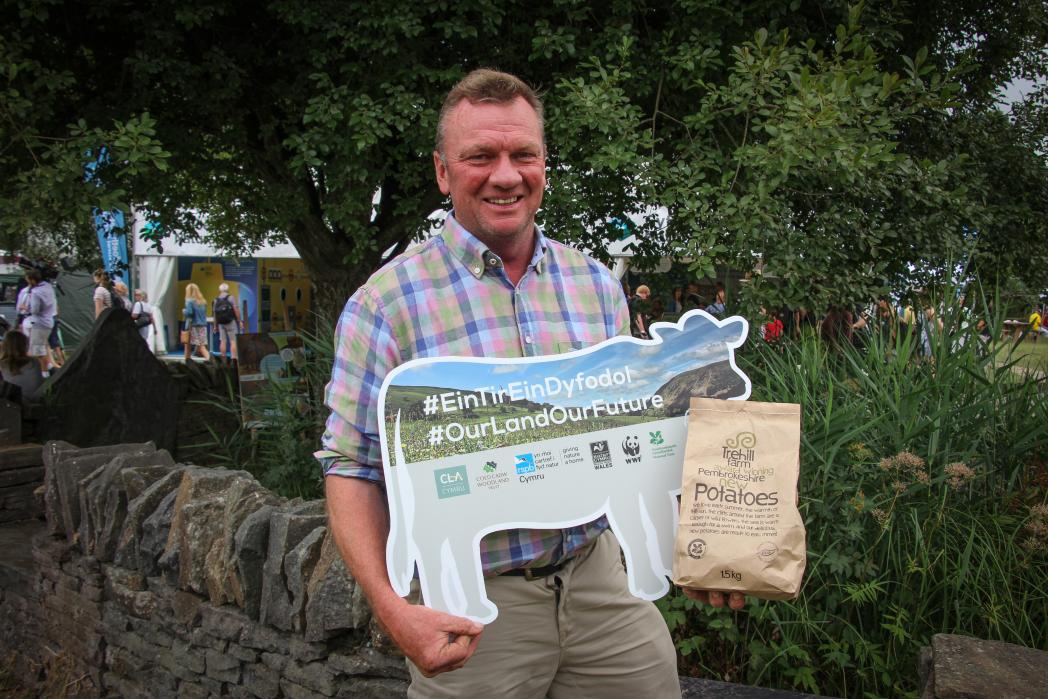 Caitlin Nelson / WWF Cymru
Peter Smithies from Trehill Farm, Pembrokeshire
Peter runs a 600 acre beef and arable farm business on National Trust lowland "high nature" SSSI marsh and coastal heath which is also part of a large scale coastal habitat creation scheme.  His farm produces award-winning Pembrokeshire potatoes, sheep, cereals and traditionally-bred cattle. Their second farm also includes holiday cottages and Peter's wife Gina manages a bespoke outside catering business.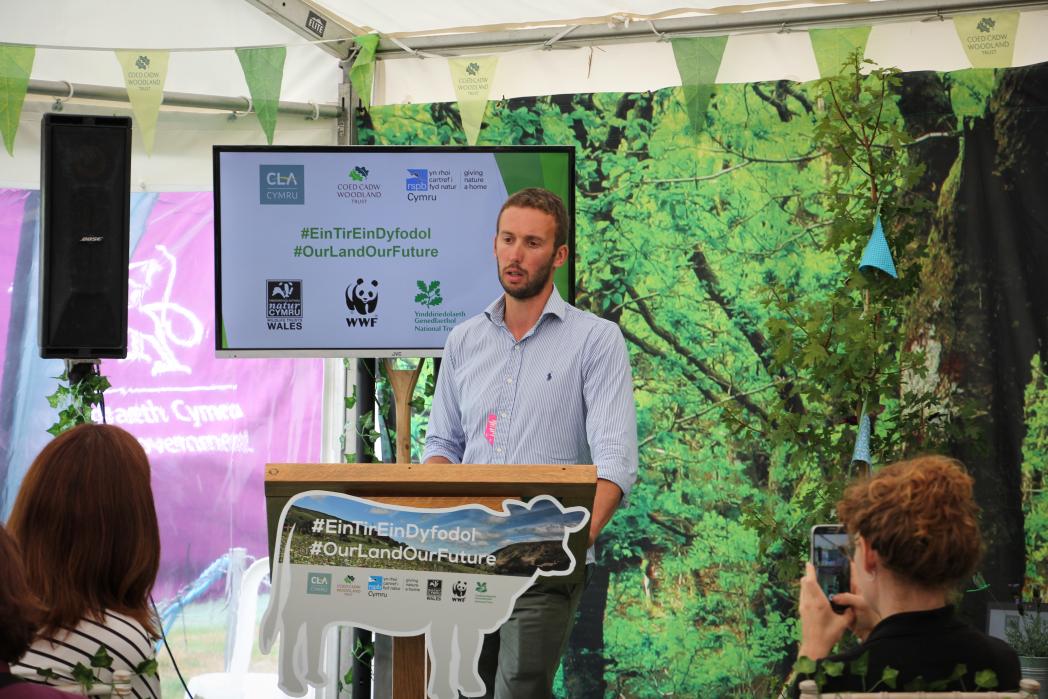 Caitlin Nelson / WWF Cymru
Geriant Davies from Fedwarian, near Bala
Chair of Nature Friendly Farming Network (NFFN) in Wales, Geraint Davies manages an organic farm of over 1,000 sheep and 50 suckler cows on grassland, woodland and blanket bog. Some 80 per cent is SSSI. Here the business has focused on sustaining and improving soil quality and bio-conservation. A fundamental premise of the business is that livestock-management is an effective land-management tool.  The farm has also been putting back bog habitats on the mountain by blocking ditches in designated areas. This not only aids water retention and carbon storage but creates a unique habitat for birds. And the farm has a special relationship with the RSPB. The farm has also developed 15km of hedgerows and a stream-margin habitat which has created wildlife corridors linking up sections of ancient woodland.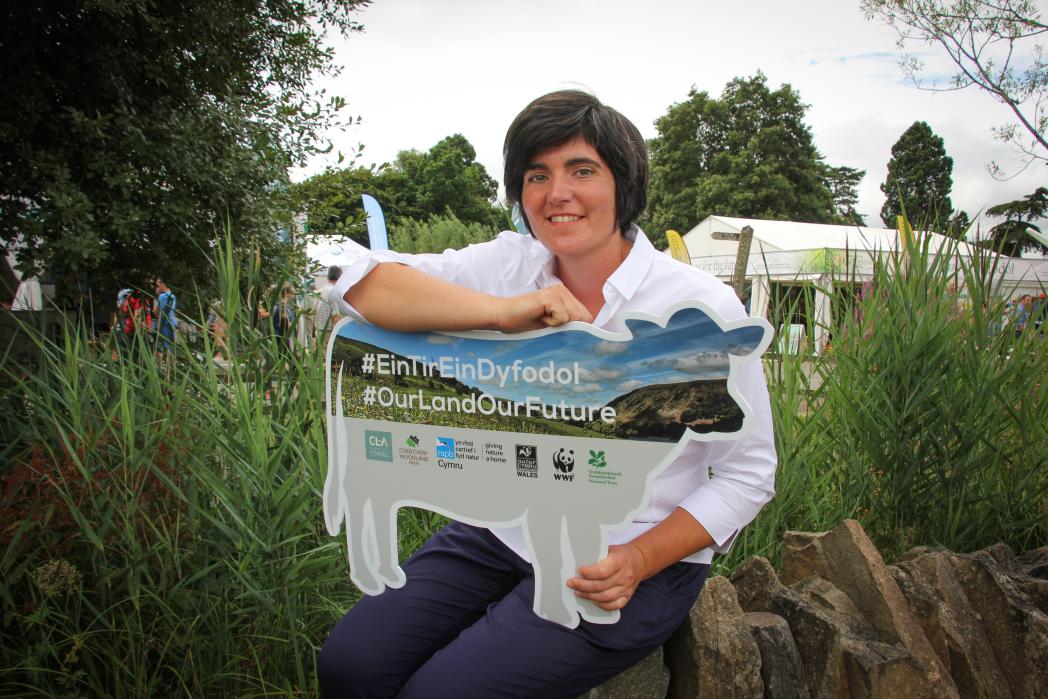 Caitlin Nelson / WWF Cymru
Abi Reader, dairy farmer near Cardiff
Abi manages a 180-strong dairy-herd on 800 acres near Cardiff. She has been appointed to the NFU's national dairy board, she is part of the Welsh Dairy Farm Innovations Group, the South East Wales TB Eradication Board, and the Cattle Vaccination Board. Abi is founder of #Cowsontour, as well as being an AHDB Dairy Ambassador and hosting Open Farm Sunday, among many other commitments. While constantly looking for new ideas and challenges to bring value back to the industry, Abi is also interested in investigating how integration can help improve buying/selling power, knowledge support and risk sharing among farmers.
For further information:-
CLA Cymru:         Robert Dangerfield, 01547 317085. robert.dangerfield@cla.org.uk