It's Global Tiger Day today, and around the world people are celebrating the importance of this magnificent creature and raising awareness of its plight.
There are as few as 3,200 tigers left in the wild. Over the last century wild tiger numbers have fallen disastrously, by more than 95% - mainly due to poaching and the destruction of forests and other habitats they need for survival.
Here at home we have just launched a new partnership with Whiskas to protect tigers in the wild and help double their numbers by 2022 - the next Year of the Tiger.
As part of our goal of doubling wild tiger numbers, we're asking the governments of tiger range countries to commit to a series of global wild tiger counts. In order to know if we are on track to reaching this goal, three comprehensive counts are needed - in 2016, 2020 and 2022. Thorough and repeat counts are the only definitive way the world will know the success or failure of our tiger initiative.
Tiger range countries have set an ambitious goal and WWF is committed alongside them to make it a reality," says Mike Baltzer, leader of WWF's Tigers Alive Initiative. "To know global tiger population numbers will be to know where we are... and will help understand what else we need to do together to put tigers in a safe place by 2022."
Counting tigers out in India
Determining the exact number of tigers in the wild is difficult as they are notoriously elusive and inhabit often remote and rugged terrain. For many countries, carrying out tiger counts has been prohibitively expensive and time-consuming. But with improved survey techniques and equipment, particularly cheaper and more durable camera traps, countries are more enabled to carry out these counts.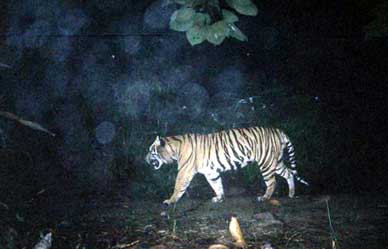 Using these techniques, India and Nepal have for the first time conducted a joint survey in the Terai Arc Landscape that spans the two countries.
Conducted early this year and covering protected areas, critical forest corridors, community forests, reserve forests and buffer zones, the joint effort marks a milestone in Indo-Nepal trans-boundary wildlife research and monitoring collaboration.
The two countries, together with Russia, are continuously assessing their wild tiger populations with results indicating that tiger numbers in those countries are beginning to stabilise, if not increase. While this indicates we are on track towards doubling tiger numbers in some countries, the same may or may not hold true in the other tiger range countries.
Lots more to be done to help tigers
Experts from each tiger range country would need to agree, as soon as possible, on the methods and approaches to make this the first truly global census of wild tigers. It's a big job. It takes time and significant resources, but it's an important way of securing a future for tigers - and people across the world want to see that happen.
This is why WWF-UK has teamed up with Whiskas, the UK's number one cat care brand, to support daily work of WWF in the Terai Arc region of Nepal as well as provide much needed funds for our global Tigers Alive initiative.
You can...
"