Send us your stories
Please share your stories with us, we'd love to hear how your school is celebrating Earth Hour this year. Simply share your Earth Hour stories by completing either our short survey or emailing us at schools@wwf.org.uk
When you share your story, we'll also enter you into our prize draw with a chance of winning an animal adoption for your school – we've got 3 to give away!
Gwyrosydd Primary School, Swansea
Set up a competition to write a description of the earth in 50 years' time. Asked children to produce a diary of how they will celebrate earth hour.
Enstone Primary School, Chipping Norton
During the school day we turned off our lights for an hour in total (during the assembly and whilst eating lunch).  Our ECO Warriors led an assembly about Earth Hour and climate change which included clips provided from the support pack.  They encouraged the whole school to take part in Earth Hour on Saturday night including highlighting information in our newsletter this week.  In addition to this we asked all the children to make their own personal promise to help look after our planet.  We all wrote our promises on paper templates of plastic bottles.  We encouraged the children to try to make a promise based on plastics to link to our GLP assemblies on plastics in the oceans.  The children were very keen to reduce their use of plastic straws, bottles and bags and to exchange for alternatives.  The promise bottles will be made into a display to show our 'wave of change' and how all our small changes will make a big difference to the planet.
Roberts Primary School, Dudley
The Eco-team delivered an assembly to the school about Earth Hour. All children had a letter home explaining about Earth Hour and suggestions of activities they can take part in. They also took home an instruction sheet to make the promise wand and a blank sheet to record what they have done for our school display.   Activities the children are hoping to do range from taking a night time nature walk, shadow puppet shows to telling stories and drinking hot chocolate.
Our Lady of the Wayside Catholic Primary School, Solihull
Our Eco Council have decided to have our Global Switch off for the last hour of school on Friday. Children have been making posters and talking about the things they can do to make our world a better place. We have come up with lots of excellent ideas and by working in partnership with Solihull MBC we plan to make our school more sustainable and environmentally friendly.
Quainton Hall School, Harrow
All of Prep 4 made a lantern in their Design Technology lessons.
Maddiston Primary School, Falkirk
Firstly, we will be running our usual 'No Power Hour' as we have done for the past five years on Friday 23rd March during the school day with all of the classes. Especially in this day and age it takes a lot for the children to switch off and appreciate the implications of using power and this hour has always proved successful.    Secondly, our ECO committee are running a 'Plan to save the Planet – there is no Planet B' campaign in which all the children and families are asked to make a promise to the planet. Through this we will also be encouraging families to make their promises on the WWF site.
Woodhey High School, Bury
Our Eco Club created earth hour posters and a video to raise awareness within the school.  Everyone in the school has seen the video.
Rathfern Primary School, Lewisham
Our whole school is getting involved by making promises to our planet either on a leaf or tile using the resources you have sent us. We will be displaying these in our school halls.  All the leaves will be on a tree in our main hall and the tiles will be displayed all together as one big display to give maximum impact.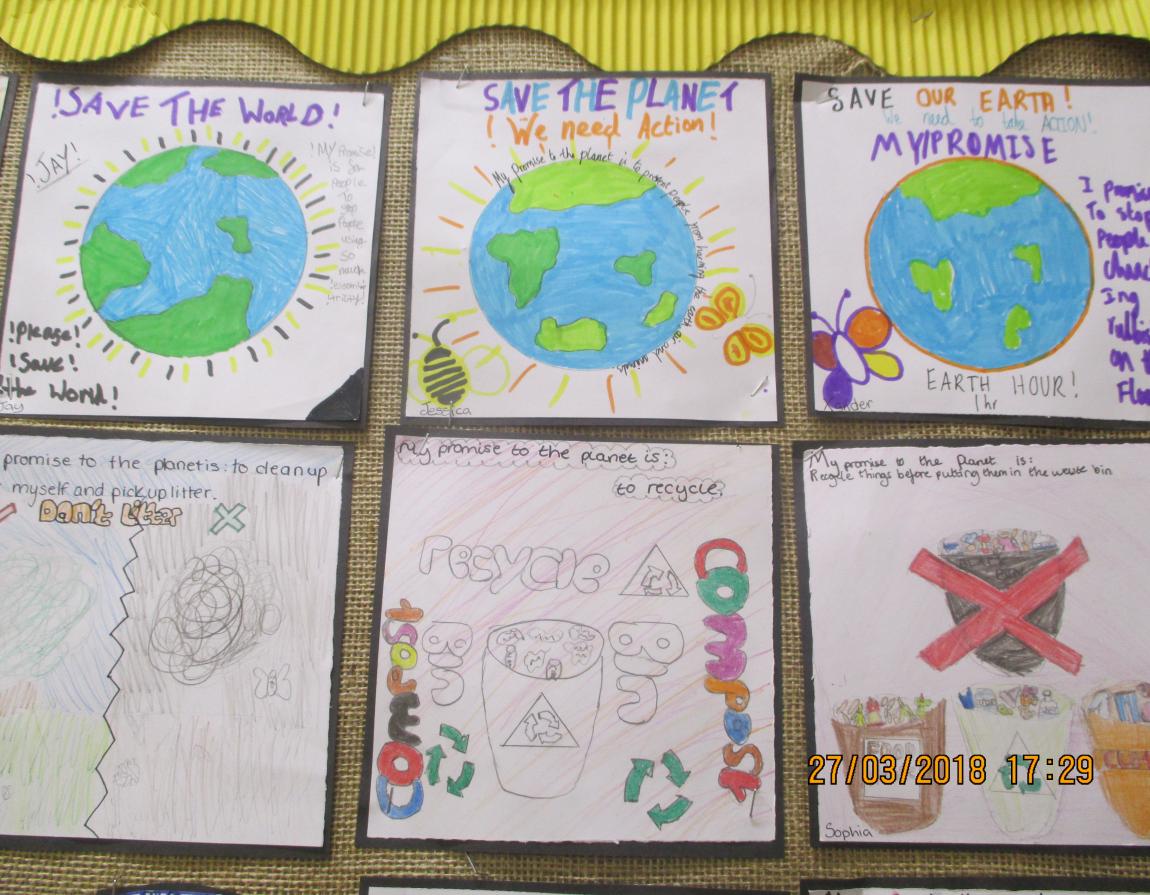 Victoria Primary School, Nottingham
Our WWF Green Ambassadors had been round in the week to share a PowerPoint on Climate change and then on Friday 23rd checked that all lights in school were switched off and then had lots of fun in the dark, outside playing and creating our class promises for our promise tree. The teachers even had a non-photocopier day! We will continue to work on creating a more sustainable planet.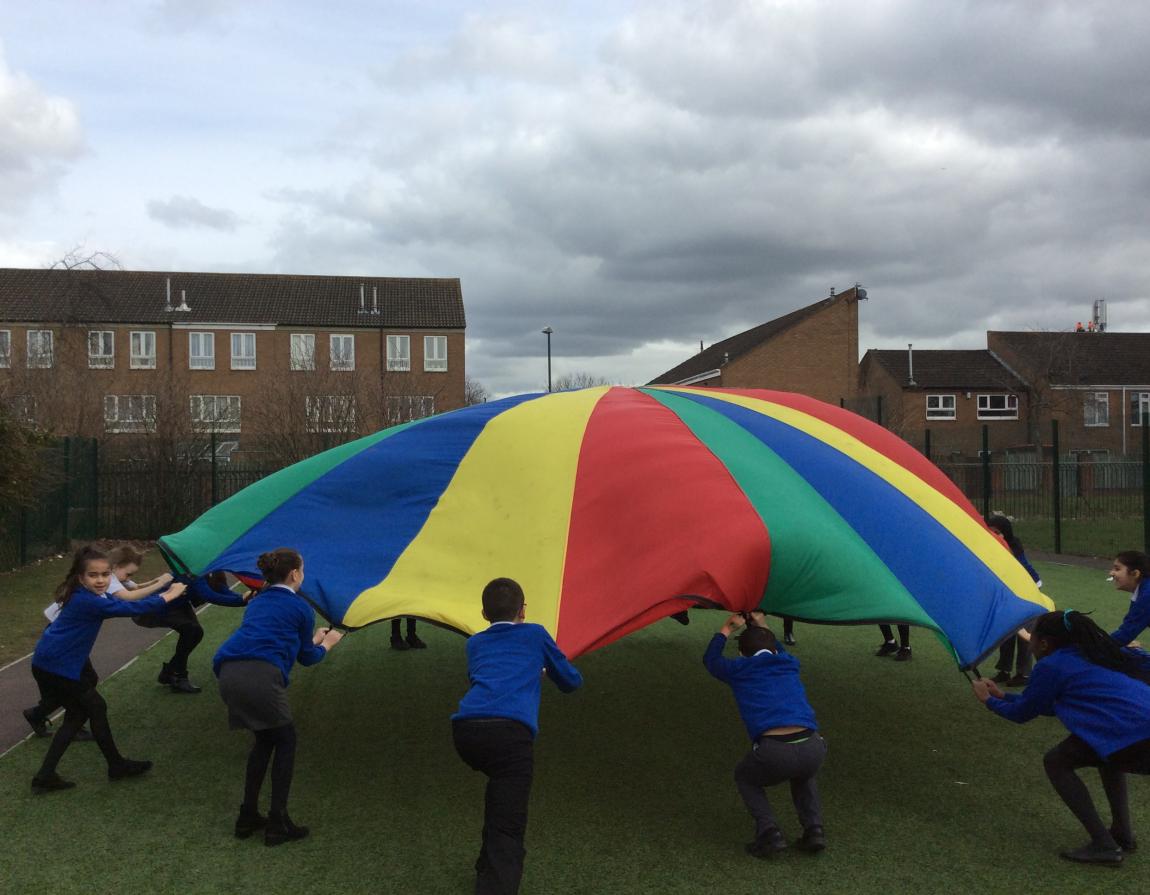 St Mary's First School, Charminster
Here at St Mary's First School, Charminster, we celebrated Earth Hour in three ways.  Firstly, our Eco Committee created two quizzes.  One for Key Stage One/Reception and another for Key Stage Two.  They chose 10 animals which were either endangered or critically endangered and hid them around the school with a red and orange dot on each picture.  The school had to spot the animals then decide what the red and orange sticker meant.  Our Eco team decided to use red dots to show the animal is critically endangered and the orange dot to show it is endangered.  Our corridors display our Home Learning.  Each child has found out facts about an endangered species. This has led classes to have great discussions about why species are becoming endangered and what can be done about it. This in turn led us to make promises to help protect the world.  In our Library, we have a 'tree' and this is festooned with our promises which have been written on leaves.
Wormit Primary School, Fife
At Wormit School we held an Earth Hour Assembly. We switched off all our lights on Monday the 26th and this year created a tree of all our 'leaf' promises to the world. Please see attached photo. Lots of our families signed up and switched off for Earth Hour and we are enjoying hearing about what they did!
St Mary's First School, Charminster
Here at St Mary's First School, Charminster, we celebrated Earth Hour in three ways.  Firstly, our Eco Committee created two quizzes.  One for Key Stage One/Reception and another for Key Stage Two.  They chose 10 animals which were either endangered or critically endangered and hid them around the school with a red and orange dot on each picture.  The school had to spot the animals then decide what the red and orange sticker meant.  Our Eco team decided to use red dots to show the animal is critically endangered and the orange dot to show it is endangered.  Our corridors display our Home Learning.  Each child has found out facts about an endangered species. This has led classes to have great discussions about why species are becoming endangered and what can be done about it. This in turn led us to make promises to help protect the world.  In our Library, we have a 'tree' and this is festooned with our promises which have been written on leaves.
Coldfall Primary School, Haringey
We decided as Earth Hour was on a Saturday, we would hold an Earth Day on Friday 23rd March to show that we really care about our planet. Year 4 pupils made posters to promote the event in class. On the day, we made sure that our lights and computers were switched off and the kitchen staff even made a cold lunch instead of the usual cooked meal. Some of our lessons were held outside so that we could really bond with nature and appreciate the wonderful world we live in. It also got us thinking about the importance of our actions on helping to protect the planet. Year 3 pupils went into the woods and made art from nature to show what they would be doing at home during Earth Hour.
The Kingsley School, Leamington Spa
The Kingsley School celebrates Earth Hour every year with a range of events and activities. Throughout this week, staff and students have been writing their #PromiseForThePlanet, as part of the WWF Earth Hour celebrations, thinking about the small changes we can make to protect our planet. Laundry company Ariel have said that they will donate £1 for every promise shared, so The Kingsley School have been trying to gather as many promises as possible.
Ms Harper, the school's very own WWF Ambassador, delivered a Prep School assembly on Earth Hour and the work that the WWF do, explaining the importance of looking after the planet and the small things we can do to help make a difference. The pupils brought in their own cuddly animals and wrote their #PromiseForThePlanet onto leaves, which were added to a 'Promise Tree' on display in the school hall. Ms Harper had also made some Earth Hour flapjacks that the children could try in exchange for a small donation and, to the children's delight, she brought her WWF panda mascots along to say hello!
The Kingsley School also participated in their very own Earth Hour on Wednesday 21st March, switching off all lights across the three school buildings over lunchtime. This was enforced by students, who engaged in stimulating discussions throughout the hour. Many of our staff and students will be participating in the Earth Hour switch off on Saturday 24th March, and are currently planning candlelit activities to do with their family and friends.
Oakleigh House School, Swansea
Year 4G in Oakleigh house Swansea have been using the educational resources on your website for Earth Hour.  This culminated in the children researching endangered animals and working in pairs to create collages and posters. They have thoroughly enjoyed the activities and they now have a better understanding of the need to hold events like Earth Hour.
Wicor Primary School, Fareham
All 440 of our pupils have made a heart shape fat ball or heart shape clay seed bomb. These have been made using seeds harvested from our grounds including sunflower, calendula and marigolds. The fat balls will immediately feed the birds and the seed bombs will grow into flowers that will produce seed annually.  In addition our fight against plastic continues with every child making a pledge on what they will do to make a difference. These pledges will be handed to our local MP to raise awareness for our concerns and to look for support.  Please find photos of the heart shape fat ball and clay seed bomb that we have made. Since making them we have seen lots of birds in our grounds including a great spotted woodpecker, wood pigeons, crows, blue tits and goldcrests.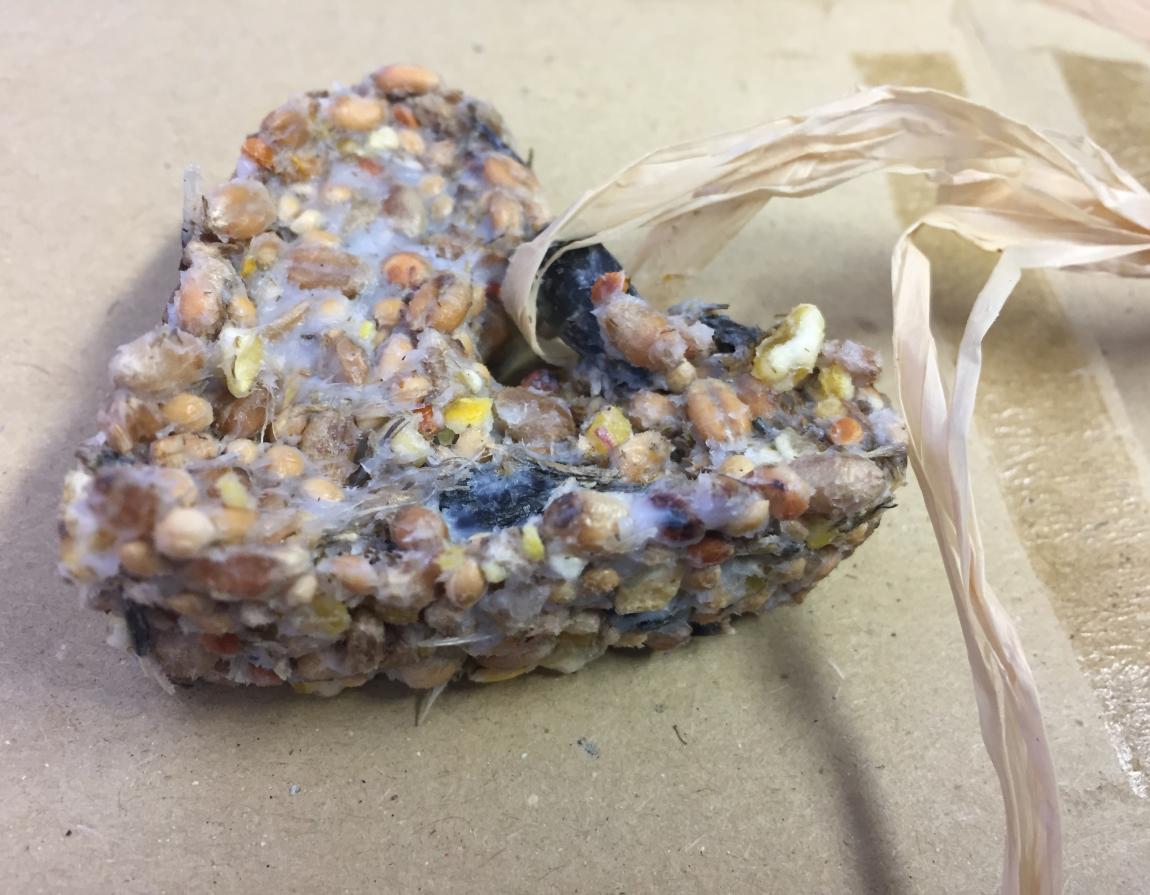 St Colm's High School, Draperstown
Our Year 11 pupils held an assembly to promote climate change and earth hour for 450 fellow pupils and 28 staff on Monday 12th March. Pupils will be signing up to take part in Earth Hour 2018 on Thursday in tutor class and will also be given the opportunity to sign up to make a promise for the planet - both sheets attached.  Staff and pupils will wear bright clothes to school on Friday to celebrate Earth Hour and all classrooms will turn out their lights and we will monitor the energy-saving.
Rydal Penrhos Preparatory School, Colwyn Bay
To celebrate Earth Hour at Rydal Penrhos Preparatory School, our Year 3 class held an assembly for the rest of the Prep children in the week leading up to Earth Hour. Following this, using the lesson plan provided, each class from Reception to Year 6 learnt about the causes of climate change and the effects on both people and animals. Then the children made Earth Hour promises on leaves which were hung on a branch to make an Earth Hour Tree of Promises. Our Year 5 classes included Earth Hour in their Geography topic, making information posters about an endangered animal and posters to advertise Earth Hour. We encouraged all the children and parents to celebrate Earth Hour at home by either turning off their lights for one hour or by doing an activity which didn't involve using electricity etc. such as playing outside during the day instead of watching TV.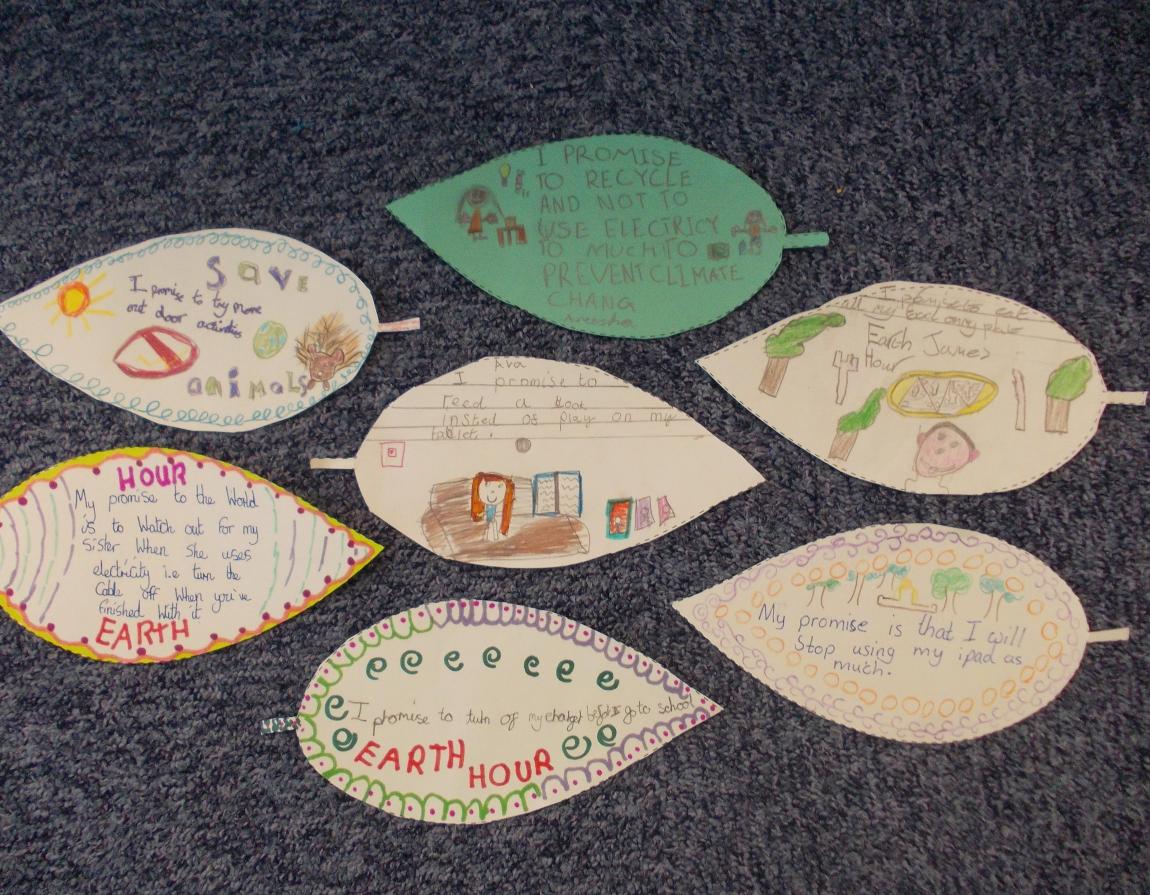 Alcester Academy, Alcester
Our school held a week of assemblies prior to Earth Hour to publicise the event to students. Students also took part in a number of activities during Tutor Time including appointing Green Ambassadors, making pledges to the planet, and investigating the causes and effects of climate change. All Tutor groups also took part in a competition to come up with ideas to make the school greener and more sustainable. Alongside this, students also watched 'Before the Flood' in Geography lessons, and also learnt about food miles and about how we can try to adapt and mitigate to the effects of climate change. Finally we also held our own Earth Hour where the whole school went energy- free; all laptops, computers, projectors, lights, and cooking facilities were turned off and the students learnt about sustainable energy schemes such as the glow in the dark path in Oxford.
Westcliff High School for Girls, Southend-on-Sea
It was a weekend so we couldn't do anything, but at home we switched all of our lights off for one hour and used candles instead, to save electricity and energy. We also recycled lots of our things.
Manor Community Primary School, Kent
Assembly ran to cover the basics of Earth hour + inspire children to get involved.  Posters/leaflets/drama(tv reports) created so promote the event.  Clips of documentaries such as Blue Planet used to show the effects of global warming.
Bushy Hill Junior School, Guildford
Our ECO buddies from Y6 prepared a presentation about Earth Hour. At a whole school assembly they explained what is Earth Hour, why and how we celebrate it and talked about climate change and endangered animals. The children were engaged and truly enjoyed the presentation. We sent out a parent mail and asked our families to join in the celebration and encouraged the children to make a promise (be more eco-friendly and "make the change" themselves), we also announced a competition and asked the children to share with us what they have done at Earth Hour, the best pictures and activities will be displayed and the children will be given an eco-leaf with their name and they can put it up on our ECO-Tree (display made by our ECU-buddies).  Next year we plan to extend our Earth Hour and do some activities in school too.  In some classes they had guided reading or news round time about Earth Hour.
Whitecrook Primary School, Clydebank
P4/3 promoted and highlighted awareness of Earth hour across the school.  Individually they came up with a promise and designed their own bunting to add to a wall display.  They created posters to persuade others to support Earth hour and put them up around the school.  They also designed their own t-shirts each with one of five promises they could achieve as a school.  They then created a slideshow to show at a school assembly where they had their own fashion show and promoted Earth hour and their promises.  The class invited their parents in to school to learn more about Earth hour and planted a variety of vegetables together.  We are hoping that these can be used in our school kitchen.  The pupils have also collected litter in the playground and created a rota for each class to take responsibility of collecting any litter dropped.  They created small cards to stick up near lights and recycling bins for each class to remind them to switch lights off and recycle.  The children also made salt dough candles for each class to use when we had our own Earth hour on Friday afternoon.  They went around the school checking and reminding people to turn off lights and electricity for the hour.  The class also printed eco inspired word searches and colouring sheets on scrap paper so that pupils could enjoy their afternoon.
Lanark Primary School, Lanark
Our ECO Pupil Leadership Team led an assembly to the rest of the school about Earth Hour and organised a one hour 'lights off' initiative during school hours yesterday, Friday 23rd March from 11-12 noon.
The River School, Worcester
We are meeting in the dark, lighting a fire and star gazing, and playing games in the dark.  We have 8 acres of grounds with woodland... we will sit around the fire and tell stories and listen to the night time sounds.
Thrapston Primary School, Northamptonshire
We turned off lights and computers from 12 until 1pm and held a Panda Party for 80 Year 3 children, with games and activities, run by our very keen Eco-Action Team! They also took an assembly to tell the school about Earth Hour.
Hall Green Infant School, Birmingham
On Wednesday 21st March we turned all lights, computers, interactive whiteboards etc off for an hour. During this time children were involved in activities around saving the planet e.g. litter picking, recycling, research etc.
St Mary's RC Primary, Edinburgh
The Eco reps have made presentations at the upper school and infant assemblies. They showed the Earth hour 2018 film and sent the WWF resources to individual classes. Primary two have already made a lovely poster about different ways we can save the planet and we are displaying that on our Eco noticeboard. Each class will be holding a mini earth hour with activities, and Eco reps encouraged pupils and staff to take part with their families on Saturday the 24th.
Oakfield Academy, Somerset
The whole school were shown Earth Hour 2018 clips during morning registration.  All parents/carers were sent a text message informing them of Earth Hour 2018 and encouraging them to take part.  Six Science lessons were dedicated to Earth Hour with students designing their own Earth Hour 2018 posters to advertise the event (including science facts about environmental problems the Earth faces).
Vallis First School, Somerset
We have had a whole school assembly looking at the Earth Hour presentation. We all held hands to illustrate our connectedness. Some of the older children made posters to show how children could celebrate Earth Hour and care for the planet by switching off lights, TVs and computers and playing games instead and by respecting nature and caring for the animals, recycling, reusing and reducing waste.   In Golden time this afternoon children can make posters and think about the promises they will make for the planet themselves or with their family. As a whole school we are going to try to switch off unnecessary lights. We have given our families information about Earth Hour on our School's Thursday Note and we are hoping some of our families will join in the event tomorrow.
Roberts Primary School, Dudley
The Eco-team gave an assembly about Earth Hour to KS2. All children have been given the promise wand instructions to make at home along with a sheet to complete about what they do at home during Earth Hour. This will be brought back into school for a school display on Earth Hour.   Activities the children will be doing range from night time nature walks, star-gazing, shadow puppet shows, playing board games in the candlelight to telling stories and drinking hot chocolate!  Year 3 have written an Earth Hour promise and decorated it for display.
St Joseph's Catholic Primary School, Gloucestershire
All pupils this weekend have homework based around reconnecting with God's world.
Venerable Bede Academy, Sunderland
We have used morning worship to celebrate Earth Hour and Geography lessons for students to think about climate change, actions and solutions. We have also created an environmental group.
Whitelees Primary School, Glasgow
Our school runs 12 councils where all of our school community meets together with children aged 5-12. The councils focus on sustainability, environment and citizenship. I run the Whitelees Waste Warriors with Mrs Scott, and we have big plans we've made with the children to promote Earth Hour. We will take 50 of our children and this afternoon take lessons highlighting the effects of global warming on our planet and how we can make a difference. The children will pledge a promise to our planet and plant tomatoes to encourage local produce and sustainability.  They will then go back to class and promote keeping Earth Hour to all of their peers so the whole school is involved. The children will also Tweet their message to the parents and wider community.
Laurencekirk Primary School, Aberdeen
This year in Laurencekirk Primary this year we are holding our own Earth Hour (and a half!).  We are switching off all non-essential appliances throughout the school and measuring the difference we can make in saving energy.  We are doing this on the 23rd March from 1:30 -3p.m.  We have also e-mailed our whole school community, asking them to take part in some way in Earth Hour on Saturday by making a promise or pledge to change any small habit that will make a big difference. We want to protect our planet - it's important to us!
Pittencrieff Primary School, Dunfermline
We decided to have a switch-off of all lights and electrical equipment (PCs, smartboards and lights) between 10 and 11am on Friday the 23rd of March as this tied in with monitoring our electricity usage (action targets for this year). Pupils found out about Earth Hour and its relevance within their own classes and experienced what it was like to work without all the lights on. As a follow-up task we asked children to celebrated the actual Earth Hour on the Saturday and parents to send in photos about the activities they'd enjoyed between 8:30 and 9:30pm on the Saturday. The children's learning would be shared at an assembly, attended by parents, in term 4.
Balcurvie Primary School and Nursery, Windygates, Fife
All pupils at Balcurvie Primary School and Nursery in Windygates, Fife will be participating in Earth Hour this year. On Friday 23rd March we will turn off all lights and electrical appliances for one hour during the school day to show we care about the future of our brilliant planet. As a homework task, all children have been asked to design and make an endangered animal mask to help them think about the animals affected by climate change. Pupils will also be learning about other environmental issues in the run up to Earth Hour.