The Amazon is famed for its unrivalled biological diversity, with wildlife that includes jaguars, river dolphins, manatees, giant otters, scarlet macaws, harpy eagles, anacondas, piranhas and an astonishing range of amphibians, insects and plants.
As the largest tropical rainforest on the planet, it also plays a crucial role in regulating the global climate.
But the Amazon is under huge pressure from cattle ranching and agriculture, logging and climate change. Every minute, an area the size of three football pitches is destroyed.
We've made it a priority to safeguard the Amazon. We're helping to create protected areas and to tackle the root causes of this destruction by working with communities and governments to make the forest more valuable standing than felled.
We've helped to more than double the area of rainforest under protection in the Brazilian Amazon over the last decade. The Amazon Region Protected Area (ARPA) programme, which we set up in partnership with the Brazilian government and others in 2002, has resulted in over 325,000 sq km (roughly the size of Germany) of new or consolidated protected areas.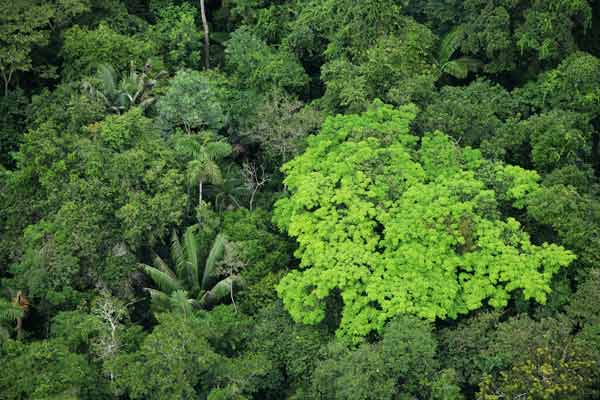 In Peru, in 2004, we helped create the Alto Purús National Park, one of the largest protected areas in the Amazon. This challenged years of illegal logging and poaching which threatened the area's extraordinary biodiversity as well as its indigenous people.
We're now working with the governments of the eight countries of the Amazon to forge a network of protected areas across the whole of the region. Ultimately, we want Amazon countries to manage the forest as one living entity.
Making progress involves working with a variety of different groups. For example, we're helping industry to develop sustainable forestry and soy farming that doesn't cause deforestation. And our Sky Rainforest Rescue partnership is helping local people in the Brazilian state of Acre to earn a better living from protecting the forest. Its aim is to help safeguard one billion trees.
Protected areas have doubled in the Brazilian Amazon over the last decade.
80% of the Amazon remains intact.
Every minute an area the size of three football pitches of Amazon rainforest is destroyed.
You can...
Enter our astonishing new species competition
Be part of our 50th
Find out more about our work in the Amazon
Help Sky Rainforest Rescue to save a billion trees
Five decades of conservation
$(document).ready(function(){addFancyZoom();});