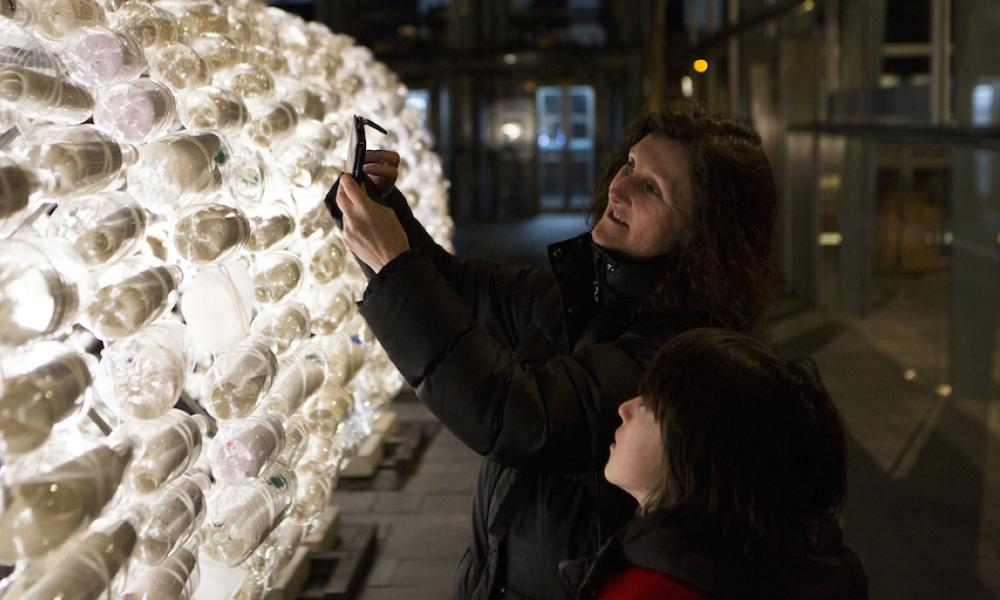 © Dan Green / WWF Cymru
Introduction
We all love Wales. The beauty of our country's landscapes, the communities we call home and our incredible nature – from dolphins to red kites.
Climate change is affecting us now – and it'll have more and more of an impact in the future.
But Welsh action on climate change isn't happening fast enough.
So for the 10th anniversary of WWF's Earth Hour, we launched Message In A Bottle – a project that would inspire people across Wales to send a big message to Cardiff Bay.
Designed by artist Lulu Quinn, a giant 8 metre bottle sculpture, made from hundreds of unwanted and used bottles, symbolised the hundreds of messages that we gathered.
The age old, romantic practice, of sending a message in a bottle, inspires action on the part of the person who finds the bottle. We wanted to turn this old practice on its head and use it for good. 
We want Welsh politicians, who receive this message, to be stirred into action on climate change.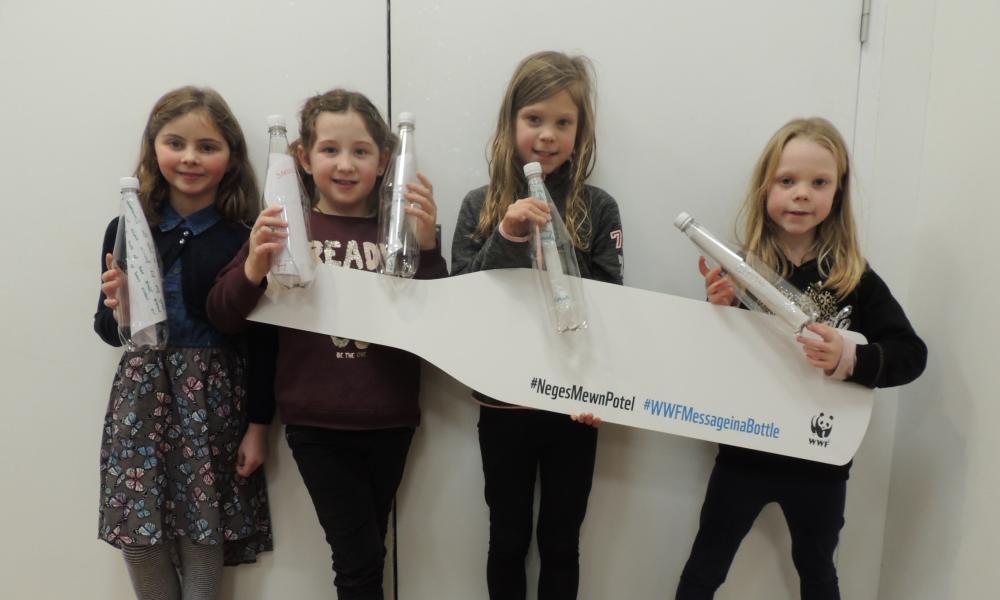 © WWF-UK
Your Messages
In February and March 2017, we encouraged people to share what action they wanted to see Wales take on tackling climate change.
We collected your messages through a combination of workshops, our website and social media. From the hundreds of messages collected:
28% came from the website

10% from Twitter

60% from workshops

2% from other sources
Energy, waste and transport emerged as the key issues.
While some focused on personal actions they would take, others called for changes at the local or national level. Within 'agriculture', people also expressed wider views about food consumption and waste. We also had lots of messages of support for broad action on climate change or environmental issues more generally.
Below are graphs showing the breakdown of the messages collected by topic, followed by some of our highlights from the messages submitted.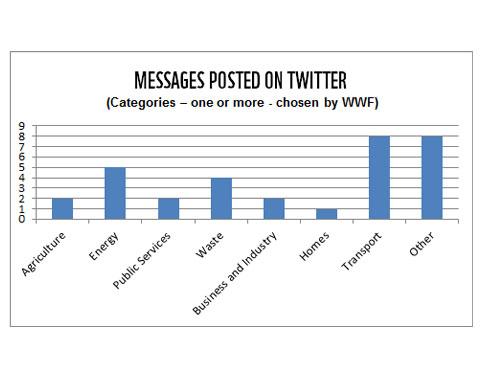 © WWf-UK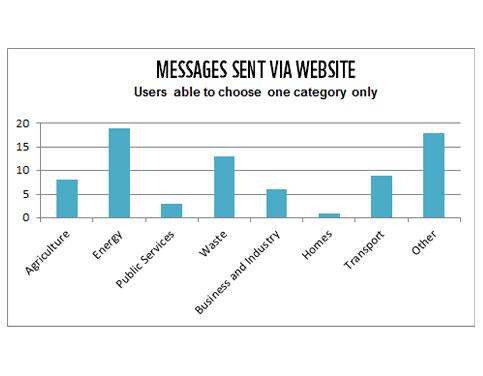 © WWF-UK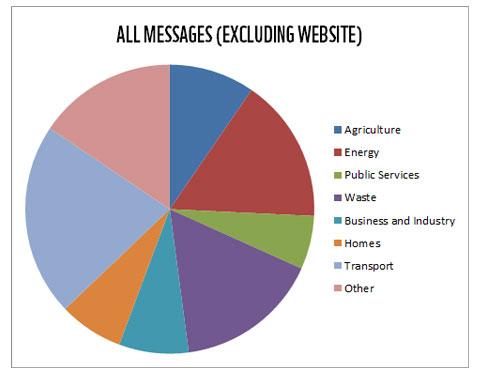 © WWF-UK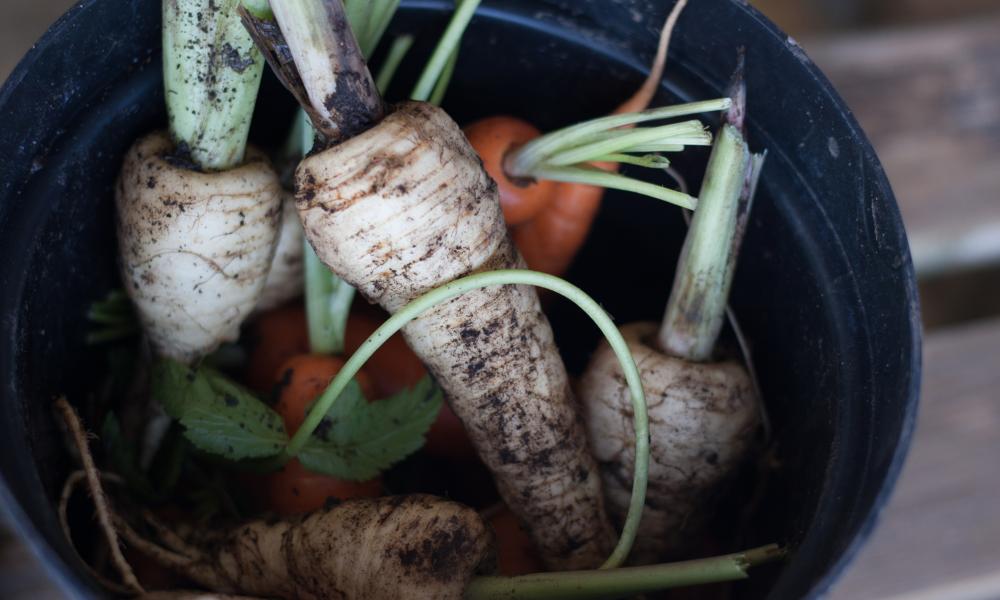 © Daniel R Jones
Agriculture
"Please use the fact that the UK is leaving the EU and Welsh farmers will be losing their EU subsidies as an opportunity to instigate positive changes in land use and agricultural policy. Subsidies need to be used to support farmers in tackling climate change, flooding, biodiversity loss, soil depletion."
Petra, Machynlleth
"Please ensure as much food as possible used in catering in schools and hospitals and other public bodies is sourced locally. Support Welsh and British agriculture."
Liz and Hugh, Bridgend
"I'd like people to eat less meat, fish, dairy and eggs to be kinder to animals and reduce climate change #WWFMessageinaBottle #vegan"
Sarah, Cardiff
"Reduce food waste, eat a sustainable vegetable based diet, limiting reliance on animal products"
Tommy, Swansea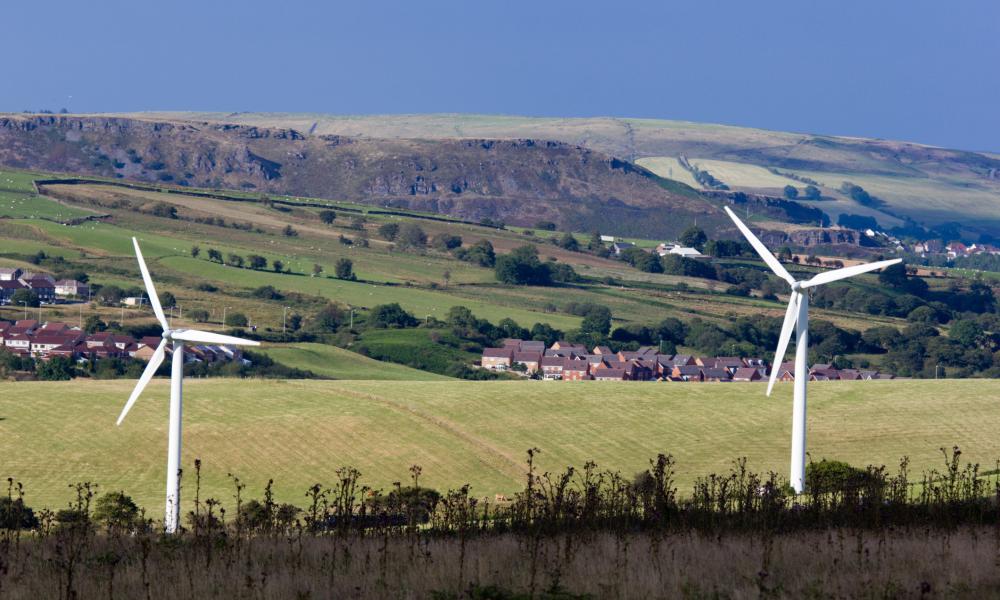 © David Callan
Energy
"I want Wales to be pioneers in the global shift to renewable energy. We are the last generation that can prevent the worst of climate change. What would we like our legacy to be?"
Anonymous,   Aberystwyth
"Wales should be a centre of excellence for renewable energy. Why hasn't this happened?!"
Richard, Caerdydd   
"I would like Wales to produce all its energy in a sustainable way, including local production so that villages and towns can become more self-sufficient"
Joan, Abercynon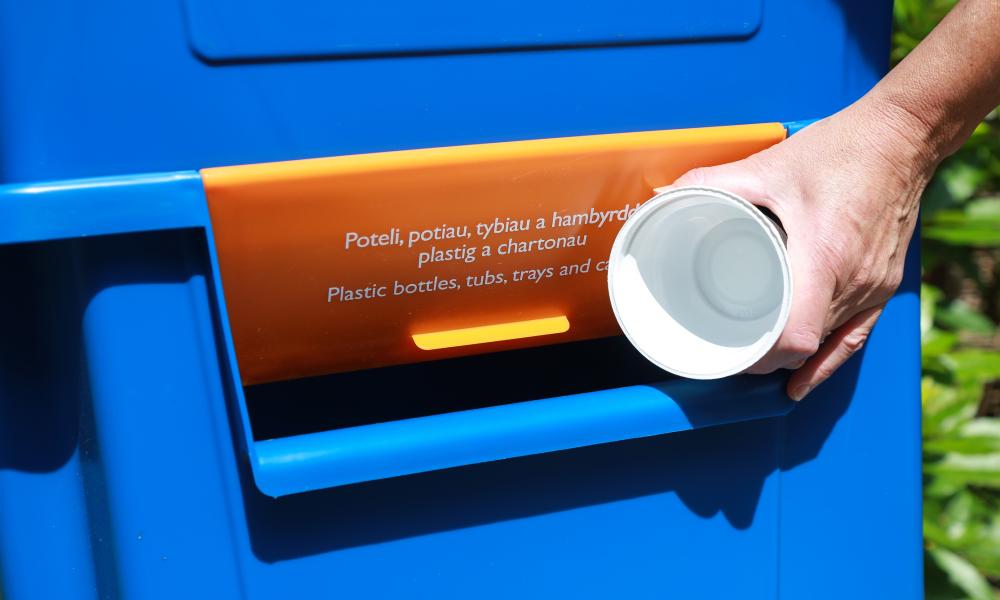 © Henfaes
Waste
"Make the zero waste economy a reality. Normalise re-use. Ban single use plastic. Encourage package free bulk bins and refill stations in supermarkets."
Isobel, Pontardawe
"…Let's embrace a green economy with less waste & more fairness, more sharing & less 'stuff."
Brenda, Hay-on-Wye
"I promise to recycle food waste and make compost to use in the garden."
Victoria, Beddau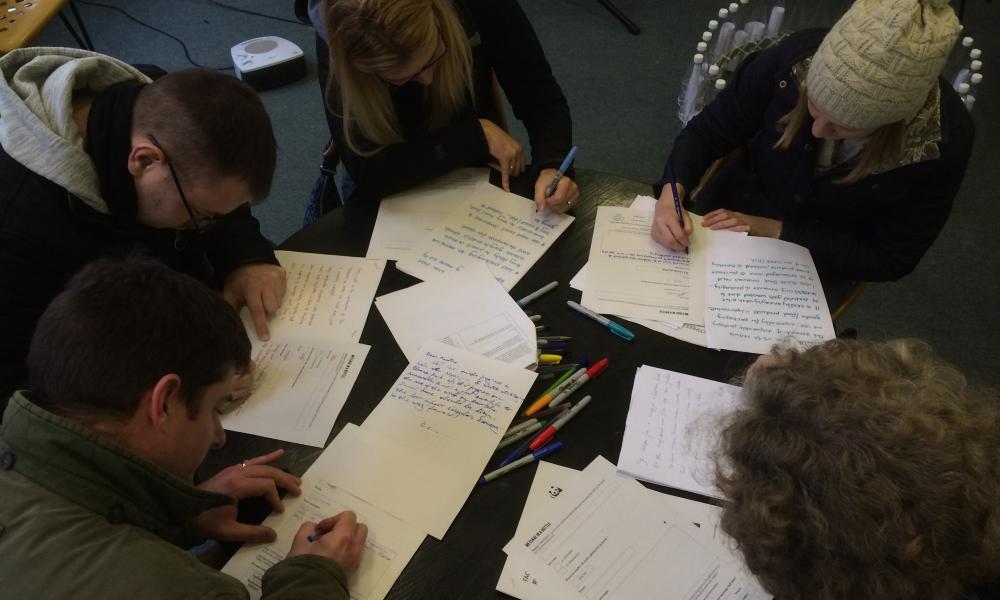 © WWF-UK
Business and industry
"Short term financial safety and employment doesn't matter a jot if we have no food, water or planet to live on in 100 years"
Mark, Llanelli
"...I would also like there to be more publicity for local produce, to encourage people to buy more Welsh produce"
Anonymous, Monmouth
"Shut Aberthaw. Provide its workers with alternative, free job training!"
Friederike, Cardiff
© WWF-UK
Homes
"Put solar panels on more homes and buildings please"
Angelica, Swansea
"Legislate that all new house building has to be environmentally friendly/energy efficient - using sustainable resources"
Anonymous, Chepstow    
"I want the government to fund warm insulated homes run via renewable electric energy!"
Libby, Cardiff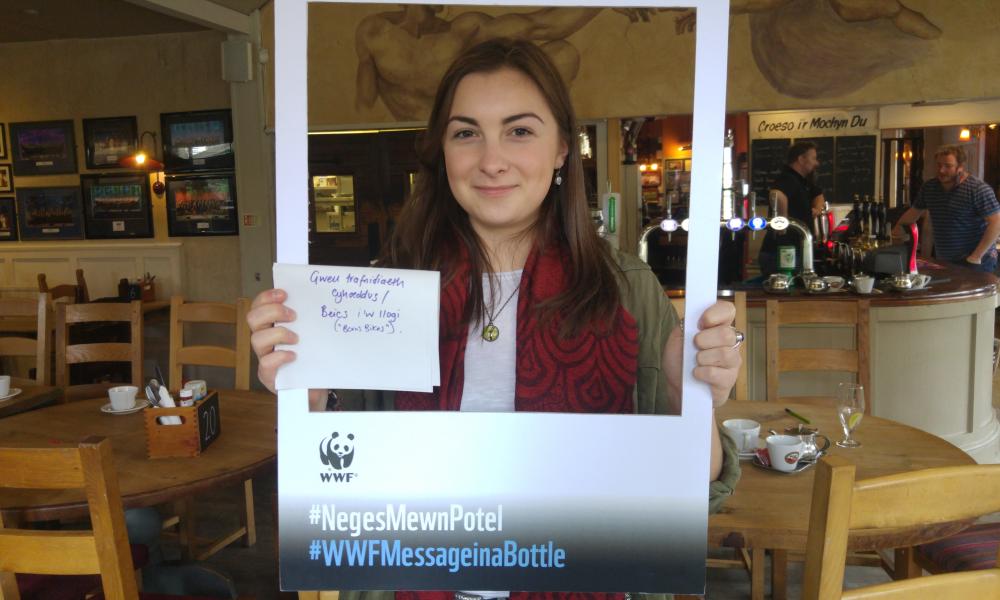 © WWF-UK
Transport
"Please invest in public transport to make it greener and a viable alternative to driving a car. Cut emissions and pollution!"
Kaye, Newport       
"We need to make cycling in Cardiff safer and discourage cars from using roads around/into the city centre."
Caroline, Cardiff
"…I want communities to be pedestrian friendly, with village and town centres vehicle free. I want more speed restrictions and speed cameras and for public transport to be subsidised…"
Ellen, Dinas Powys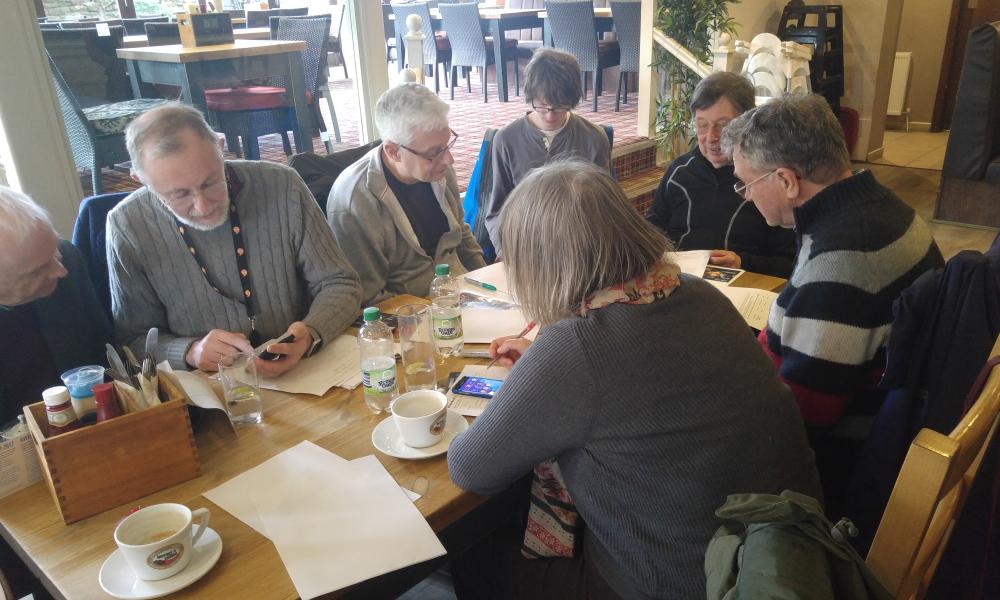 © WWF-UK
Other
"There are many things we often take for granted. Our world is one of them. It is our duty to protect it because we are the only ones who can…"
Melanie Griffiths, Wrexham
"It's about time we stop prioritising GDP and growth and start prioritising sustaining the world around us."
Matthew, Swansea
"I want our government to think about long term plans for the environment rather than short term gains"
Claire, Cardiff
"If we look after our world and everything in it, it will look after us."
Anonymous, Swansea
© Dan Green
Political support
We had a great turnout for our Message in a Bottle event for Earth Hour at the Senedd. An incredible half (30 of 60) of Assembly Members actively showed support.
This demonstrates the continued support for tackling climate change from politicans in Wales. We have a history of cross party support for ambitious action on climate change, so we are pleased to be able to demonstrate this commitment is still going strong.
What Next?
It's crucial that we speak up. Government advisers are warning that Welsh Government is likely to miss its target of cutting emissions by 40% by 2020.
We'll share your messages with decision-makers to stir them into action, as we continue to campaign for action on climate change in Wales.
Despite the lack of progress to date, we have a good opportunity in the months ahead.
Under the Environment Act, Welsh Government must - for the first time - set limits on greenhouse gas emissions, and interim targets for the years ahead. Ministers will soon be consulting on how this should be done.
We need Welsh Government to cut emissions in pace with global requirements. And we'll need our supporters, to help keep up the pressure.
We'll be working with our partners in Stop Climate Chaos Cymru to make sure our voice is heard loud and clear. We'll also be bringing evidence to the table from our global network, providing examples of the ambitious targets other countries are setting.
Thanks
Thank-you to all of you who supported and took part in our Message in a Bottle campaign. By acting together we have made our calls for tackling climate change heard.
The project was supported by the Arts Council of Wales and by players of People's Postcode Lottery.