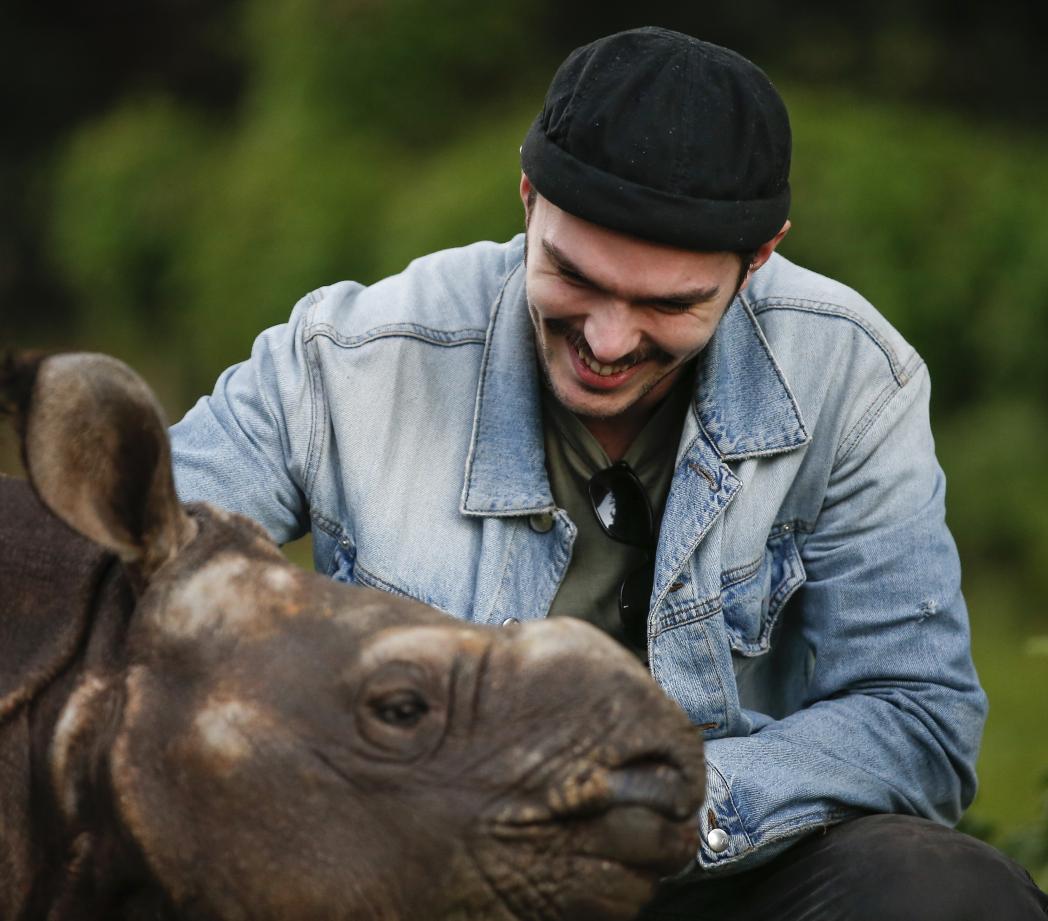 © Narendra Shrestha
It's mid-afternoon in the small, but mighty Himalayan country of Nepal, and actor Nicholas Hoult gets a wet kiss from an orphaned, baby rhino. Nepal's National Trust for Nature Conservation found the stray, who is now in their care. Hoult recently traveled to Chitwan National Park in Nepal to learn about Nepal's and WWF's conservation efforts to protect little "Mayure" and the other greater one-horned rhinos that are threatened by poaching and habitat loss, among other dangers.
"Wildlife conservation is so important," said Hoult. "A lot of these animals are being poached illegally, their numbers are dwindling, and once they're gone, they're gone. Rhinos in particular I've adored since I was three years old and was lucky enough to go on holiday to Africa. I didn't see a rhino at that age, but I was given a little wooden carving of a rhino which I still own to this day, I've loved rhinos ever since that moment. To come out here and see them in their natural habitat is such a great pleasure and I can't thank WWF enough for the wonderful work they do in helping this park and the Nepal government develop their programs and keep rhinos in the wild."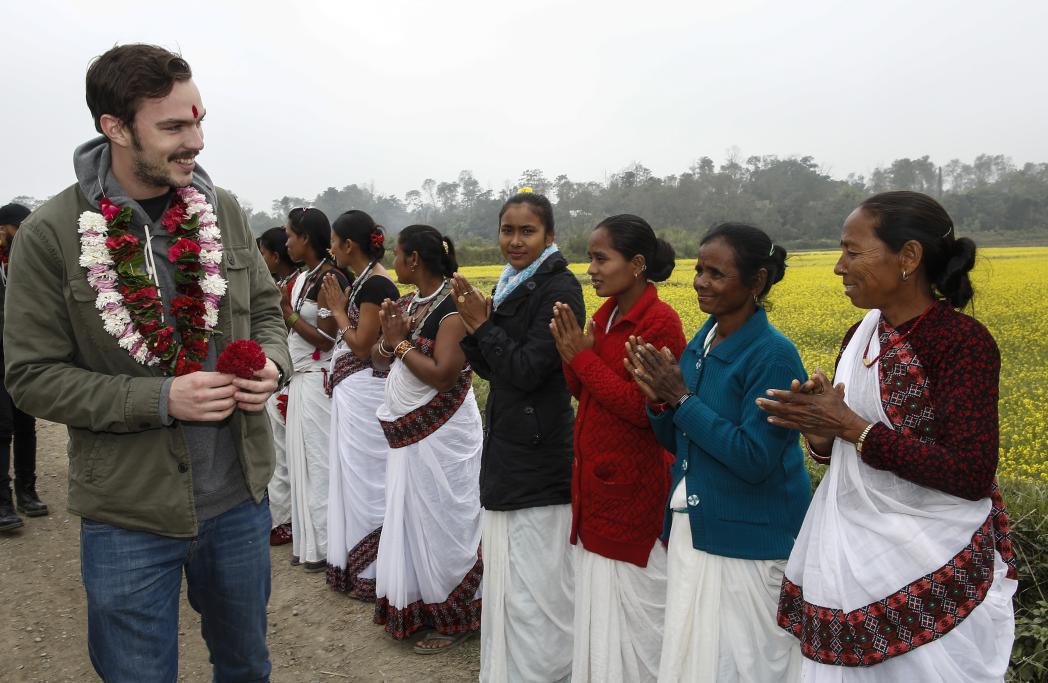 © Narendra Shrestha
While in Nepal, Hoult met with community members of Amaltari, the buffer zone of Chitwan National Park, to learn about their lives and their relationship with the wildlife surrounding them. Ecotourism in the area provides great conservation incentives to the Amaltari community, who maintain a voluntary anti-poaching unit in which members undertake regular patrols of their community forest to keep a check on poaching and illegal wildlife crime.
With the support of WWF Nepal's maiden Sustainable Communities Initiative, the Amaltari community is focused on the key pillars of sustainability and conservation – self-sufficient livelihoods, alternate energy, health and education – which has delivered scalable impact for the local people and their natural environment.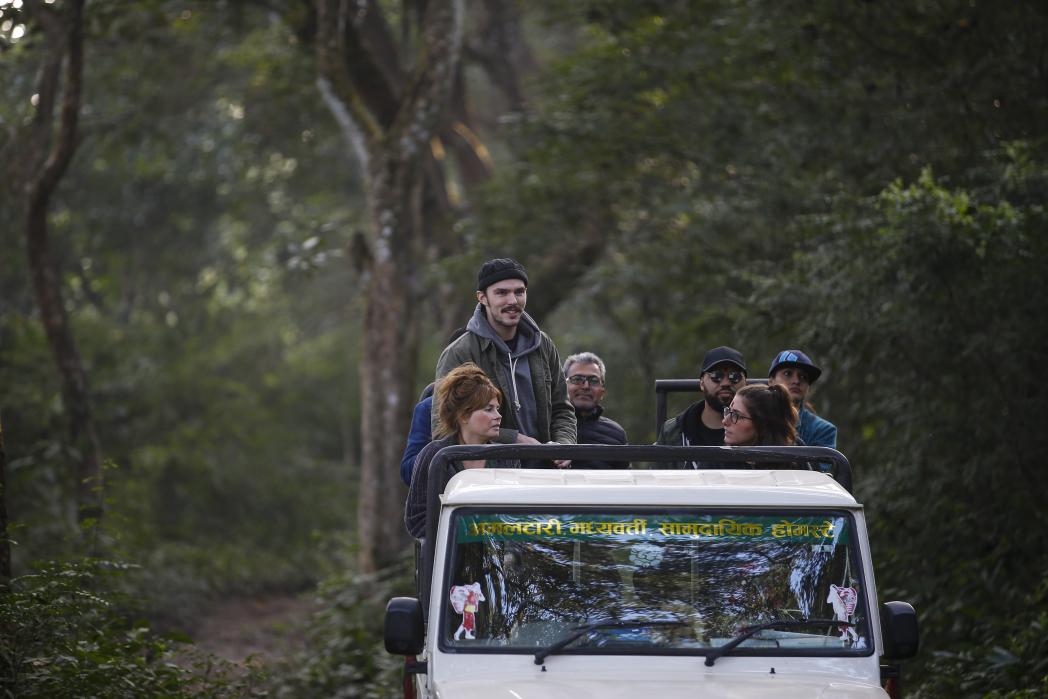 © Narendra Shrestha
"This is a positive story for me in terms of the wildlife and just keeping the world as it should be for future generations," Hoult said. "To track rhinos, to see them in their natural habitat has just been unbelievable and to see everyone care so much about that and people doing such incredible work, it's remarkable."
The robust efforts to protect rhinos and support the local Nepali communities and government are paying off: Earlier this year, we celebrated a fourth 365 day period of zero poaching in Nepal. This exceptional success is due to high-level political will, an impressive Nepali army committed to tracking poachers and the active involvement of conservation communities. More than 645 one-horned rhinos now live in Nepal.
As part of his work with WWF, Hoult and his two childhood friends, Carlos Adams and Nick Atkins, will team up for a rigorous rickshaw run adventure in India in early 2017 to raise funds for rhino conservation along with supporting Teenage Cancer Trust.