Nottingham school wins national 'Wonky Veg' competition.
Actor and presenter Cel Spellman recently visited pupils at Gilthill Primary School in Nottingham to present them with a special award for their winning 'wonky veg' recipe idea as part of WWF's Plant2Plate campaign sponsored by Alpro.
The schools' 'crazy courgette' recipe caught the eye of judges who liked their quirky take on a traditional recipe using lots of produce grown in the garden – the judges also thought it sounded rather tasty too! The competition encouraged primary schools across the UK to design a recipe using 'wonky veg' grown in their own school gardens themed around WWF's Livewell principles for a healthy and sustainable diet. Cel Spellman said:
"Huge congratulations to Gilthill for winning this fantastic competition with their 'crazy courgettes' recipe.  It's so important that young people are given the opportunity to learn more about where our food comes from and how a greener diet can have a positive impact on both us and our planet."
©Stonehouse Photographic / WWF-UK
Cel who supports Plant2Plate visited the school to present pupils with their prize – a 12 month growing box from Seed Pantry. Cel also joined a special planting workshop, led by Neil Whitehead from Seed Pantry, at the school to help replace raised beds, plant fruit and veg seeds, and develop the school garden with more plants and garden equipment. Sian Lamb, Headteacher at Gilthill Primary School said:
"Outdoor learning is something we embrace here at Gilthill and the pupils love getting involved with planting, growing and learning more about our environment and natural world.  We are very proud to have won this recipe competition and it was really inspiring to see our pupils thoroughly enjoying the planting workshop with Cel."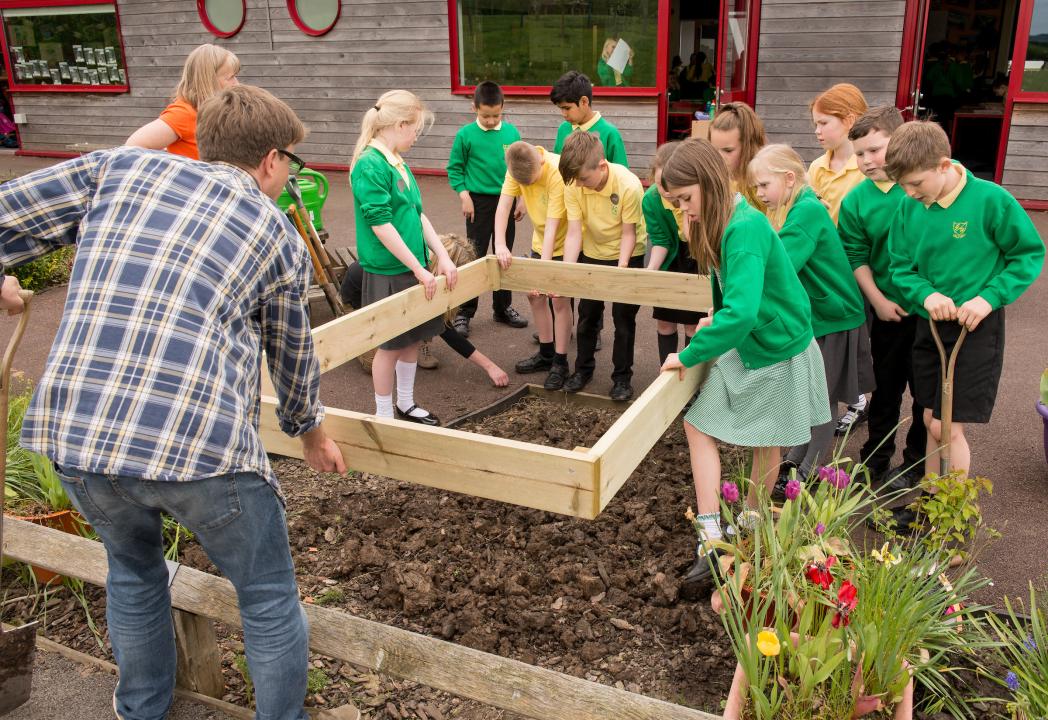 © Stonehouse Photographic / WWF-UK
WWF's Plant2Plate, sponsored by Alpro, provides teachers with classroom resources and learning materials, encouraging pupils to grow and cook their own food at school. Kate Arthur, Nutrition Manager at Alpro UK & Ireland, said:
At Alpro we believe that plant-based foods – whatever shape and size - are not just good for you but good for the planet as well and that's why we support Plant2Plate.  Encouraging schools to plant and grow their own veg is the perfect way for young people to learn about sustainable food.  We're delighted for pupils at Gilthill who stepped up to the 'wonky veg' challenge and created this brilliant recipe."
WWF's Plant2Plate campaign aims to inspire youngsters in school to  learn more about sustainable food and how what we eat can have a huge impact, not just on our health – but also on the health of our planet.