Congratulations to our amazing winners
Our Green Ambassador Awards (supported by Players of People's Postcode Lottery) shine a light on the very best examples of primary schools putting environment and sustainability at the heart of what they do.
This year with the help of WWF supporter, actor and presenter Cel Spellman, we kicked off our search to find the best green teacher and best green team in each of the UK countries.
Find out about each of our winners
Stobhill Primary School
Congratulations to Donna Hanley at Stobhill Primary School for winning the Green Ambassadors teacher of the year award for Scotland. 
Donna's enthusiastic approach to all things 'green' has resulted in over 40 pupils joining her garden growing and eco after school club. Here the children are encouraged to work together in teams, take responsibility and develop their leadership skills.  They also mentor the younger pupils in project planning and delivery and are encouraged by Donna to think about problem solving.  Working together her green team have achieved great success, from developing a wildflower meadow, to launching a plastic bottle campaign (to create their beautiful greenhouse), and building raised beds in order to grow their own fruit and vegetables within the school grounds.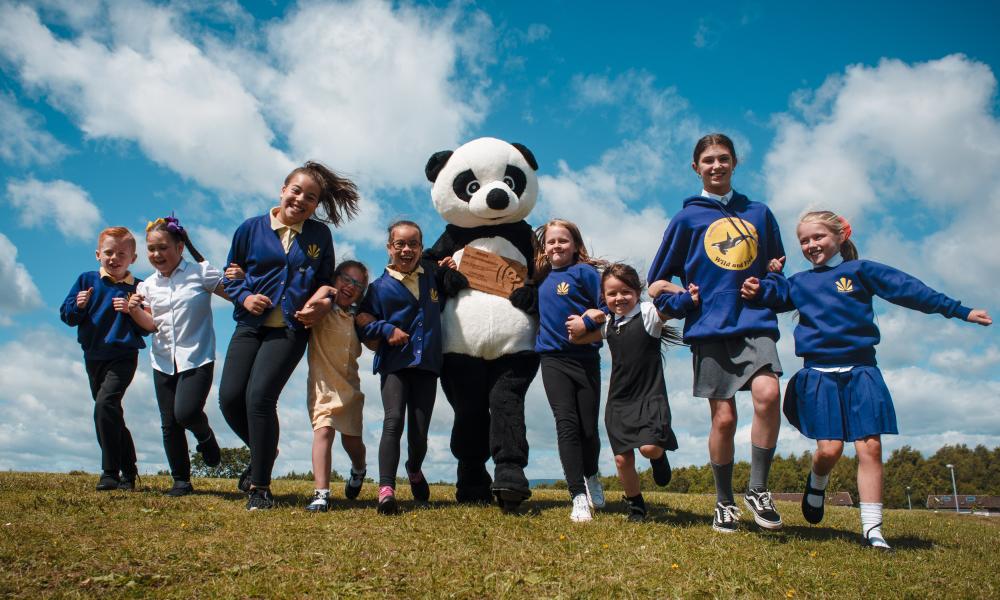 Sunnyside Primary School
Congratulations to the eco team at Sunnyside Primary School for winning the Green Ambassadors green team of the year award for Scotland. 
Sunnyside's eco team have a really fun and creative approach to helping protect our planet.  Their amazing Ocean Defenders team launched their own plastic straw campaign, obtaining TV and social media coverage and inspiring local restaurants like Nando's and the local Harvester to remove plastic straws from their restaurants.  This campaign proved inspirational and led to other schools following suit and also saying no to plastic. Their 'Polar Explorers' team promote sustainability to the whole school with initiatives such as their 'Bear Aware' campaign for climate change and have designed a 'Hygge' afternoon demonstrating you can still have fun being green by following the four mantras of 'chill out!, veg out, power down and taps off'.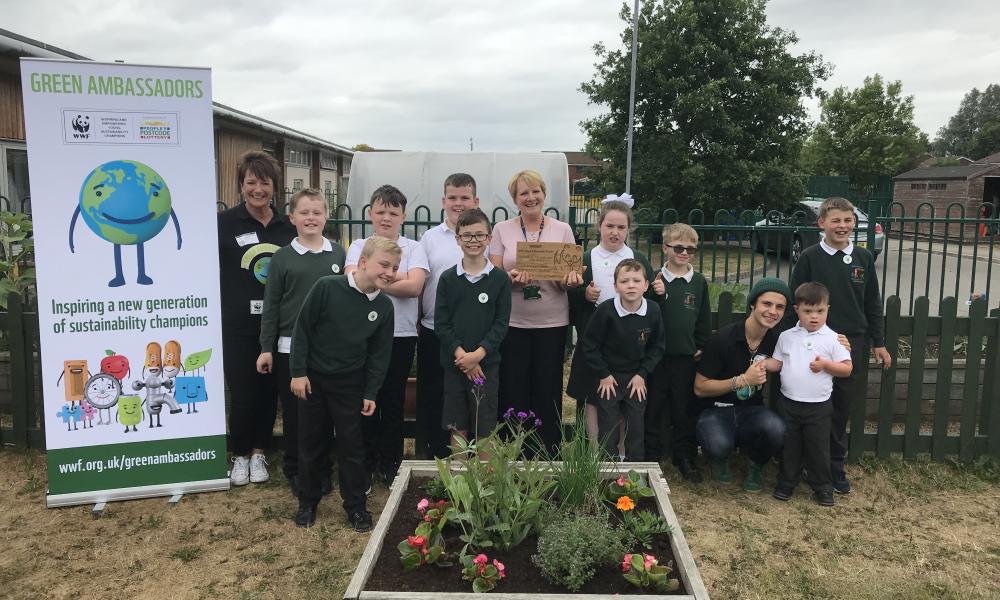 Hawthorns School
Congratulations to Alison Cottrell at Hawthorns School for winning the Green Ambassadors teacher of the year award for England. 
Alison's passion for ensuring that green issues are embedded within the school really stands out.  She goes the extra mile by supporting all children to learn and succeed and includes every child within her approach on green issues. Alison encourages the older children to be mentors for the younger ones and helps them adopt daily tasks such as collecting food waste for the compost area. Alison is constantly looking for ways to share the sustainability message and recently worked with 'Forest School' leaders on a tree planting project.  Her passion for nature is really inspiring and involves the children in decision making and planning.  It's fantastic to see Alison supporting and developing the children to be sustainability champions for the future.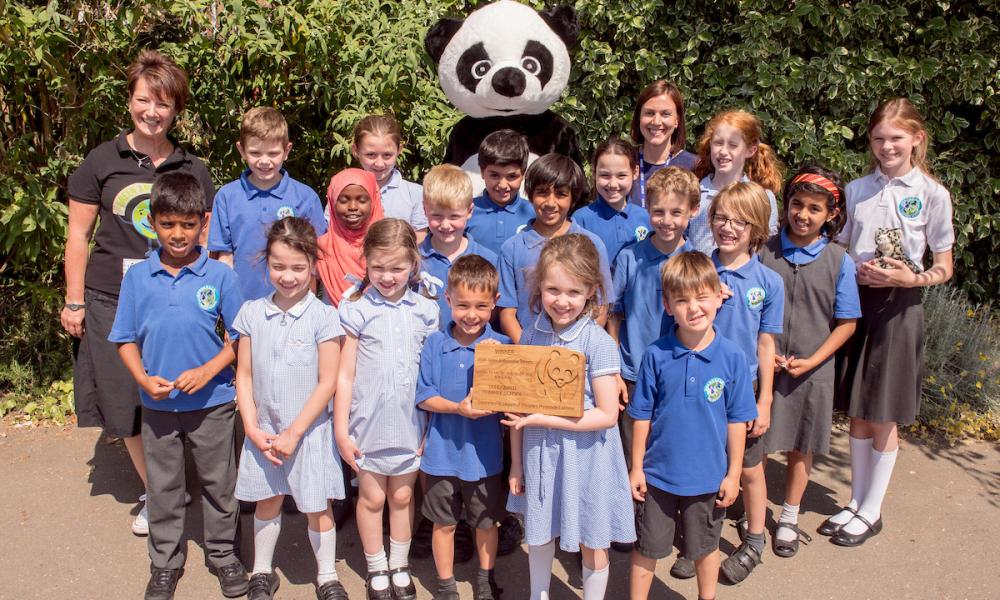 Dundonald Primary School
Congratulations to the eco team at Dundonald Primary School for winning the Green Ambassadors green team of the year award for England.
Dundonald's eco team really do step up to the challenge tackling environmental issues, not only in school, but going beyond the school gate and out into their local community. They have inspired the community to help develop a section of the neighbouring park as a nature area, discussing and commenting on the designs with a landscape designer and raising money at their winter fair for the project. The initiative has been a real success and is a fantastic legacy for everyone.  The team also lead on a whole host of events within the school such as The Big Pedal and Switch off fortnight.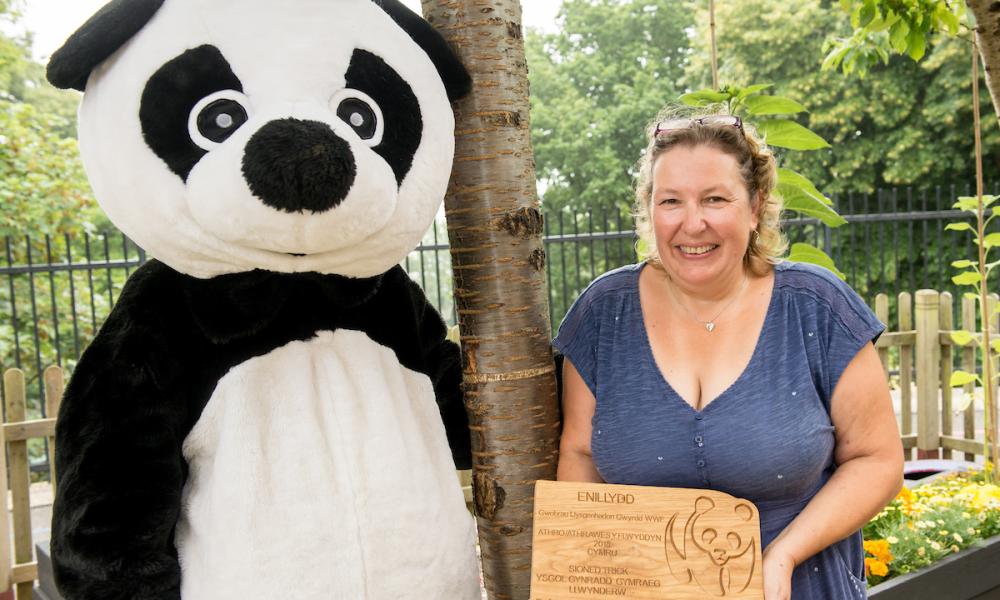 Ysgol Gynradd Gymraeg Llwynderw
Congratulations to Sioned Trick at Ysgol Gynradd Gymraeg Llwynderw for winning the Green Ambassadors teacher of the year award for Wales. 
Sioned's drive and determination has resulted in some amazing eco projects being brought to life within her school.  She has inspired her pupils to grow their own flowers and vegetables paying close attention to the ecology of what they do. Through development of the school garden and grounds, Sioned has inspired the children learn about the environment, plants, gardening tips and techniques and has enriched the children's experience and knowledge of nature and gardening. Even the parents and grandparents have got involved by donating old bags, their own hanging baskets and bags for life to use as plant pots for potatoes! Sioned has such a respect for nature and she really is an inspiration guiding the children as they learn to become responsible independent citizens.
Congratulations to the eco team at Ysgol San Sior for winning the Green Ambassadors green team of the year award for Wales.
This dynamic eco team not only engage fellow pupils and teachers – but also their local community with an array of exciting eco projects and initiatives. The school is home to a large flock of chickens that pupils look after during school time and school holidays.  Ysgol San Sior is the only school in the UK registered to sell eggs to retail establishments and last year they produce 20,000 eggs!  As well as being responsible for collecting and selling the eggs, pupils also lead on the marketing and think about packaging and ways that they can reduce their plastic waste. The school also has eight beehives and the eco team collect and sell the honey and look after the bees. There's a real sense here that the children are learning and developing key business skills, beautifully tied in with a sustainable approach.
Congratulations to Anne Smith from Strabane Primary School for winning the Green Ambassador teacher of the year award for Northern Ireland.
Anne's commitment to helping protect the environment shines through as she is constantly inspiring and encouraging pupils to work together as a team to achieve results big and small! Reducing, reusing and recycling are a must from milk cartons for plant pots to larger milk jars for watering the plants. Anne also helps the children to grow their own fruit and vegetables that they then sell at the school fair. Anne's enthusiasm has inspired pupils to think and take action for our planet now and for the future.
Congratulations to the eco team at Belmont Primary School for winning the Green Ambassador green team award for Northern Ireland.
This team of passionate pupils show their dedication and commitment to the environment by staying on after school to create ideas and work on the school grounds. Even during the school day they are busy promoting their work through assemblies about saving energy, healthy eating or recycling, inspiring the entire school to get involved. They also create questionnaires to help develop the understanding of their fellow pupil's knowledge about being green. Not only are they inspiring teachers and pupils to take action within school but also in their own homes by rewarding pupils with their very own Energy Saving Champion sticker!
Congratulations to everyone that entered our Green Ambassador Awards!
Green Ambassador Awards 2019
Watch this space to find out more about our awards for 2019.