The way we do business shapes the present, and will shape the future.
Today's students are the employees, consumers, innovators and entrepreneurs of the future, and this special schools edit of WWF's short film Our Planet Our Business explores how the choices they make now and in the future can help tackle the world's environmental crisis and shape a sustainable future, by steering the actions and behaviours of businesses.
Created for WWF by the Emmy Award-winning Silverback Films, Our Planet Our Business is a 35 minute film that shows the immense value of nature to our economy, the scale of the challenges that we are facing, and the critical role that business can play in creating solutions. It shows what's at stake if we continue with 'business as usual', and what we need to change to save our planet.
WWF has partnered with international schools network Globeducate to offer a special one-off webinar for students aged 11-18, featuring the key brains behind the film, and WWF experts in climate change and business. We are delighted to offer the opportunity to join this exclusive webinar to other secondary schools in WWF's network.
To register your school, please email education@wwf.org.uk. You will receive the joining instructions and an educator's pack to allow you to prepare your students for the webinar.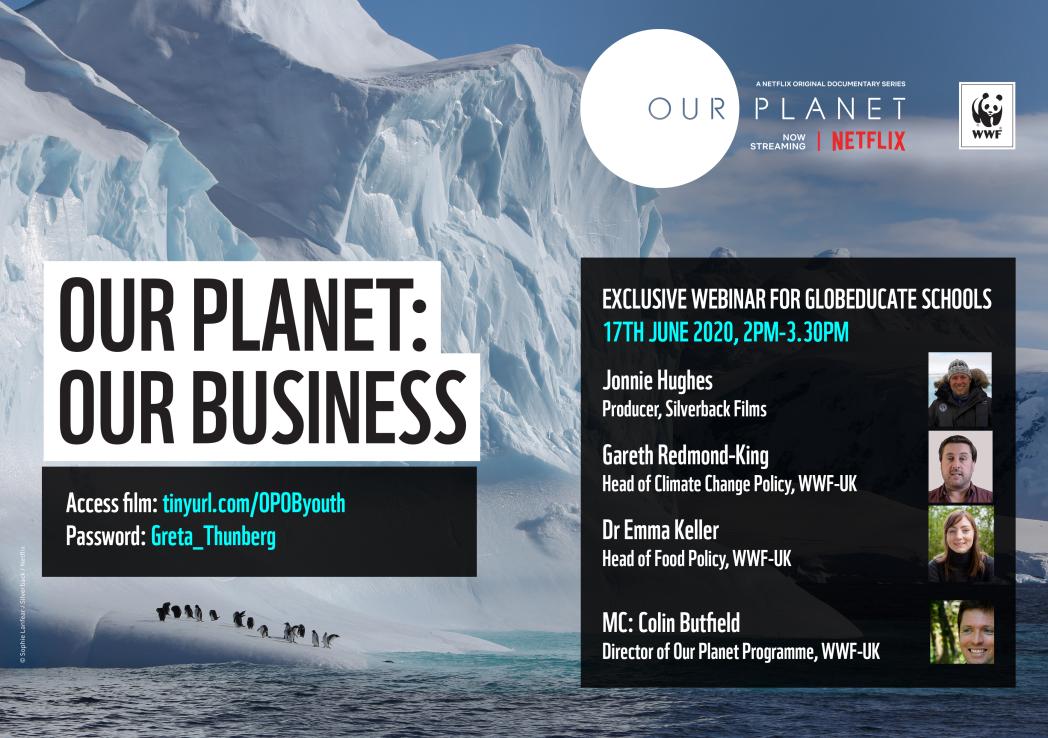 © WWF

Accessing the Our Planet: Our Business film
Educators and students can access the special youth edit of Our Planet: Our Business on Vimeo using the details to the left. Please direct students to watch the Our planet: Our Business film independently before the webinar taking place on 17th June 2020.
How to prepare your students for the OPOB Expert Panel Q&A
Direct your students to watch the youth edit of the Our Planet: Our Business film using the details provided above. Students should allow approximately 34 minutes to watch the film. You may want to show students our 30 second trailer during a class zoom call to introduce the key themes but we recommend your students watch the film over their own internet connection. This allows them to watch the film at a time that suits them and avoids bandwidth issues on a call.
You may choose to provide your students with the Student Reflections Worksheet included with this educator guide. The worksheet will help to engage students in the key issues and points that are raised and encourage them to reflect on their own thoughts following the film. The worksheet follows the narrative of the film chronologically and can therefore be completed as the student is watching if they wish.
Remember to share the Webinar joining instructions (above) with your students. As it is a Zoom Webinar, as opposed to a Zoom meeting, only panellists will have their cameras and microphones enabled but students will be able to interact with the experts via the chat and Q&A functions.
Group discussion activity
This activity can be used if you would like to continue the conversation around the issues raised in Our Planet: Our Business with your students, either before or after the expert webinar.
Split students into groups of 5/6 and give students roughly 15 minutes to brainstorm answers to one topic Nominate a note-taker for each group (this student will also be responsible for reporting back to the main group at the end). Assign one (or more) of the following questions to each group, feel free to add your own questions.
Question 1: How are businesses dependent on nature? How will business be impacted by a changing planet? (e.g. access to fresh water, healthy soil, pollinators, access to energy, access to raw materials etc)
Question 2: How could business encourage/incentivise their customers to make more sustainable choices? How might business help change customer's behaviours towards more sustainable living?
Question 3: What could the government do to incentivise/encourage sustainable business practices?
Question 4: In what ways is a school like a business? What changes could schools make to contribute to a sustainable future?
Question 5: How could an individual make an impact in their business and wider community?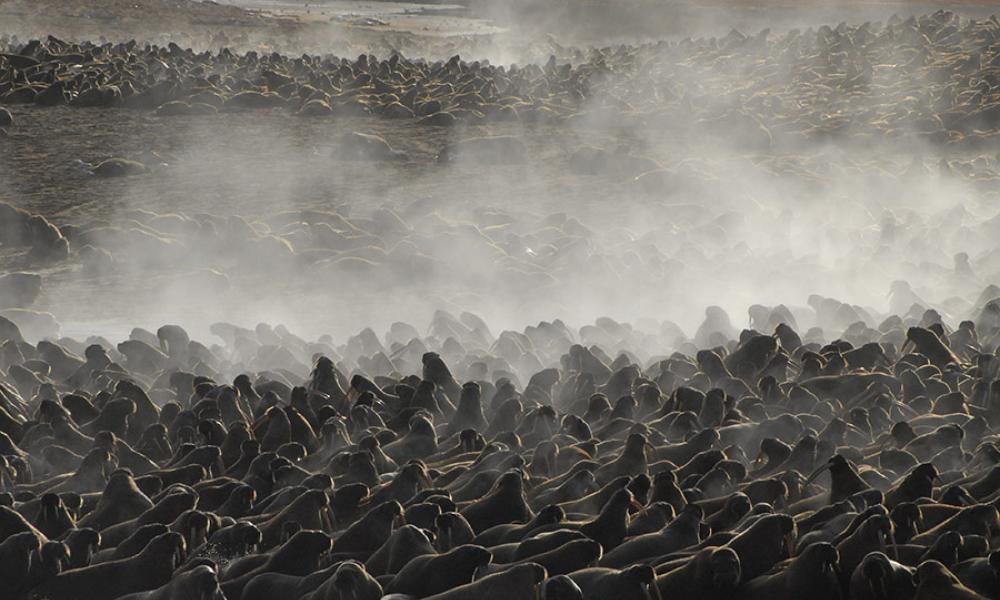 © Anatoly Kochnev
Further resources
On ourplanet.com there is a wealth of freely available shorter films and educational content to continue and extend the story to audiences across the world. You will find free classroom activities and resources, nature apps and community activity projects in the Schools & Youth section of the website.