More than three quarters of the world's stocks are being fished close to or beyond what's sustainable for the future. And that includes some very familiar names such as North Sea cod.
We're working hard with governments and fishermen to achieve a sea change in the way that fish are caught - increasing the use of more sustainable fishing practices. Consumers too can also demand sustainably caught seafood, creating even more incentive for fishermen to fish responsibly so that stocks can be maintained.

MSC initiative
As a consumer, it can be very hard to be sure the fish you choose has been caught responsibly. In 1997, with Unilever, we set up the Marine Stewardship Council (MSC) to certify sustainably sourced fish - and the MSC logo on fish products now helps consumers make more informed choices. Eighty nine fisheries and more than 7,000 seafood products worldwide are now certified as sustainable by the MSC. And around the world, we've published sustainable seafood guides so consumers know what to buy.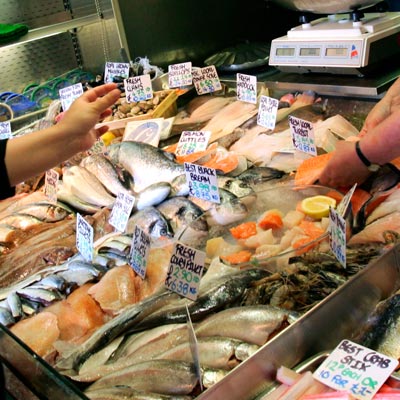 Here in the UK, we're now working with the MSC to get all Scottish fisheries certified as sustainable. And in 2010 Marks & Spencer became the first retailer to sign our Seafood Charter, which encourages retailers and processors to commit to sourcing sustainable seafood. We're now working with M&S to ensure that all their seafood is sourced in this way by 2015. And, as part of this initiative, chef Tom Aikens has come up with some great fish recipes to encourage consumers to think more sustainably.
Our global work is helping to create even greater demand for sustainable seafood . More and more people are asking fishmongers, restaurants and supermarkets where their fish comes from and whether it's sustainable. This in turn is sending an increasingly powerful message back to the fishing industry that things need to change.
75% of stocks are fished close to or beyond what's sustainable.
Eighty nine fisheries around the world are now MSC-certified.
More than 7,000 seafood products worldwide are certified as sustainable by the MSC.
You can...
Be part of our 50th
Find out more about our work to make seafood sustainable, and get our top 10 tips on buying sustainable seafood
Get some great recipes for sustainable seafood
Find out what MSC products are available in the UK
Sign our More Fish petition to end wasteful EU fishing laws
Five decades of conservation
$(document).ready(function(){addFancyZoom();});