Did you know that rubber doesn't grow on trees, it flows through their trunks! Natural rubber is a tree sap – a latex – produced by the rubber tree (Hevea brasiliensis). This tree is native to the Amazon rainforest, where it grows wild among the hundreds of other rainforest tree species. And it can be harvested without harming the tree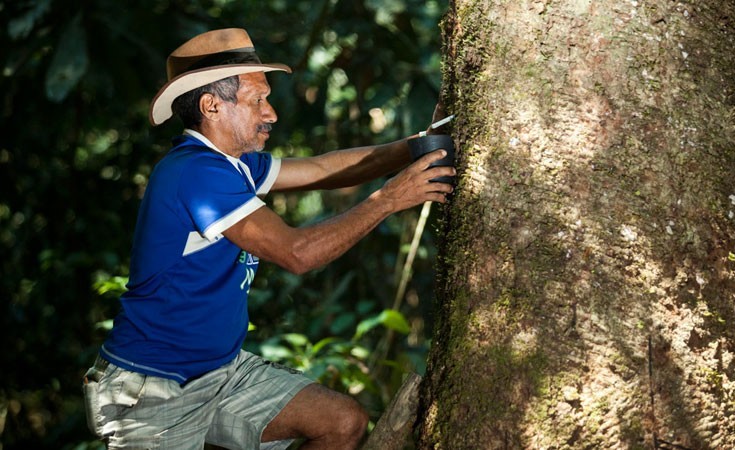 While most of the world's natural rubber comes from plantations, mostly in Asia, communities of rainforest dwellers still exist in the Amazon who tap this rainforest bounty that here we like to call Wild Rubber, because it is truly wild!
Despite massive changes over the last 100 years in the world's rubber trade, rubber tapping is still a locally important economic activity in some parts of the Amazon. It is especially important for certain communities living in very remote areas of the rainforest.
WWF has been working with rubber tappers in the Brazilian, Peruvian and Bolivian Amazon.
For six years, thanks to the Sky Rainforest Rescue partnership between Sky and WWF, we worked with more than 60 rubber tappers in the Brazilian state of Acre. We helped equip them with the know-how and tools to produce sheets of rubber that could then be sold into industry. These tappers, and many others supply shoe firm Veja, who uses the rubber in their shoe soles. Check out their rubber story.
We also supported the production of coloured rubber sheets that are turned into final products without any other processing than that which happens in the forest by the rubber tappers themselves. This rubber is crafted into beautiful jewellery by designer Flavia Amadeu and can be used for other handicraft products.
In Peru and Bolivia, WWF has also been supporting work with rubber tappers. The common thread is that by improving market conditions for the people who sustainably harvest forest resources, we are helping promote forest conservation at the same time as improving lives.
But until 2015, these experiences remained isolated from each other, when our staff from Brazil, Peru and Bolivia led a first exchange. We believe this was the first time that rubber tappers from these different parts of the Amazon were able to meet in person to share their knowledge and discuss the future of their trade.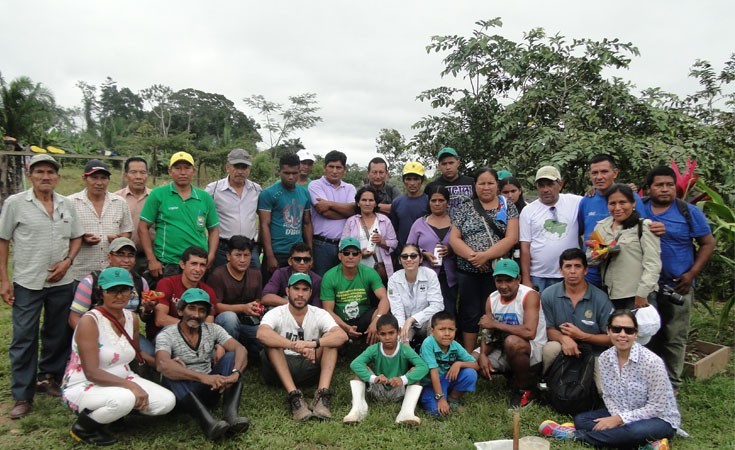 Different contexts, different experiences
While tapping the trees is done much in the same way, what then happens with the latex collected can vary quite a lot from place to place.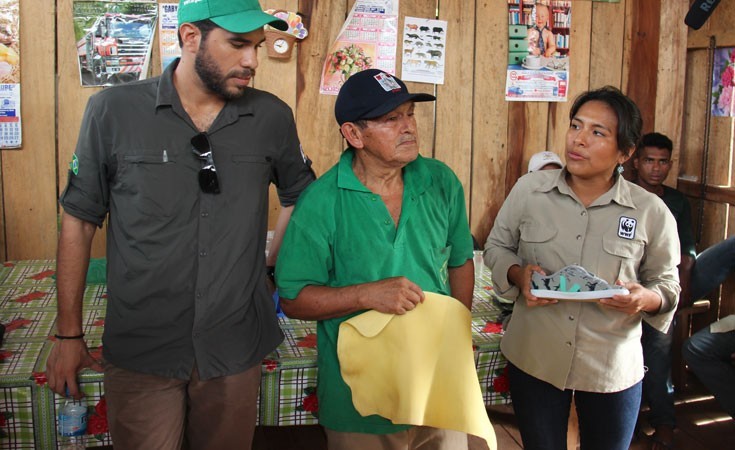 One rubber tapper José Rodrigues, nick-named the Master of Rubber for his knowledge of the subject, has pioneered the manufacture of shoes that are 100% wild rubber which he sells in São Paulo and Brasilia.
In Peru, a cooperative of rubber tappers working in the town of Iberia called Ecomusa produce a similar type of sheet rubber that they sell to a European company called Piola for shoe soles. Another group coats cotton with the latex to produce a type of vegetable leather that can then be made into bags and other accessories.
For Kaline Rossi, WWF-Brazil, the exchange sought to demonstrate the different realities that exist for rubber tappers.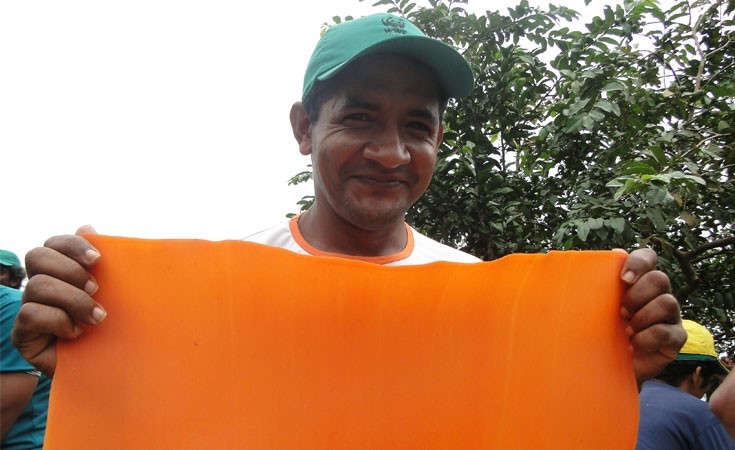 "Many of them live in the Amazon in isolated areas and hardly leave their communities. So, we wanted to address not only the issue of the rubber, but also show other things that can help them live responsibly and generate income from the forest, such as tourism and agriculture. We also wanted to offer something that would enrich the participants not only professionally, but personally."
For Edith Condori, of WWF-Peru, working with wild rubber is also about working with cultural identity "More than talking about markets, it is important to remember that wild rubber tapping is a way of life – it's a strong cultural issue, it's the identity of a people."
In their words
These two videos give you an insight into the lives of the rubber tappers in the Brazilian Amazon.
Going wild for rubber
Check out our brochure from 2014 (PDF) that gives an outline of the different types of wild rubber being produced, their uses and how they can be obtained.