The Spanish government has cancelled its project to dredge the Doñana Guadalquivir River
But action is still needed by Spain to ensure Doñana is not at risk of becoming the first EU natural World Heritage site placed on UNESCO's List of World Heritage in Danger
London: Following WWF's global campaign to protect Doñana World Heritage Site in Spain, the Spanish government has announced that it will ban the dredging of the Guadalquivir River. Doñana is at risk of becoming the first EU natural World Heritage Site to be placed on the in danger list. In a report to UNESCO, the country stated that a plan to deepen the Guadalquivir River in order to allow larger commercial ships will not be authorized.
The most urgent threat identified by the UNESCO World Heritage Committee was the dredging of the Guadalquivir River. UNESCO gave Spain the deadline of 1st December to cancel the dredging project and not permit any future dredging.
More than 140,000 WWF supporters have emailed the Spanish president asking him to save Doñana and thousands of origami birds sent by activists from across the world were displayed outside the country's parliament in Madrid.
Doñana is one of Europe's few outstanding wetlands, and the continent's most important location for migratory birds. The thousands of birds that are flying from the UK to spend the winter in Doñana National Park will find the marshes almost empty of water this year. The site harbours over 4,000 types of plants and animals, including threatened birds and the world's rarest feline species, the Iberian lynx. In addition to its environmental value, the park provides for the wellbeing of 200,000 nearby residents, with jobs from fishing, farming, research and ecotourism.
Chris Gee, WWF-UK Senior Campaigns Manager, #SaveOurHeritage said:
"World Heritage sites belong to all of us. This is progress for all of us who love and want to maintain the world's natural heritage sites. Whilst the threat of dredging has been reduced Doñana is not safe yet. The Spanish government needs to address all of UNESCO's concerns, from illegal water extraction to mining in the region, these threats remain. You can let Spain know you want Doñana properly protected permanently at wwf.org.uk/donana.""
Many other major industrial threats still face the World Heritage site. These include unsustainable and illegal agricultural water use, mining and natural gas operations. WWF estimates that more than 1,000 unauthorized wells, 1,700 suspicious irrigation ponds, and 3,000 hectares of illegal farms are stealing water from the Doñana wetland World Heritage site. In addition to drying out, the wetland is becoming increasingly polluted and infested with invasive species of plants and fish. Populations of rare birds, dragonflies, and other animals are declining as a consequence.
The situation of water is also the biggest concern of the international bodies that look after Doñana's conservation, both for UNESCO and for the European Commission, which is about to take Spain to the European courts because of mismanagement of water in the Doñana area.
WWF is also alarmed at plans for Mexican company, Grupo Mexico, to reopen a nearby mine that caused an environmental disaster in 1998. The accident killed 30,000 kilograms of fish, and cost €380 million to clean. UNESCO's position is that oil, gas and mining exploration and exploitation are incompatible with World Heritage status[i], yet Spain continues to pursue perilous gas and mining projects in and near the site.
The 21-member World Heritage Committee will determine Doñana's fate at its next meeting, scheduled for July 2017.
Juan Carlos del Olmo, CEO of WWF-Spain said:
"For 15 years we have cautioned against the dangers of dredging for Doñana, its rare wildlife, and the fishing families who rely on the Guadalquivir estuary. This commitment should be the death blow to dredging provided that it is followed up with appropriate action."
- ends –
Notes to the editor
Since September, over 141,000 people from around the world have already joined WWF's call, asking Spanish Prime Minister Mariano Rajoy and the president of the Andalusian Regional Government Susana Diaz to protect Doñana World Heritage Site. The action can be found here.
Doñana National Park faces a myriad of threats. The World Heritage site, located in southern Spain, provides habitats for as many as 4000 species, six million migratory birds each year and the world's rarest feline species, the Iberian lynx. The report, Saving Doñana: From Danger to Prosperity, produced for WWF by Dalberg Global Development Advisors, identifies looming threats from intensive agriculture, mining, and gas storage.
Doñana National park is protected by all major international conservation designations, including Ramsar Wetland Convention, EU Natura 2000, UNESCO Biosphere and World Heritage. WWF has been involved in the Doñana area for over 50 years, helping transform the wetland into the first biological reserve in Spain.
WWF is one of the world's largest and most respected independent conservation organizations, with over 5 million supporters and a global network active in over 100 countries. WWF's mission is to stop the degradation of the Earth's natural environment and to build a future in which humans live in harmony with nature, by conserving the world's biological diversity, ensuring that the use of renewable natural resources is sustainable, and promoting the reduction of pollution and wasteful consumption. Visit https://makeyourmark.panda.org/uk/donana for latest news and media resources and follow us on Twitter @wwf_uk.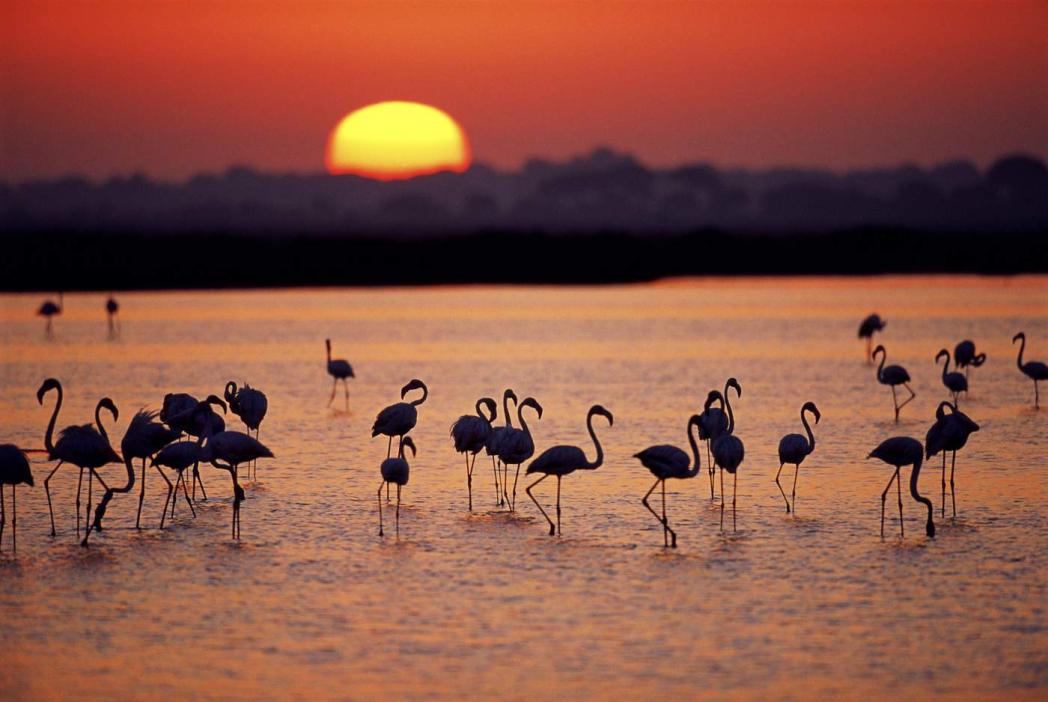 © Jorge Sierra-WWF