Spotlight on: Fryent Primary School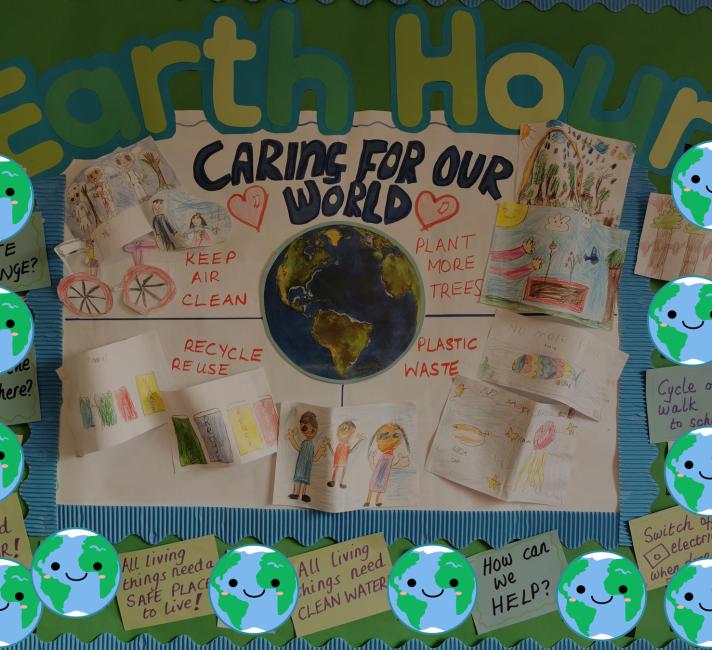 © Fryent Primary School
Celebrating Earth Hour
In March this year hundreds of schools across the UK took part in Earth Hour – a day to switch of for our world and show we care about the future of our planet.
We asked teachers to share what their schools were doing to celebrate Earth Hour and we choose our favourites to win a WWF animal adoption pack. We are delighted to say we had over 300 teachers sharing their Earth Hour stories with us!
One of our winning schools was Fryent Primary School in London who have been doing lots of things to help their local community, improve recycling and waste and reduce their school's carbon footprint. Teacher Sapna Hars tells us what Fryent Primary School have been up to:
"We have an Eco Warrio​rs team, who are helping our school become more environmentally conscious. Our focus this year was around CV-19 to start with, where we sewed hand-made face masks in year 5 and gifted some to our key workers. The warr​iors educated our school community through a helpful video on using reusable fabric face masks and eco-friendly sanitisers, which don't contain micro-plastics."
© Fryent Primary School
"For Earth Hour, every year group participated in nature activities taken from WWF's suggestions i.e. making bird feeders, planting vegetables, going on a mindful walk etc. We even did our own Earth Hour at school, where all electrical devices and lights were switched off for one hour. The children are definitely more aware of the impact of climate change and how to reduce our carbon footprint. We posted daily challenges online for children and parents to get involved in such as using reusable bags when shopping or turning your washing machine down to 30 degrees.
We are working on improving our school garden. For example, every class is in competition with each other to grow the tallest sunflower and soon, we will be gifting some of these to our local community.
We are [also] working with our catering company to introduce Meat-Free Mondays for our school meals and encourage children to eat less meat, thus reducing our footprint further. Furthermore, we have a recycling scheme set up for Carex handwash pumps and crisp packets open to our school community."
As their prize for entering our Earth Hour competition, Fryent Primary have chosen to adopt a snow leopard from WWF.