New David Attenborough documentary inspires local school to take action.
After watching the recent 'David Attenborough: A Life on Our Planet' documentary, Year 6 students at Maryport CoE Primary School in Cumbria were inspired to take to the streets with placards, persuasive slogans and T-shirt designs to campaign for the future of our planet.
Year 6 teacher Siobhan Dover and her students gave us the low-down on their campaign:
"During the first Autumn term, our geography unit was climate change. After a series of lessons, we were appalled at what was happening to our world and what could lie ahead for our future. We therefore wanted to do something to inform people in our local community of the changes that they could make. From this a project plan was put into place."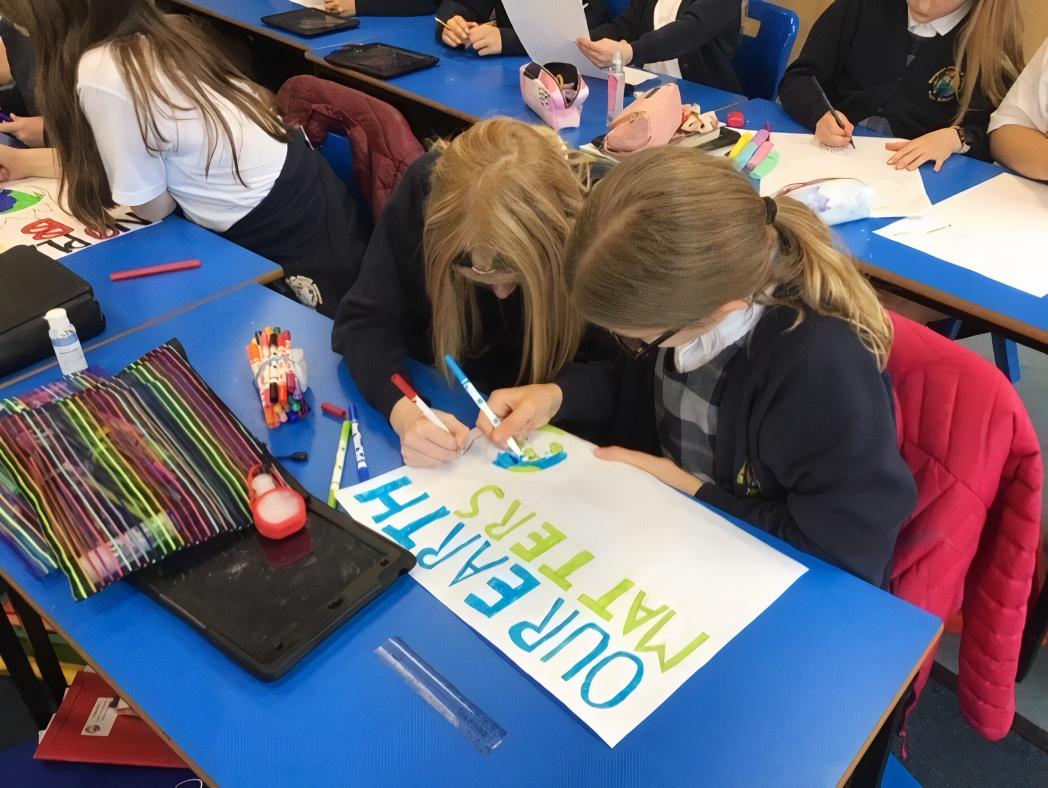 "We started the project by watching David Attenborough: A Life on Our Planet - to gain a more in-depth study of what David Attenborough was doing to educate people on a global scale. We couldn't believe we were destroying our planet in so many different ways. We researched lots of solutions to these problems and used this research to plan our campaign. We then created placards that included a persuasive slogan and designed a campaign T-shirt. These designs were created on the iPad and then, using an iron on transfer, attached to the T-Shirt. 
Taking to the streets in our T-shirts and with our placards, we embarked on our peaceful protest around nearby streets. We were thrilled when local residents cheered us on and stopped us to ask us further questions. We hoped that if we could persuade our families, the other staff, children in our school and the local community to make small changes they could lead to further changes. 
We have enjoyed working on this project; improving our graphic design skills; teamwork and collaboration all whilst doing our bit to help the world we live in."
Thank you to Siobhan Dover and Year 6 students at Maryport CoE Primary School for sharing this wonderful story with us. We hope this inspires other primary students and their teachers to take action for our world!
HOLD YOUR OWN SCREENING
Did you know that you can hold your own screening of David Attenborough: A Life On Our Planet in your school? Let us know if you hold a screening by registering on our website and uploading your 'steps for change' manifesto to show other schools the commitments you're making to restore nature. By doing so, you'll also receive a David Attenborough: A Life on Our Planet certificate for your school!
As the documentary covers some difficult themes, such as animal trade, habitat destruction and future climate projections, we recommend that teachers watch the film first to assess for suitability. We suggest only showing to students aged 9 and above.
RESOURCES
Twinkl have developed some fantastic Key Stage 2 / Second Level teaching resources based on David Attenborough: A Life on Our Planet. The resources are free to download and focus on four key environmental concerns covered in the documentary: eliminating waste, reviving our oceans, using less space, and going carbon neutral.