A recent tiger population survey in Nepal has revealed that numbers of these iconic big cats have almost doubled in under a decade. This positive news means that Nepal is set to become the first country to double its national tiger population since the ambitious TX2 goal was set in 2010 – a goal to double tiger numbers in the wild.
With the help of camera traps in the transboundary Terai Arc Landscape, Nepal was able to conclude that there are now an estimated 235 wild tigers in the country, in comparison to an estimated 121 back in 2009. This promising result means that Nepal is close to achieving its TX2 goal which aims to double the world's wild tiger population by 2022.
Leonardo DiCaprio, WWF-US board member and chairman of the Leonardo DiCaprio Foundation, which has funded tiger conservation in Nepal's Bardia National Park and elsewhere since 2010 commented, "This significant increase in Nepal's tiger population is proof that when we work together, we can save the planet's wildlife – even species facing extinction.  Nepal has been a leader in efforts to double tigers within its own borders and serves as a model for conservation for all of Asia and the world. I am proud of my foundation's partnership with WWF to support Nepal and local communities in doubling the population of wild tigers."
Tiger conservation
Although wild tiger numbers have dropped by more than 95% since the beginning of the 20th century, now for the first time in conservation history their numbers are on the increase. The success of tiger conservation in Nepal has been largely attributed to the country's ongoing political commitment, together with the adoption of innovative tools and approaches towards conserving these big cats. But there's still more work to do.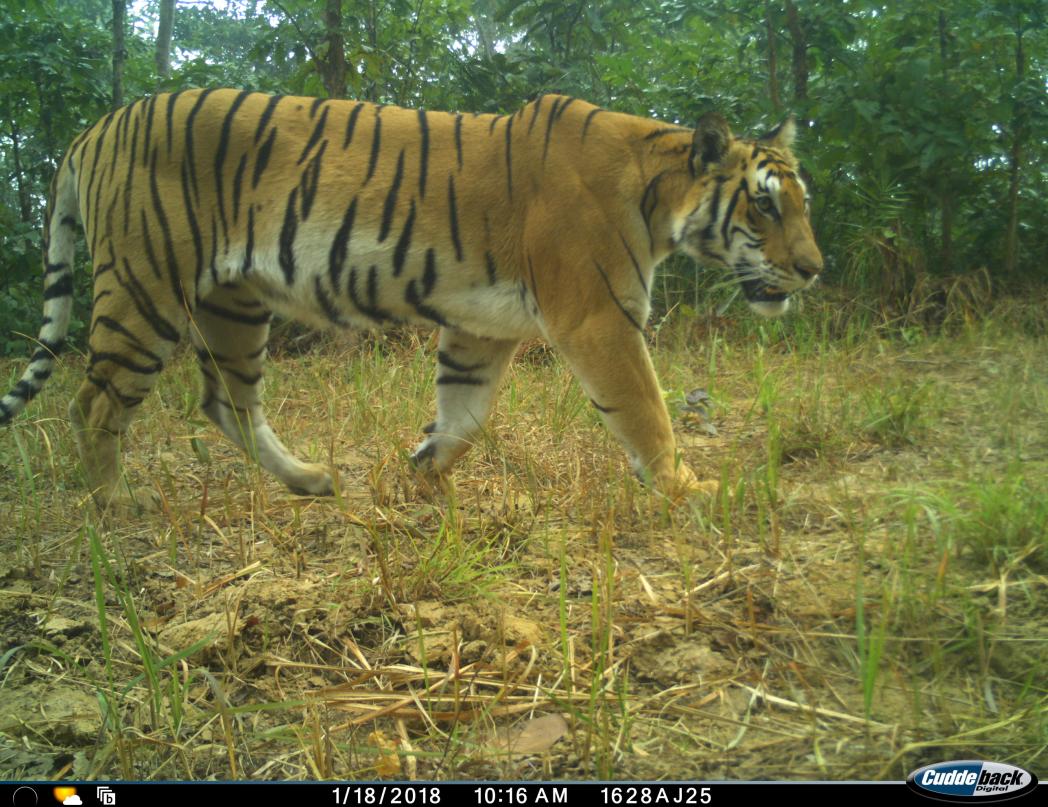 Copyright Cuddeback, 2018
We need your help
Whilst the survey results show promise for wild tiger population numbers, these iconic creatures are still facing threats from habitat loss, human-wildlife conflict and poaching for the illegal wildlife trade. Tiger bones, skins, claws and other body parts are sold in the illegal wildlife trade, mainly in Asia, where they are used for both medicine and as status symbols. Ahead of the London Conference on Illegal Wildlife Trade we're calling on global leaders to take urgent action to end wildlife crime and protect species including tigers.
We want to see strong commitments across the trafficking chain, from tackling the corruption that's fuelling this horrific trade, to reducing demand for illegal wildlife products.
Please join our fight to end wildlife crime by signing our petition to demand urgent action to end this horrific trade.
The tiger and prey-base survey was led by the Government of Nepal's Department of National Parks and Wildlife Conservation and Department of Forests, in partnership with WWF-Nepal, National Trust for Nature Conservation and Zoological Society of London (ZSL) Nepal. It was funded by WWF, ZSL Nepal, National Trust for Nature Conservation, USAID's Hariyo Ban Program II, KfW/IUCN, Leonardo DiCaprio Foundation, Panthera and WildCats Conservation Alliance.