How much do your students know about our natural world? WWF's Wild Wisdom Quiz provided a great way to find out!
Since the beginning of the Autumn term, schools having been participating in this biodiversity-themed quiz to find the biggest nature enthusiasts among their students. Monday 18th November 2019 saw 8 schools from around the UK take part in the first Wild Wisdom Quiz UK Finals.
The theme of this year's Wild Wisdom Quiz was 'Exploring Our Planet', based on the themes of the Our Planet series on Netflix, and brought to life with Our Planet videos and images. Just like the series itself, this year's quiz explored how the biomes of our planet work together as a living system that sustains all life on earth.
The teams were taken on a behind-the-scenes tour of WWF-UK's award winning sustainable offices - the Living Planet Centre - and participated in a campaign design workshop run by WWF's Climate Change Specialist Isabella O'Dowd. The big moment came in the afternoon as the UK Finals got underway. Teams were split into two pools of 4 schools competing to top their group. The winner of each group then came head-to-head, both wanting to be crowned UK Champions. Not only for the glory of this fantastic achievement, but for the chance to be the UK representative in the Wild Wisdom Quiz International Finals.
This accolade went to Antonia and Penny from Landmark International School in Cambridge, having beaten worthy runner ups Lydia and Luke from Stonar School in Wiltshire.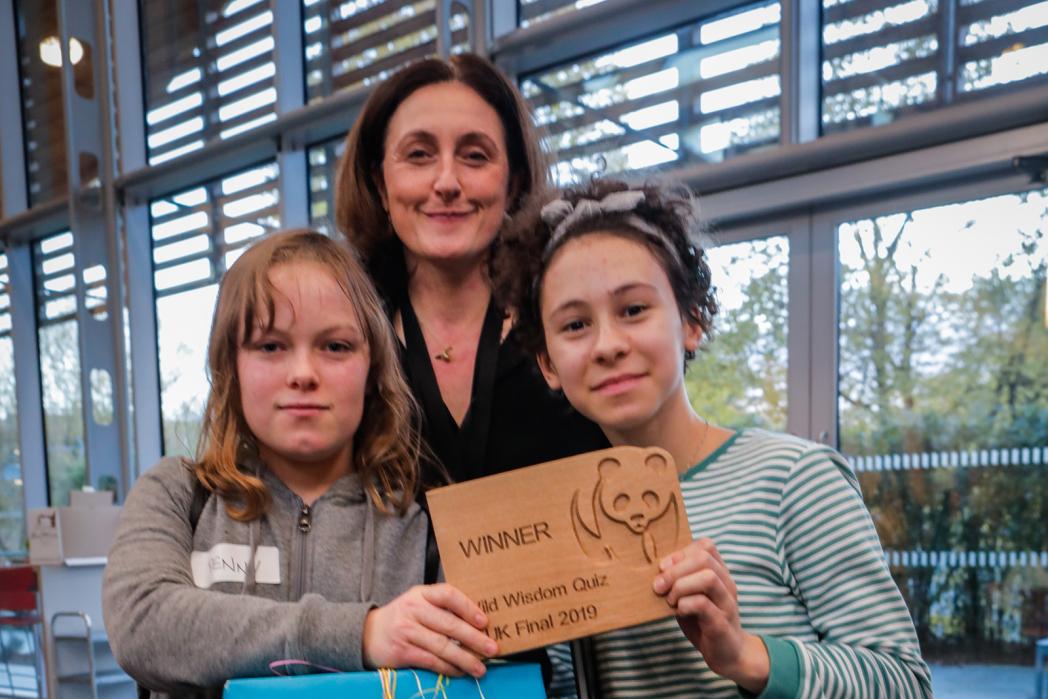 WWF
Wild Wisdom Quiz UK Champions Penny and Antonia with WWF Chief Executive, Tanya Steele
Antonia and Penny now had one more task: could they become Wild Wisdom Quiz International Champions as well? An early start on Wednesday 20th November had them live video linked to India. WWF-India, who started the concept 12 years ago, hosted the 2nd annual International Finals. Teams from Hong Kong, Colombia, Indonesia and Nepal joined the UK and India, all having won their respective National Finals.
It was a closely fought contest and, for the first UK team entering, they did brilliantly well to finish in second place. Penny said: "It has been amazing to be a part of something this big. It has been amazing to learn so much from other people and has been totally worth doing." Antonia added: "I'm really happy. I never thought we would get this far and get to compete in the International Final and do my school proud."
"It has been an incredible experience and the girls have learnt a lot from the quiz. It has been superb to see them compete with students from other nationalities who made us feel really welcome."
Our congratulations go to Colombia who were crowned International Quiz Champions, as well as the other schools who made it to the UK Finals; West Calder High School from West Lothian, St Andrews School from Surrey, International Community School from London, Ealing Fields High School from London, Parliament Hill School from London and George Abbot School from West Sussex.
Tanya Steele, Chief Executive, WWF-UK said: "Congratulations to Antonia and Penny from the Landmark International School both for winning the UK finals of the 2019 Wild Wisdom quiz and for coming second in the overall global final.  This is a great achievement, of which they should be very proud!  And it was a real pleasure for me to meet all of the teams who competed in the UK finals when they came to WWF's Living Planet Centre in Woking – I was hugely impressed by their knowledge of and commitment to the natural world – we need the voices and passion of young people if we are to save nature and tackle climate change."