25 January 2017
WWF Scotland surprises special young fundraiser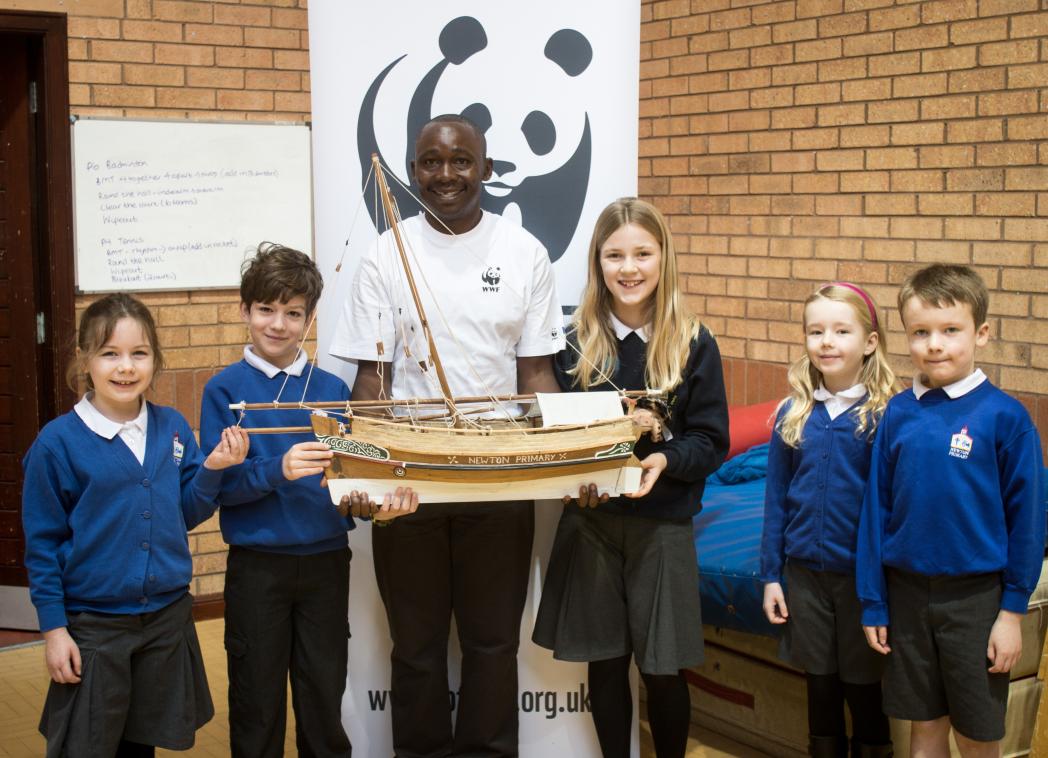 © WWF Scotland
11-year old Ella Ritch from Dunblane impressed the WWF Scotland team with her fundraising and awareness-raising activities so much, they decided to show their appreciation by saying 'thank you' in person at her school, Newton Primary, along with a special guest.
Last year Ella set up a school stall selling Christmas cards and crafts she had made; gave a talk on the important work of WWF to fellow pupils; and ran a vote for the animal which the school should adopt via WWF. This inspired pupils to raise enough money to adopt two animals - a Hawksbill turtle and an Amur leopard.
To make the 'thank you' extra special, Mike Olendo, who heads up the turtle conservation work for WWF-Kenya in Lamu, was a surprise guest. Mike was in Scotland to thank players of People's Postcode Lottery - who fund much of his work - and he was delighted to give a talk to the pupils about the importance of conserving the mysterious marine turtle. 
Speaking about how impressed he was with Ella's dedication, Mike said:
"It's always heart-warming to hear how passionate young people are about wildlife and I'm delighted to be able to meet her and personally hand-over her thank you certificate."
"My love of marine life and turtles started well over ten years ago when I was a student in Kenyatta University in Nairobi studying environmental science."
Following the surprise visit, Ella Ritch said:
"I couldn't believe it when Mike came into the room.  It was amazing to meet him and I'm so pleased that the money we raised is helping him to do his work in Kenya."
"I did this because I wanted to help endangered animals. I really hope that I have raised awareness of the awesome work WWF does. I am hoping that other people will want to adopt their own animals too."
WWF Scotland's director, Lang Banks, commented:
"I'm delighted we were able to surprise Ella at her school. Her efforts to raise funds and awareness of our work really impressed us and it's great to know there are passionate young people out there concerned enough to take steps to protect people and nature. Without people like Ella and her school friends, we wouldn't be able to do the work that we do."