The report reveals that stocks have collapsed in nearly one-third of global marine fisheries, and the rate of decline is accelerating. Closer to home in our own EU waters many fish stocks are outside safe biological limits - international scientists have concluded that 81 per cent of the stocks assessed are overfished.
Governments, industry and seafood consumers must tackle the crisis in the oceans or risk the food security and livelihoods of over a billion people worldwide. Specifically, governments must implement conservation and management measures, including reducing fishing pressure, stopping destructive fishing practices and establishing effective networks of marine protected areas, if they're to prevent empty oceans, empty plates and lost livelihoods in the future.
Dr Tom Pickerell, Fisheries Policy Officer, said: "Many governments are failing to prevent over-fishing and ocean destruction. European Fisheries Ministers frequently ignore scientific advice and increase the amount of fish allowed to be caught rather than enforcing wise management.
"However, it's not too late to rescue this outrageous situation. WWF is working closely with many fishermen's groups to take steps to fish sustainably. The best way for consumers to identify seafood coming from well-managed fisheries is through the Marine Stewardship Council label.
"We urge the politicians responsible to make serious long-term commitments to restoring the fish stocks and reducing habitat destruction."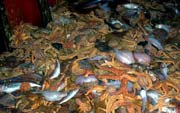 "We urge the politicians responsible to make serious long-term commitments to restoring the fish stocks and reducing habitat destruction."
Dr Tom Pickerell, Fisheries Policy Officer, WWF-UK
Related links