Background
This survey follows a roundtable jointly organised by WWF and M&S in October (read more about the event in our blog) and follow up discussions at WRAP's Courtauld 2025 Water Working Group in November.
At both events, food and drink companies agreed that to successfully address supply chain water risks, coordinated action is vital. To do this, we need to identify where companies currently experience 'water risk hot spots' so that WWF and WRAP can identify areas of commonality and then set up a process to enable companies and other organisations in key locations to work together to mitigate shared water risks. M&S have supported the development of the survey based on their experience of mapping their own supply chains and taking action through water stewardship. The key benefits to businesses of joining this approach are:
The ability to leverage individual efforts and resources to deliver at scale, therefore maximising impact – a more efficient way of undertaking water stewardship.
A more strategic approach can be undertaken in common water risk areas at a catchment level.
The knowledge of who shares common water risks areas with your business, providing the opportunity to work collaboratively on water stewardship.
A water risk hot spot is an area where a company is experiencing significant water risk in its supply chain, where the water risk could by physical, reputational or regulatory. For example, a company sourcing wine from the Western Cape in South Africa might experience physical water risk due to water scarcity limiting production.
We have included a number of useful links on this page including information on water stewardship and tools to help you identify water risks in your supply chains. If you would like more information about water stewardship, the work so far, or the next steps, please email WaterStewardship@wwf.org.uk.
Important information about the data you provide and how we'll use it
Please note that this survey covers food and drink only.
Please only include significant water risk hot spots where you are potentially interested in actively engaging with water stewardship work. We will not expect you to engage in every location you highlight to us, but would like to know every area where you would potentially be interested to help us identify where businesses have shared areas of interest. We expect engagement to involve businesses mapping water risks in their food and drink supply chains to identify the areas which pose a high risk to the business. Once these high risk areas have been identified and shared with us via the survey, WWF and WRAP will analyse the information provided to establish a list of locations that are common water risk hot spots for UK businesses. We will then support businesses to work collectively to leverage their supply chain influence and joint resources to support sustainable water management in hot spot locations therefore mitigating water risks in the areas identified.
It is therefore important that you are happy for us to share aggregated information with other companies involved in this work. We will not share your detailed survey response with other companies*. Please use the drop down options in the survey to indicate that you are happy for us to do this, and if you want to use a non-disclosure agreement you can find one here (please return it to us along with your completed survey response). If you have any questions about this please do get in touch (WaterStewardship@wwf.org.uk).
*If your company is a Courtauld 2025 signatory, WWF will share the information you provide with WRAP. WRAP will use this information to underpin a long-list of key sourcing locations internationally where there is a sufficient interest for collaborative stewardship projects as a part of work on reducing water stress under Courtauld Commitment 2025. Before the final list of locations is agreed, it will undergo another set of consultations.
We are aware that many companies are at different stages of their water stewardship journey, and some will have mapped their water risks in more detail than others so we expect to receive information in varying levels of detail.
Guidance for Completing the Survey
The survey is in the form of an Excel Spreadsheet which can be downloaded here. Please save it on your computer before starting and ensure that you complete the contact information section. When you have completed the survey, please return it to WaterStewardship@wwf.org.uk. 
The survey itself is quick to complete, especially if you have already identified locations which pose the highest water risk to your business. If you need to assess your supply chains and operations for water risks, we recommend that you use our Water Risk Filter to do so. It is free and easy to use (it just needs a location) and the time it requires is largely dependent on how quickly a company can collate data on its supply chains and operations. If you would like help or support using the WRF, please get in touch with us at WaterStewardship@wwf.org.uk
The initial round of locations are being selected based on early responses to the survey (submitted by 24th March 2017) but the survey is staying open to allow new businesses to join the process. 
The survey has been designed so that you use one row for each of the water risk locations that you wish to share with us and we have not set a minimum or maximum number of locations.
Please start with your highest priority location, and leave any fields you don't know blank.
Country: We have pre-set a list of countries where we think it is likely that you may experience water risk in your supply chain in column B. If one of your locations is not included, please just type it in. 
Region: Column C is an automatic menu of regions for each country you choose. If you know which region is important to you, please select it from the list. If more than one region is important, please use additional rows (you will need to select the country in every row to generate the regional options). If you don't know which region(s) you source from, please select 'Unknown/all regions.'
Town/Area: If a particular area/city/town is of key interest to you, please include it in column D.
Products Sourced from Region: Please list key products you source from each location in column E.
Involvement in Water Stewardship Projects: If you are involved in any projects in each area, please indicate the project name and lead organisation if possible in column F.
If you have any additional information or comments you would like to make, please use column G. 
An example of a completed survey can be seen below. If you have any questions or problems completing the survey, please email WaterStewardship@wwf.org.uk.
There are a number of resources available to help with mapping your water risk and to provide more information on water stewardship on our resources page.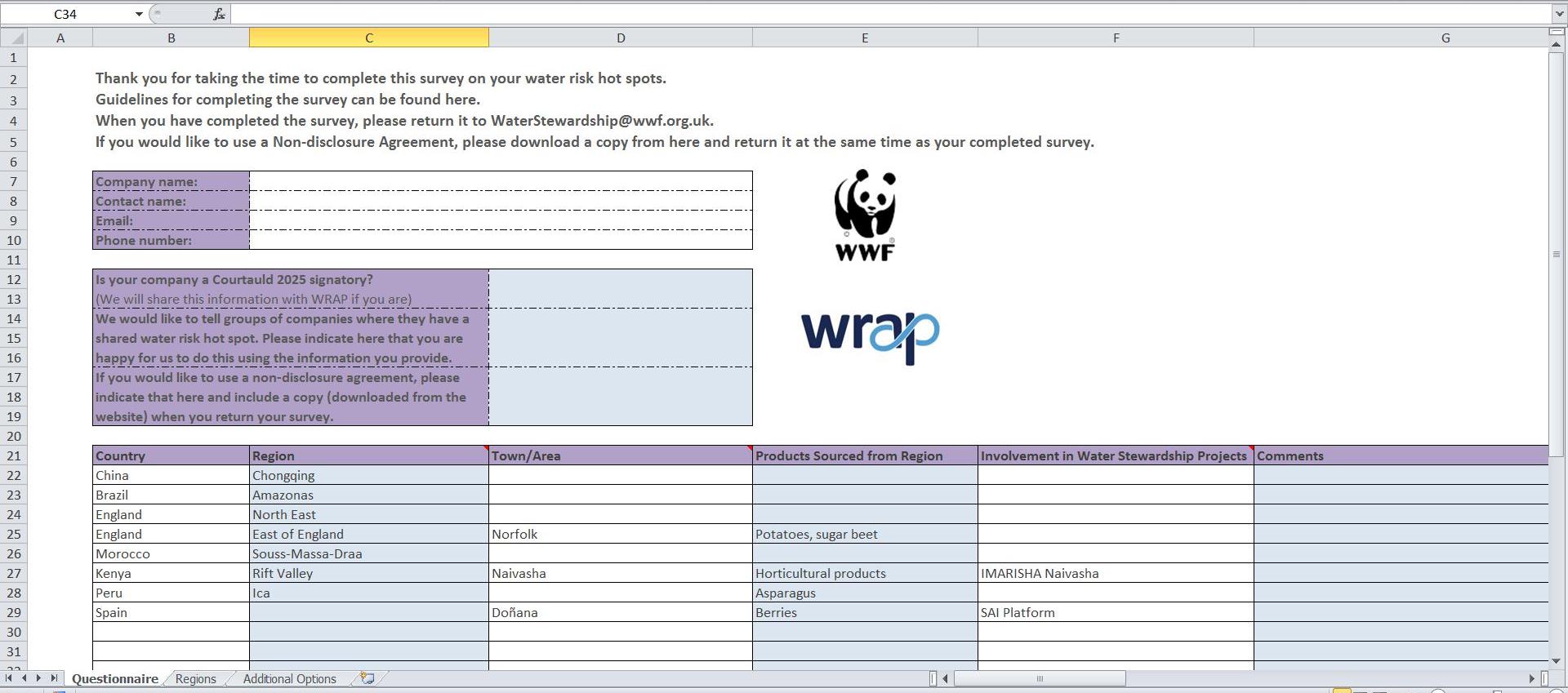 WWF-UK
A sample survey response. Please click on the image to see a larger version.