What they're doing
B&Q Plc is committed to running an ethically and environmentally responsible business, promoting responsible forest management and eradicating illegal wood products from their supply chains. This involves making their timber and paper procurement policy publicly available, traceable and credible.
They started their sustainability journey in the early 1990s – driven by a challenge that if they claimed to care about the environment, they should know where the products came from, how they were being made and what they were being made from.
In 1991, they published their first timber policy – and went on to become a founding member of FSC®, the Forest Stewardship Council.
For over twenty years they've been working to make timber sourcing as sustainable as possible, so it's even easier for customers to make a positive choice.
How they're doing it
B&Q requires all the wood, paper and card in the products they buy to be either FSC® certified with full chain of custody, PEFC certified with full chain of custody or from a proven recycled source.
B&Q only buys responsibly sourced wood and behind every one of their products that use wood, is 20 years hard work and our Forest Friendly Promise:
At B&Q Plc they have developed product sourcing policies and ensure that suppliers understand and comply with them.

They only stock timber and wood-based products sourced from certified or otherwise known and legal sources, or made from recycled material.

Have gone beyond a compliance-only approach by extending the scope of products included in their assessment to include GNFR, packaging, etc.
They're proud to report
They achieved 100% compliance in their Wood and Paper Policy in 2011 – which means that all of the wood, card or paper in over 17,000 of the products bought has been responsibly sourced so that forests are protected for future generations.
Impact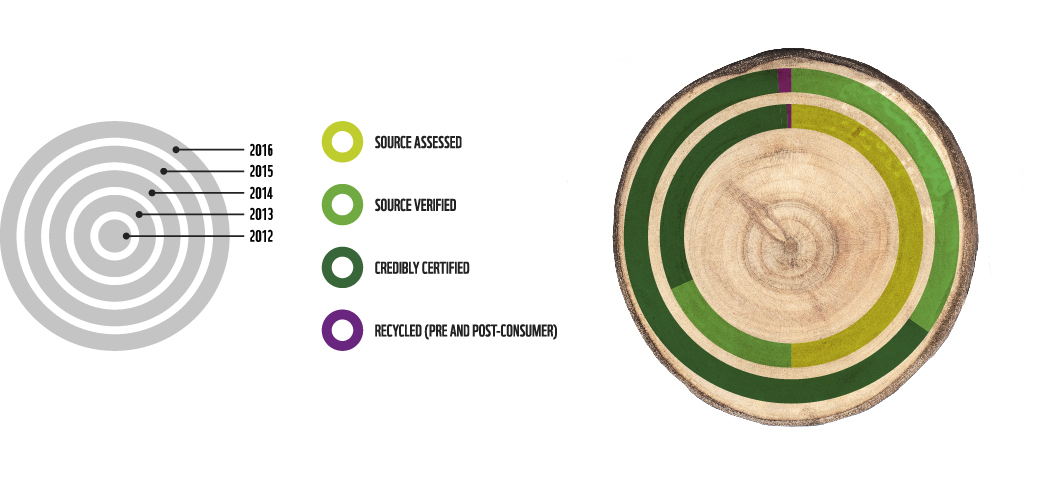 Why they're doing it
At B&Q, they recognise how important forests are to our climate, to wildlife and to the people who depend on them for their livelihood. They require high standards for the wood that they buy, whether sourced from a rainforest or a softwood plantation. If wood is sourced responsibly, it can be regarded as renewable as new trees will thrive where an older tree has been felled. If wood is used in the fabric of our buildings or in furniture, the carbon the tree has captured is locked up for the long term. A forest can be carefully managed sustainably for the long term, providing income for local people as well as habitats for wildlife.
Illegal and irresponsible logging can cause immeasurable damage. When rainforests are cleared, the land may be used for palm oil production or for cattle ranching, often employing far fewer people and, in the case of palm oil, fires can pollute the air over a massive area. In cooler climates, irresponsible logging may damage local wildlife.
Ways they are helping:
Every product sold that contains any paper, card or wood must comply to the Kingfisher Wood and Paper Policy. There are over 17,000 products which the policy is applied to.

Their policy includes rigorous checks to ensure that the wood does not damage ancient forests, harm wildlife or jeopardise the future of communities who depend on the forest. Because they know where the timber comes from, they know that the trees have been felled legally, and use independent expert organisations to police this process.

Respecting the rights of indigenous people is an important requirement for B&Q's Forest Friendly programme.

B&Q has full chain of custody with both FSC® and PEFC. Look for the chain of custody number on the till receipt. It's the only way they can give assurance to their customers that the products can be bought with full confidence that they've not contributed to deforestation.