What they're doing
Walgreens Boots Alliance has set an objective on deforestation to mobilise resources within the business, in order to develop plans to help achieve zero net deforestation by 2020, in line with their commitment made through The Consumer Goods Forum.
Boots are working to develop specific, time bound action plans for the different challenges in sourcing commodities such as wood, paper and pulp, palm oil, soya, and beef, in a sustainable fashion. They'll also support work with stakeholders – NGOs, development banks, governments etc – to create funding mechanisms and other practical schemes. This will incentivise and assist forested countries to conserve their natural assets and enable them to achieve the goal of zero net deforestation, whilst at the same time meeting their goals for economic development.
Boots UK is committed to running an ethically and environmentally responsible business, promoting responsible forest management and eradicating illegal wood products from their supply chains. This involves making their timber and paper procurement standards publicly available, traceable and credible.
How they're doing it
Boots UK have a long standing commitment to purchase wood, paper and pulp products and goods not for resale from well-managed, sustainable sources. This commitment covers:
The elimination of illegally harvested wood
The elimination of timber sourced from uncertified high conservation value forests
Continuously increasing the proportion of material we use from known, legal sources using recognised credible certification schemes
Such certification will be to international standards of forest management that include ecological, social and economic criteria - such as those established by the Forest Stewardship Council (FSC).
The Boots UK current target is to reach 75% credibly certified or recycled wood, pulp and paper in products and Goods Not For Retail by 2016.
impact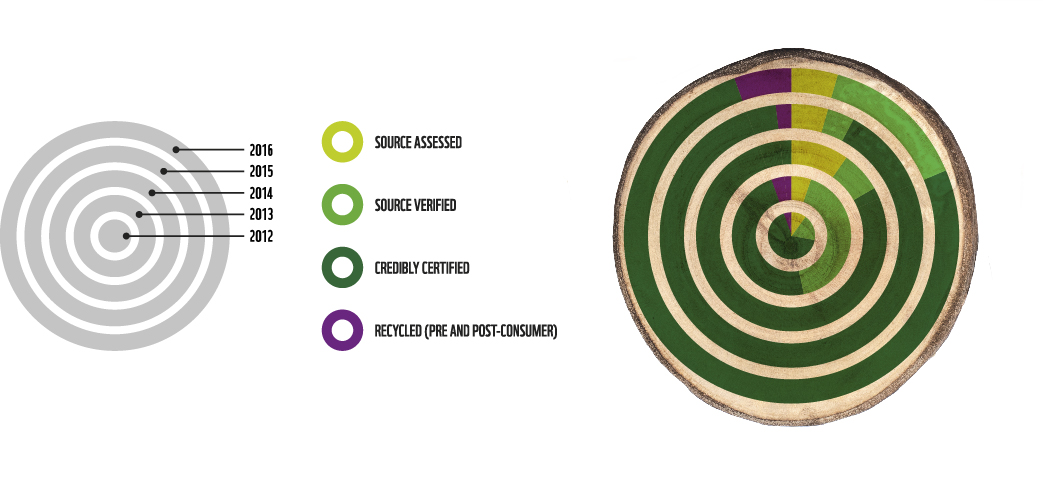 Why they're doing it
To achieve and maintain Boots UK sustainable sourcing commitments requires a high level of engagement with their supply chain.
Working with their global sourcing teams, Boots UK have implemented revised technical standards on wood pulp and paper sourcing through their new quality management system.
Boots UK is supporting our 'Forests Campaign' which seeks to cut out the trade in illegal and unsustainable timber. They're doing this by working together with businesses to influence government at the UK and EU level, to level the playing field for businesses that are supportive of responsible forest trade.