Going to court to stop third runway
23 February 2010
Today's the day we go to court to challenge the government's decision allowing a third runway to be built at Heathrow airport.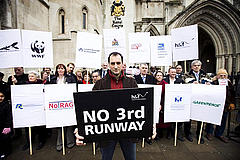 We're one of 13 organisations backing a legal challenge against Heathrow expansion. We're in a coalition that includes six west London local authorities, leading green groups (WWF, Greenpeace, RSPB and CPRE) and residents' groups, together representing around two million people.

If a third runway is built at Heathrow, the airport will become the single largest emitter of carbon dioxide in the UK – not to mention the other environmental and pollution concerns. It will also mean the destruction of 700 homes – the entire village of Sipson.

We're pursuing two main legal objections. Our lawyers will claim in court that:

   • the runway consultation process was fundamentally flawed
   • the decision to expand Heathrow is at odds with the UK's climate change targets.

We're also arguing, alongside Transport for London, that there's no evidence to support the government's claim that there will be enough public transport to cope with an expanded Heathrow.

If the coalition wins, the government's decision to allow the runway will be overturned.

What's wrong with the Heathrow proposals
The decision to proceed with a third runway was made by then-Transport Secretary Geoff Hoon in a statement to parliament in January 2009. Geoff Hoon tried to win over parliament by proposing a number of additional environmental measures.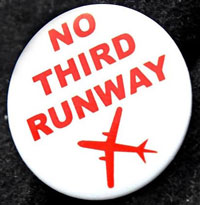 The coalition is alleging that these added measures mean the expansion plans are now fundamentally different to the original proposals, which the government consulted the public about in 2007.

Worse still, the government's lawyers are now backpedalling by claiming the new measures were not part of the decision to expand Heathrow.

One of those new measures was a target to bring aviation carbon emissions down to 2005 levels by 2050. The government asked the Committee on Climate Change (CCC) how it could meet this target. The CCC said the government would have to severely curtail its plans for airport expansion throughout the UK. The coalition argues that the expansion of Heathrow cannot now proceed, since the policy of which it's a part has been discredited.

Another of the measures was that the new runway might be used at only half its capacity, until a review in 2020 could check to see if noise and air pollution, as well as carbon targets, could be met.

But imposing this limit destroys the government's own economic case for building a third runway. Besides which, it will be no comfort to the residents of the nearby village of Sipson, as their homes would be demolished either way.

WWF's head of transport policy, Pete Lockley, says:
"The government's decision to allow expansion at Heathrow flies in the face of common sense, which is why we're asking the high court to consider the case.

"A third runway will make it much more difficult to achieve our carbon reduction targets, and doesn't justify its cost in economic or environmental terms. There should be a complete rethink of government aviation policy."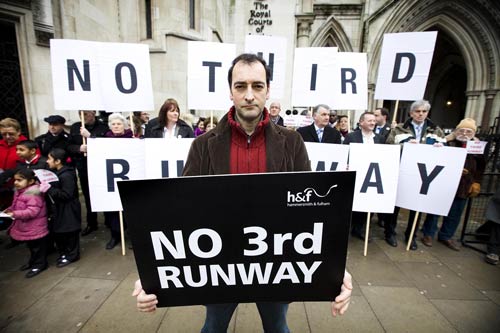 WWF ambassador Alistair McGowan (pictured at the High Court protest above), is one of the joint owners of the 'Airplot' in Sipson, and says:
"Like the residents of Sipson, I'm enraged about the government's seemingly unquenchable passion to tarmac over my land – land which I now own, with over 65,000 people from around the world.

"I hope the ministers who wouldn't listen to already-suffering west Londoners, highly respected climate scientists or battling local councils, will listen to the courts. I don't want to end up having to fend off BAA with a pitchfork and a large bull."

On behalf of the local councils, Ray Puddifoot says:
"We've had no choice but to go to court to sort out the mess left behind by a decision that was little more than a quick fix.

"The history of Heathrow expansion is littered with broken promises, that's why it's so important we get the courts to sort out the deliberate ambiguity of the government's decisions."


You can…

Find out more about our campaign against Heathrow expansion