Securing the rainforest riches of Borneo
24 January 2011
We've achieved significant successes in the fight to stop the rampant destruction of Borneo's forests. But we're not done yet – we need to make sure the vital conservation work continues.
The vast island of Borneo contains Asia's largest surviving tropical forest. It's an Aladdin's cave of biodiversity – where an average of three new species have been discovered every month for the past 15 years.

Orang-utans, pygmy elephants, Sumatran rhinos and clouded leopards share the forest with more than 600 bird species and 15,000 types of plant – as well as half a million indigenous people who depend on the forest for food and shelter.

But over the past few decades, huge swathes of Borneo's forests have been cut down for timber and to make way for oil palm and paper pulp plantations. Now only half of Borneo's original forest cover remains. WWF has been fighting to prevent further destruction.

Borneo breakthrough
We saw a great breakthrough in 2007 when the island's three governments – Brunei, Indonesia and Malaysia – agreed a plan to safeguard their natural heritage. With our support, they committed to protect, manage and restore 220,000 sq km of forest – almost the same area as the UK.

This agreement now needs to be turned into reality – but given that WWF resources are limited and so much of this huge forest area is under threat, our efforts are currently focused on protecting areas with especially high conservation value.

We're working with businesses in key sectors – timber, oil palm, mining and financial investment – to minimise the impact of their activities on the ground. And we're encouraging key international buyers of timber and palm oil from Indonesia and Malaysia to commit to using only sustainably-produced goods.

Greenprint for the island's future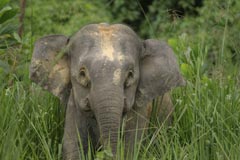 This year Borneo's governments will launch a 'greenprint' for conserving the island's biodiversity, reducing CO
2
emissions and stopping deforestation.
It's all part of a plan to move towards a 'green economy' where governments, businesses and communities recognise the value of Borneo's different habitats. We anticipate that conservation and sustainable development objectives will be integrated into their national economic plans.
To support this, we're demonstrating that responsible forest management protects the natural resources, like timber and water, on which businesses rely. As part of this process, we're working with companies to connect two important protected areas and protect river catchments in eastern Borneo.

You can...


See our 'story from the field': encounter with a Borneo orang
Be part of our 50th
Find out more about our work in Borneo
Adopt an orang-utan