Join our Big Forest Picnic
3 June 2011
We're teaming up with VisitWoods and Progressio this summer to invite you to celebrate forests at the Big Forest Picnic. It's on 20 August 2011 at woodlands across the UK and there's an exciting storytelling theme. We'll have more details soon but we wanted to tell you about it now as we've been getting excited about storytelling this week at the Hay Festival.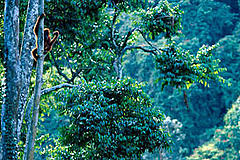 2011 is the UN's International Year of Forests and it's a great time to celebrate the many ways in which woodlands enrich our lives – and the importance of forests to people all over the world.

Forests are a really important part of our storytelling culture, and whether you love Robin Hood, the Jungle Book or the Gruffalo, forest stories have a special place in all our hearts.

So take a picnic to your local wood on 20 August, share your favourite forest story and celebrate the wonder of trees!

Ahead of the Big Forest Picnic we'll be inviting you to vote for your favourite forest story. Look out for your chance to vote on our facebook page or email bigforestpicnic@wwf.org.uk and we'll keep you up to date.

Many of the wood products we use in our every day lives come from countries like Indonesia and the Congo Basin where people not only love forests but depend on them for their livelihoods. These forests are threatened by illegal and unsustainable logging. You can help protect forests and communities who depend on them by choosing FSC certified wood and paper. Find out more on our What Wood You Choose? campaign pages.

Want to keep in touch?
Email us at bigforestpicnic@wwf.org.uk and we'll keep you updated about the Big Forest Picnic.
Follow us on facebook.

blog comments powered by

Disqus