Fracking, earthquakes and the positive answer to shale gas
2 November 2011
The worrying news that drilling for shale gas probably did cause earthquakes near Blackpool is only part of our problem with 'fracking'. The other big environmental elephant in the room is that shale gas is simply another greenhouse gas-pumping fossil fuel, and far from the 'wonder gas' it's hyped as.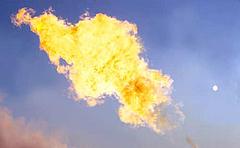 The report into this year's unusual seismic activity in Lancashire - released today by Cuadrilla Resources, the British company exploring for natural shale gas in the Bowland Basin – concludes that: "It is highly probable that the hydraulic fracturing … did trigger a number of minor seismic events."

It just serves to confirm one of our many fears about shale gas. As well as the earth tremors, and concerns over ground and surface water contamination attributed to shale gas drilling, there are of course also the greenhouse gas emissions associated with its extraction and the consequent burning of what is yet another carbon-emitting fossil fuel.

That's why we're calling in the first instance for a moratorium on shale gas extraction in the UK until the potential environmental risks around shale gas drilling have been properly researched and the right regulations have been put in place.

But we're also reiterating that a new 'dash for gas' risks taking the world towards dangerous levels of climate change - increasing temperatures by at least 3.5°C according to a recent report by the International Energy Agency.

As Nick Molho, our head of energy policy, says: "We're extremely concerned by the way shale gas is being painted as a 'wonder gas' that will slash energy bills in Britain and somehow help tackle climate change.

"Shale gas is still a fossil fuel, and a new dash for gas could see global temperatures skyrocket. There's also no evidence that it will have a big impact on energy bills, which have in fact been driven up in recent years by a rising gas price."

Our research - seen most recently in our Positive Energy report, which demonstrates how renewable sources of energy could meet between 60% and 90% of the UK's electricity demand by 2030 - makes it clear that prioritising energy efficiency and renewables like wind, wave and tidal power, not shale gas, are the best way of reducing our disproportionate vulnerability to the gas price, and of genuinely tackling climate change, in the long term.

The government has to listen to the clear and sensible evidence and steer a straight course to a low-carbon future - resisting the siren calls of the fossil fuel industry.




blog comments powered by

Disqus