Winners of 'Your Amazon' photo competition announced
28 November 2011
You may have heard of our 'Amazon' photography exhibition running at Somerset House in London and part of Sky Rainforest Rescue, our partnership with Sky to help save one billion trees. To coincide with the exhibition (now extended until 18 December, if you haven't seen it yet), we also ran a photo competition, encouraging people to go out into their local environment and take pictures that reflect their take on the theme of 'Your Own Amazon'.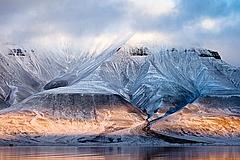 With over 100 entries, selecting a winner was a real challenge. But Stuart Thomson, 27, was finally awarded the top prize of a digital SLR camera for his striking image, shown here. He said:

"I was surrounded by the most beautiful light I had ever seen, and even though I am happy with the outcome, the reality was just that much more breathtaking."

WWF's photographic and film manager, Greg Armfield, said of the winning image: "A beautiful, rich and striking picture. The colours and detail make this image. The warm glow of the sunshine on the lower reaches of the mountain contrast vividly with the icy blue as we climb the mountains slopes. Excellent."

You can check out all of the entries on the Sky Rainforest Rescue facebook page.

AMAZON PHOTO EXHIBITION EXTENDED BY ANOTHER TWO WEEKS

Following a very successful run this autumn, Somerset House have decided to extend our acclaimed Amazon photography exhibition, part of Sky Rainforest Rescue, our partnership with Sky to help save one billion trees in Brazil. You now have until 18 December to see, for free, the amazing collection of images by top photographers Sebastião Salgado and Per-Anders Pettersson.

'AMAZON' launched on 2 November at the new East Wing Galleries in Somerset House, central London. To date over 7,000 people have attended the exhibition, which showcases Salgado's images of pristine habitats and indigenous people alongside Pettersson's photos of deforestation and the solutions we're supporting through Sky Rainforest Rescue.



blog comments powered by

Disqus