Renewable energy an 'absolute necessity' for the world
25 April 2012
Our message to world ministers arriving in the UK for the international Clean Energy Ministerial (CEM3) was that without big investment in renewable energy now we risk being stuck with a high-carbon world for decades. And investment in renewables brings huge opportunities too…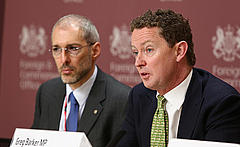 We hosted a press conference at the Foreign Office at the start of the third international Clean Energy Ministerial (CEM3).

Samantha Smith, leader of WWF's global climate and energy initiative - who accompanied David Cameron to the Arctic six years ago to see climate change impacts first-hand - spoke alongside UK climate change minister Greg Barker and ministers from Denmark and Germany.

As Samantha reminded everyone: "The International Energy Agency warned this morning that failure to invest urgently in renewable energy and energy efficiency technologies could lock the world into temperature increases of up to 6˚C - substantially above the global goal to prevent temperature rises of over 2˚C.

"To address this threat, decarbonising our energy systems and moving towards renewable forms of energy is an absolute necessity.

"But it's an opportunity too. Recent WWF research shows that a large-scale transition to renewable energy globally can be done with today's technology, to provide energy for the entire world's population.

"Countries like Mexico, which recently followed the UK and Scotland's lead in passing a climate law, can see that ending poverty and growing their economy will be much harder unless the threat of climate change is addressed.

"What's needed now is for countries like the US and Canada to follow their lead and embrace renewable energy too."

Ministers from Denmark and Germany stressed the urgency with which investment in renewable energy and energy efficiency had to be made.

They also explained that the ambitious national renewable energy and energy efficiency targets set by both countries for 2020 and beyond would help them be early-movers in new clean energy technologies and reap the substantial economic growth benefits that come with international leadership.

Greg Barker, UK energy and climate change minister, said: "We are committed to ensuring the UK meets its 2050 climate objective, which has been designed to limit global temperature increases to around 2˚. In order to reduce our emissions by 80% by 2050, we need to accelerate progress in the development of clean energy technologies.

"This week we will be signing a number of agreements with visiting ministers, and encouraging the private sector to bring forward investments to help develop renewables, energy efficiency and entrepreneurship at a faster rate."

You can...
Find out more about how and why we're supporting clean renewable energy

Read latest blog post from our energy team: 'Crunch time for Cameron on climate'

See WWF's Samantha Smith speak at our press conference ahead of the Clean Energy Ministerial this week...



And here's UK energy minister Greg Barker being asked a direct question about the government's plans for meeting carbon targets...



This is Dr Karsten Sach from Germany's environment ministry, with an update on his country's renewable energy developments and plans...



And Martin Lidegaard, Denmark's minister of climate and energy, explains how Denmark plans to meet its carbon emission and renewable energy targets...





blog comments powered by

Disqus