WWF's Earth Book: the greatest story of our time – as told by you
18 May 2012
We're all part of the story of planet Earth. Now here's your chance to be in the book!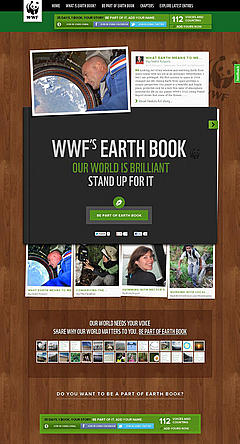 It's a big year in the story of our planet. The UN Earth Summit in Rio is just weeks away - a rare window for world leaders to improve the relationship with our one and only planet. Before it gets any worse....

Let's remind them how much the natural world matters to us all. We need to show that the places and animals we love are not abstract things, that can be signed away with one brush of a pen in a conference hall. They're a very real and vital part of our lives, and we need them to stay that way.

We want your voice to be heard. That's why we've launched Earth Book.

It's the perfect chance to say what you love most about the natural world - and what you couldn't bear to lose.

Over the coming weeks the Earth Book will be filled with stories about the amazing experiences and connections people have with the natural world. It'll develop into the story of our brilliant planet, as told by all of you. Add your own story today.

If ever there was a time to speak up for our precious and threatened natural world, it's now. According to WWF's latest Living Planet Report, people are using 50% more resources than our planet can sustainably produce - in other words we're living like we had more than one planet at our disposal. It's time to come together to change things.

One of the first contributions to our Earth Book comes from the unique perspective of astronaut and WWF ambassador André Kuipers - who has sent us a very relevant message while orbiting the planet in the International Space station.

"We only have one Earth. From up here I can see humanity's footprint, including forest fires, air pollution and erosion… While there are unsustainable pressures on the planet, we have the ability to save our home, not only for our benefit, but for generations to come."

Click here now to add your own story to WWF's Earth Book and show your support and love for your planet. Join the growing list of people who care – standing together for a sustainable future.

And don't forget to share your story, and this unique opportunity, with your friends on Facebook and Twitter.

Here's Andre's message from space...



Share your own connection to the natural world by adding your story to WWF's Earth Book.

 
blog comments powered by

Disqus