Brazil's Forest Code: more about Dilma's 'partial veto' – and why it's bad news for forests
1 June 2012
Following months of debate in Brazil, President Dilma Rousseff last Friday announced only a 'partial veto' of the controversial revisions to Brazil's forest law. Careful analysis by WWF and other concerned organisations has revealed that this partial veto is not enough to root out key problems - like amnesties for illegal deforestation and destruction of sensitive habitats.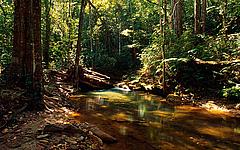 Despite huge public support for a full veto - including 2 million signatures to our joint petition with Avaaz and Greenpeace - President Rousseff rejected just 12 out of 84 articles in the new forest bill, and made a further 32 amendments to the text.

But according to the Comitê Brasil in Defense of the Forests - a coalition of more than 200 civil society organisations, including WWF-Brazil - this isn't enough to prevent the weakening of critical forest protections.

The Comitê believes amnesties in the new Forest Code will absolve previous illegal deforesters of fines, and remove obligations to completely restore illegally deforested areas - including areas of significant social and ecological value.

Some of the most important implications of the new Forest Code bill are:
Illegal deforestation carried out around springs and headwaters, in mangrove swamps and other wetlands, has been pardoned.
Protections for hilltops and other sensitive areas have been reduced, which will increase the risk of landslides.
The amount of forest that must be left intact along riverbanks - previously ranging from 30-500 meters wide - has been severely reduced, and now ranges from only 5 metres to 100 metres, which will increase the risk of flooding.
The restoration of vegetation alongside rivers and other sensitive areas can now be accomplished using eucalyptus and other non-native species, allowing biodiversity-rich forests to be replaced by monoculture plantations.
The changes also complicate an already highly complex piece of legislation. Raul Valle of the Socio-Environmental Institute says the new Forest Code is "a legal tangle" that will be extremely difficult to implement.
As well as environmental concerns, Alexandre Conceição of the Landless Rural Workers Movement adds that the changes fail to address the needs of small-scale farmers. In his view the law, which has had the backing of Brazil's powerful agri-business lobby, has been tailored to support production of commodities for export rather than family-based food production.
Kenzo Juca Ferreira, public policies specialist for WWF-Brazil, highlights the damage that this decision will cause for Brazil's reputation in the run-up to Rio+20 when hesays:
"President Dilma Rousseff has broken her campaign promises and squandered an opportunity to be a global environmental leader.

"With the eyes of the world on Brazil for Rio+20, we will keep up the pressure to protect our forests. The whole world needs to know of the huge discrepancy between talk and action in Brazil."
Importantly, the president's decision still needs to be approved by a majority in Brazil's Congress before it can be written into law. That decision won't happen until after the Rio+20 conference. So we'll be using the Rio summit to keep putting the pressure on Brazil's decision-makers to recognise the huge significance of forests for Brazil and the world.

Why not show President Rousseff - and all world leaders attending the Rio+20 summit - how important Brazil's forests are to you, by adding your story to
WWF's Earth Book
.
blog comments powered by

Disqus