Prince of Wales hails Green Ambassadors
5 July 2012
His Royal Highness The Prince of Wales has greeted young champions of the environment today at the first ever WWF Green Ambassador Summit at Highgrove House in Gloucestershire.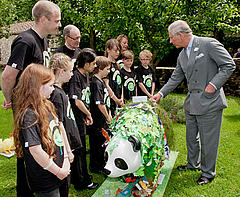 Over 60 young environmental ambassadors from nine UK primary schools are attending the two-day event along with teachers, WWF representatives and special guests such as Tim and Thom from Channel 4's television series 'Three Hungry Boys'.

Today the children met His Royal Highness at Highgrove and presented the plaster pandas they've been decorating. Incorporating a range of techniques - from painting and collage to paper 'quilling' - their designs were chosen to represent the future the children would like to see.

Tomorrow the Green Ambassadors will take part in a series of creative workshops, including a food-growing session and art and writing workshops, aimed at encouraging visions for a sustainable future.

The schools will also be given a special tour of the Highgrove gardens and experience the Prince of Wales' own personal vision of a sustainable environment there.

Prince Charles has long been a champion of environmental issues, and last year announced his presidency of WWF-UK.

WWF's chief executive David Nussbaum says: "We are grateful to His Royal Highness The Prince of Wales for offering to host today's event. His interest in education and ambition to help young people realise their full potential is matched by the commitment he has shown to the environment over many years.

"We are delighted he can be a part of this first Green Ambassadors Summit."

The Prince of Wales is hosting children from schools all over the UK - these 'Champion Schools' were specially chosen by us for their commitment to environmental action and willingness to help other schools get involved.

The schools chosen were: All Saints CofE Primary School, Bishop's Stortford; Alphington Primary School, Exeter; Alwoodley Primary School, Leeds; Brynhyfryd Junior School, Swansea; Edwalton Primary School, Nottingham; St Annes CE Primary School, Bishop Auckland; St Bartholomews Primary School, Haslemere; St Marys RC Primary School, Edinburgh; and West Wittering Parochial Primary School, Chichester.


Green Ambassadors, WWF, BT and HRH
WWF has long recognised the importance of young people and the Green Ambassador scheme is specifically designed to empower, engage and enable young people to take a leadership role while developing skills in teamwork and communication.

The involvement of HRH The Prince of Wales has been an enormous boost to those involved directly with the programme – the young Green Ambassadors, teachers and schools.

We're also very grateful to BT for supporting the Green Ambassadors Scheme, both financially and through their educational volunteers who link up with schools to provide additional on-the-ground support.

Update: watch these two short video of the Green Ambassadors meeting HRH The Prince of Wales at Highgrove...







blog comments powered by

Disqus