Progress for whales at IWC meeting
9 July 2012
It was great to see member governments of the International Whaling Commission (IWC) coming together to tackle some of the biggest threats to whales and dolphins last week.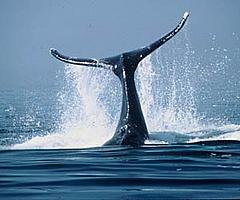 At the 64th annual IWC meeting in Panama, member states pushed forward initiatives to address issues like accidental bycatch in fishing nets, ship strikes, dangerous marine debris, offshore oil and gas developments and sub-sea noise from industrial activities - which can disorientate, injure and even kill cetaceans (whales, dolphins and porpoises).

There was also an acknowledgement that there hasn't been enough research done into the cumulative impacts of off-shore oil platforms in the Russian Far East, near the feeding area of critically endangered western gray whales at Sakhalin.

There are only an estimated 150 western gray whales left (latest figures show a slight increase since we launched our 'Save the last 130' campaign, but numbers are still perilously low).

The whale-rich Arctic waters off Alaska could see their first ever drilling operations from oil giant Shell as early as this month. Shell can not confirm that technology exists to clean up an oil spill in harsh Arctic conditions.

Bearing in mind that the 2010 Gulf of Mexico oil spill could not be contained, even in the best of conditions, an Arctic spill would cause an even greater environmental disaster.

And there were warnings from the IWC's Scientific Committee about the grave state of two other rare cetaceans – Mexico's vaquita porpoise and the Maui's dolphin in New Zealand – which provoked deep concern from many countries.

The committee recommended that Mexico and New Zealand ban certain types of fishing nets from the habitats of these critically endangered animals to prevent deaths from entanglement.

But the meeting's most explosive moment came on Wednesday when the Republic of Korea (South Korea) shocked delegates by announcing plans to conduct so-called 'scientific whaling' of an endangered minke whale population.

The move triggered widespread condemnation from conservation groups and world leaders, including Australian prime minister Julia Gillard.

All in all, some important developments at this year's IWC meeting - reflecting the fact that, as the world's land-based resources are depleted, exploitation of the oceans is growing rapidly.

We must not allow human activities to cause another shameful decline of whales, which were driven to near extinction during the peak years of whaling.
You can…
blog comments powered by

Disqus