Thanks to all you Blue Mile heroes!
10 September 2012
Thank you to everyone who joined us at the weekend for the flagship Ecover Blue Mile in Plymouth - including no fewer than four Olympic gold medallists - all helping raise funds for our work to protect the world's water.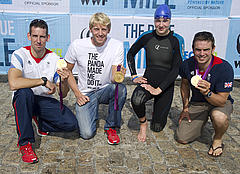 The sun shone and a lively samba band played as more than 250 people took to the water to swim, kayak or stand-up paddle for a mile at the Ecover Blue Mile* flagship event over the weekend of 8-9 September.

Hundreds more supported from the sidelines on Plymouth seafront and enjoyed the food and entertainment on offer in the Event Village throughout the day.

Andrew Triggs-Hodge MBE, double gold medallist rower, was joined by Tim Baillie and Etienne Stott, canoing gold medallists for Team GB, and by 15-year-old gold medal-winning Lithuanian swimmer Ruta Meilutyte, who goes to school locally in Plymouth.

The Olympic stars hoped their presence would help raise public awareness about the need to protect the world's precious water resources.

Tim and Etienne, who normally compete as a team, took part in an exhilarating one-mile kayak race, up against rowing champion Andy and members of the public, who enjoyed their moment on the water alongside these great athletes.

Andy, who finished close behind Tim and Etienne in third place, said afterwards: "It was an excellent race - and a lot of fun kayaking with Olympian opposition and tackling monster waves along the way.

"I've never kayaked before but really enjoyed it - and WWF's Panda cheering me on definitely motivated me to gain a few seconds! I'd encourage more people to take part in the Ecover Blue Mile and raise vital funds for WWF's work with water."

Tim and Etienne also took part in the stand-up paddling races earlier in the day, with Tim pipping Etienne to the post in an exciting race. Tim said: "The stand-up paddling was pretty tough over such a long distance. I suffered from 'disco leg' [a new one on us at WWF!] by crouching on the board for the whole mile - but I managed to finish first in an exciting race.

Etienne said: "I really enjoyed the stand-up paddling and I was pleasantly surprised to be so good at it. I managed to stay upright for most of it…

"The kayaking race was a lot of fun too – but Etienne beat me to the finish in the last few metres! It was lovely to experience the beautiful sea too."

How you can help...
It's not too late to join in and fundraise for this year's Ecover Blue Mile, so why not complete your own Blue Mile? It's easy to take part – we're just asking people across the UK to complete a mile on, or near, water anytime this summer. You can walk, run, swim, kayak or row your mile! Last summer more than 2,000 people took part.

All the funds raised go to WWF's vital work safeguarding marine and freshwater habitats in the UK and around the world.

For more information check out the Ecover Blue Mile website.

*Ecover is the official sponsor of the Ecover Blue Mile. Ecover has worked with WWF since 2007 to help raise awareness of the natural environment.


blog comments powered by

Disqus