Investing in nature makes economic sense
10 October 2012
The global economic crisis should be a reason to do more to protect biodiversity and natural resources - rather than an excuse to do nothing. That was the opening message from the big international conference on biodiversity happening right now in Hyderabad. World governments are meeting in India to make vital decisions for the future of our planet - and we need to see commitments and action, not just words and goodwill.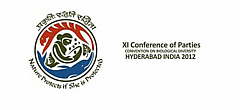 Over 190 nations are meeting in the Indian city of Hyderabad from 8-19 October to discuss how to implement the Convention on Biological Diversity (CBD), a legally binding treaty governing the sustainable use of our planet's natural wealth.

Two years ago, at the last CBD meeting (in Nagoya, Japan), governments made groundbreaking agreements about preventing species extinctions and the decline of the planet's crucial natural systems and resources.

But since that historic achievement, very few countries have delivered on those promises and commitments. So we're calling on all the nations gathering in Hyderabad to put money behind their promises and turn their words into action. This includes richer countries helping poorer countries, where many of the worst impacts are being felt.

Protecting biodiversity and nature is an investment in all our futures.


CBD news from Hyderabad so far
There's already been a noticeable sense of urgency and desire for progress at CBD COP11 (the 11th conference of CBD parties).
India's environment minster Jayanthi Natarajan opened the meeting with a rousing speech stressing that now is the time to implement the strategic action plan and targets - exactly what WWF has been asking for too.
Natarajan stressed that we need to see a concrete outcome here, otherwise the CBD '
Aichi Targets
' for 2020 would not be met.
Biodiversity, said Natarajan, is not just a 'problem' to be solved but a crucial asset underpinning our existence and our social cohesion. She suggested that it's not a choice between either fixing the global economy
or
the environment.

"The economic crisis is not an excuse but rather a reason for countries to take urgent action," she concluded.
One of this week's first working group sessions was on 'islands biodiversity'. There was a lot of consensus, with all WWF's recommendations being accepted. The islands programme is one of the success stories of the convention, with a good level of implementation by island nations.
There were also positive references made about the need for effective management of the high seas, which will be discussed in more detail during the conference.
'Ecological restoration' is a new issue for the CBD, and there were requests for clarification of exactly what it means, as well as positive discussions on the urgent need to focus on restoring ecosystems.
It's expected that the heart of the debate at CBD COP11 will be between developing and developed countries. Developing countries have already pointed out that they'll need technical and financial support. Developed countries have yet to make any firm commitments on 'resource mobilisation'.
It was good to see one of WWF's key priorities being called for - the integration of the CBD targets into the Sustainable Development Goals.
And there was an interesting intervention by India which may hint at what they envisage as the 'Hyderabad roadmap'. They suggested a new approach for the convention for targets to be broken into stages or milestones against which countries should measure their progress.
CBD side events and topics to come
A number of side events were held on the first day on a variety of subjects including financing, green economy, indicators, threats from infrastructure and biodiversity on the high seas.
WWF-India's Sejal Worah spoke at an event on the impacts of biodiversity on dams in south Asia. She called for a solutions-oriented approach to highlight India's work on environmental flows.
Topics up for discussion in the next few days include: protected areas and poverty alleviation; high-altitude wetlands in the Himalayas; Brazil and Pan-Amazon targets.
blog comments powered by

Disqus