Wildlife crime - US and South Africa get tough
9 November 2012
Two important developments in the past week in the fight against illegal poaching and trade of threatened wildlife. Firstly US secretary of state Hillary Clinton made a hugely important speech condemning crimes against wildlife, and calling for concerted and urgent global action to tackle the issue. And in South Africa, a big player in the illegal rhino trade has been sentenced to a message-sending 40 years in prison.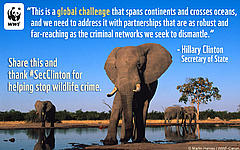 Secretary Clinton, in her groundbreaking keynote speech at the US State Department Partnership Meeting on Wildlife Trafficking, ;said:

"Over the past few years wildlife trafficking has become more organised, more lucrative, more widespread, and more dangerous than ever before.

"We are increasingly seeing wildlife trafficking has serious implications for the security and prosperity of people around the world.

"This is a global challenge that spans continents and crosses oceans, and we need to address it with partnerships that are as robust and far-reaching as the criminal networks we seek to dismantle."

We believe that having Secretary Clinton engaged on this issue provides the high-level political will we need to raise the profile and the seriousness with which wildlife crime is addressed - in the US and across the world.

Meanwhile in South Africa in the past week, in another significant move, a Thai man has been sent to prison for 40 years for his involvement in the illegal trade of rhino horns from South Africa - the harshest sentence given for a wildlife crime in the country to date.

Chumlong Lemtongthai, a high-ranking member of a rhino-horn trading syndicate, had pleaded guilty to the charges. In a statement to the court he said: "I humbly apologise to the court and to the people of South Africa for my role in this matter. I appreciate that the emotions of all animal lovers in South Africa are running very high and that I was part of the problem."

We believe higher-level arrests and convictions like this are vital to disrupt the illegal wildlife trade, and to act as a deterrent to others. 


You can...
blog comments powered by

Disqus