Ivory emergency: CITES could penalise countries who don't tackle illegal trade
22 February 2013
WWF is calling for sanctions to be imposed upon countries failing to tackle the illegal trade in ivory at an international meeting in Bangkok next month.

We're urging the UK and the 176 other governments attending the Convention on International Trade in Endangered Species of Wild Fauna and Flora (CITES) meeting to act to stop the illegal trade.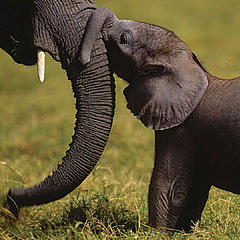 Rhinos and tigers are being killed at alarming rates for their skins, bones, horns and other body parts. The trade also causes the deaths of up to 30,000 African elephants each year.

Evidence shows that Thailand, Nigeria and the Democratic Republic of the Congo (DRC) have failed repeatedly to address their rampant domestic ivory markets despite CITES rules that outlaw the unregulated sale of ivory.

And host country for the meeting Thailand has one of the world's largest unregulated ivory markets in the world. Criminals are taking advantage of Thai laws allowing the sale of ivory from domestic elephants to launder massive quantities of illegal African ivory through Thai shops. Much of this ivory is purchased by foreign tourists.

Heather Sohl, WWF chief adviser on species, is going to be at the Bangkok meeting pressing governments to act.

Heather said: "We could see elephants disappearing from parts of Africa because the ivory trade has exploded out of control. Every country that has signed the CITES treaty has a responsibility to hold member governments accountable to the commitments they've made to stop the trafficking."

Actor and WWF supporter Leonardo DiCaprio recently helped launch WWF's "Hands Off My Parts" campaign to raise awareness and mobilise support to end the illegal trade of wildlife.

He said: "Illegal wildlife trade is the most urgent threat facing species like tigers, rhinos and elephants. These animals are being killed every day to feed an escalating demand for their body parts."

"Whole populations are at risk of being wiped out if we don't take immediate action to shut down this illicit trade."

There are known measures that countries can take to help address elephant poaching. They include the establishment of a mechanism to track global ivory stockpiles, the compulsory registration of all large scale ivory seizures, and routine forensic examination and follow-up investigative collaboration by enforcement officers across continents.


How you can help
You can help by signing a global petition calling on Thai Prime Minister Yingluck Shinawatra to ban all ivory trade in Thailand
blog comments powered by

Disqus